Quad Summit: India Holds Its Fire On China, Not So Others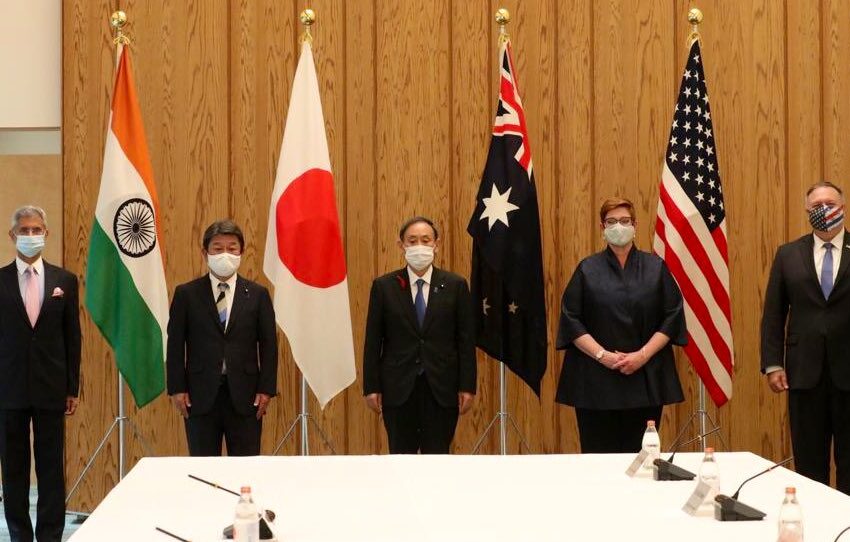 NEW DELHI: As the second meeting of Quad foreign ministers wound up in Tokyo with a commitment for regular summits at that level, one question loomed large: for a country facing aggression by China on its northern frontiers, for which it has lost lives, India made no mention of that.
External Affairs Minister S Jaishankar did tick off all the other boxes with the ritual references to "free and open Indo-Pacific … upholding the rules based international order underpinned by the rule of law, transparency, freedom of navigation … respect for territorial integrity and peaceful resolution of disputes."
There was no doubt which country he was referring to, so why the refusal to go that extra step? It could be India did not want to exacerbate the situation in eastern Ladakh, where the tortuous task of getting the Chinese to withdraw crawls along with no end in sight. By not naming (and shaming) China, was India hoping Beijing would reciprocate, perhaps by showing some flexibility on the Line of Actual Control?
In contrast, both US Secretary of State Mike Pompeo and his Australian counterpart Marise Payne, wielded the sledgehammer on China. Pompeo, in an interview to NHK Television said, "The world sat on the threat from China for an awfully long time and its time we get after this in a serious way."
Rather dramatically, he said "Will the world be ruled by those who use coercive power, they use their military to bully, or will we operate in a system that is rules based? This is not a rivalry between the United States and China. This is for the soul of the world."
His Australian counterpart Marise Payne did not name China but was searing in her assessment of what China had done to the region and the world. "The strategic environment in the Indo-Pacific is becoming more complex. Pressure on the rules, norms and institutions that underpin stability has the potential to undermine recovery … it is vital that states work to ease tensions and avoid exacerbating long standing disputes … and refrain from malicious cyber space activity (a clear reference to China's cyber infiltration of Australian entities)."
Looking ahead, she appeared to hint at a broader role for the Quad, saying "We agreed to enhance cooperation to promote a strategic balance in the Indo-Pacific and work to support a region of resilient and sovereign states that engage each other on the basis of rules, norms and international law."
The point was also made by Pompeo who after referring to China's aggression in the Himalayas, in Hong Kong where it has violated duly signed agreements and its coercive activities in the South China Sea, said:
"The answer to that is to be forceful in our response, to be direct about our expectations, to work with like-minded nations all over the world to oppose those who want to use military power or coercion …"
Incidentally, Quad members have signed a series of bilateral military agreements with each other supported by regular exercises. A degree of interoperability, communications and logistics support has already been achieved. There is also an effort underway to broaden their commitment into areas such as fighting the pandemic and diversifying supply chains away from China.