Understanding The World's Second-Largest Continent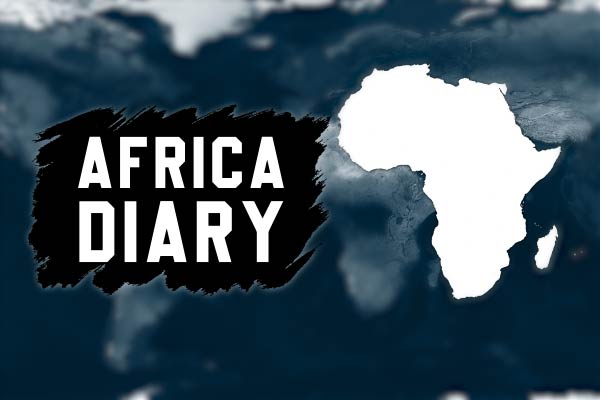 US Military Resumes Surveillance Flights Over Niger
The United States has resumed surveillance flights over Niger that were halted in the wake of the military takeover there, but other activities remain paused, a spokeswoman said Thursday. "We can confirm that US forces in Niger commenced ISR flights to monitor for threats for purposes of force protection," the US Africa Command spokeswoman said, referring to intelligence, surveillance and reconnaissance. "We have secured approvals from appropriate authorities," she said, noting that "the US always reserves the right to conduct operations to protect our forces and personnel if required." While the flights have resumed, other activities with Nigerien forces such as security assistance training and counterterrorism cooperation — key parts of US efforts to help the Sahel region fight jihadist groups — have not, the spokeswoman added. Washington has some 1,100 military personnel in the country, but the Defence Department says they have largely remained on bases since the military takeover.
Source: North Africa Journal
Sudan's Burhan Heads To Uganda As Battle Rages In Khartoum
Sudan's de facto leader Abdel Fattah al-Burhan left Saturday for a visit to Uganda, the ruling Sovereign Council said, in his latest trip abroad as battles raged in Khartoum. "Clashes around Khartoum's military headquarters — where Burhan had been holed up until last month — had seen a brief two-week respite before flaring again, with the RSF showering it with artillery fire," residents said. "Burhan is due to meet Ugandan President Yoweri Museveni in Kampala, with whom he would discuss bilateral ties and issues of common importance," the Sovereign Council said in a statement. It is the Sudanese general's sixth trip abroad since he made his first public forays late last month, including visits to Egypt, South Sudan, and Turkey, among other countries. At least 7,500 people have been killed since the conflict broke out on April 15, according to a conservative estimate from the Armed Conflict Location and Event Data Project. The war has uprooted more than five million people, including one million who fled across borders, according to United Nations figures.
Source: The East African
Mali Cancels Independence Day Festivities As Rebels Claim Control of Northern Town
Following a return of hostilities in the north, Mali's ruling junta cancelled celebrations next week to honour the anniversary of the country's independence, according to the council of ministers. Tuareg rebels in northern Mali said they have taken over a military camp and checkpoints in the town of Bourem, endangering a 2015 peace agreement. This follows weeks of fighting with the national army and Wagner mercenaries. The Coordination of Azawad Movements (CMA), a Tuareg rebel alliance, on September 12, captured Bourem, which is located between the historic cities of Gao and Timbuktu. This came after the military consolidated its hold on power in two coups in 2020 and 2021 and expelled French forces as well as the United Nations peacekeeping mission MINUSMA. The region, which was the birthplace of the armed uprising that has spread throughout the Sahel, is experiencing a rise in tension, partly due to the withdrawal of UN peacekeeping forces that helped to keep the fragile peace.
Source: All Africa
Sanctions Strain US-Sierra Leone Ties
The decision by the United States State Department to impose sanctions against those it believes were responsible for rigging and intimidation in June's disputed elections, which saw President Julius Maada Bio re-elected for a second term, marks another setback for the government of Sierra Leone. In a statement, US Secretary of State Antony Blinken said that the visa restrictions target "those believed to be responsible for, or complicit in, undermining democracy in Sierra Leone, including through the manipulation or rigging of the electoral process" and, without naming names, were aimed at "specific individuals and not directed at the Sierra Leonean people." The elections which were held on June 24 this year gave Bio a 56% to 41% win over the All People's Congress leader Samura Kamara. Kamara has alleged that there has been vote rigging and that his election agents had been unable to verify the vote tallies.
Source: Africa Confidential
UN Warns South Africa's Record Unemployment Is A Ticking 'Time Bomb'
As South Africa grapples with a record unemployment rate of nearly 33%, the United Nations and other experts have warned that this is a "time bomb" that has the potential to cause political instability. More than half of the country's young people are jobless resulting in rising levels of poverty, and inequality and fuelling social ills like crime and drug use among young people in sub-Saharan Africa's most developed economy. The country has been urged to make urgent interventions to transform its economy to avoid the unemployment rate reaching nearly 40% by 2030. From the capital Pretoria to the far east of Johannesburg, qualified graduates are doing menial jobs while others have resorted to recycling to earn a living in a country that has shed more than 2 million jobs since the COVID-19 pandemic.
Source: Africa News
European Nations Dump 90% Of Their Used Clothes On Africa
European countries have been dumping up to 90% of their used clothes in Africa and Asia, according to a recent report by the European Environment Agency (EEA). The increasing textile waste has a devastating impact on these regions' environment and climate change, ranking it as the fourth most polluting sector globally. The report highlights that the excessive dumping by European countries in Africa and Asia is due to various reasons, including a lack of recycling facilities, cheaper labour costs, and the rising demand for affordable clothing in these regions. As a result, African countries end up receiving an enormous amount of second-hand clothes, some of which are unfit for use and eventually disposed of, causing environmental damage. The practice of dumping used clothes also impacts local textile industries and economies, as the influx of cheap clothing creates unfair competition for local manufacturers. Consequently, the local textile industries in countries like Kenya, Rwanda, and Tanzania who rely on the export of textile products are struggling to survive.
Source: Africa Boulevard