Understanding The World's Second-Largest Continent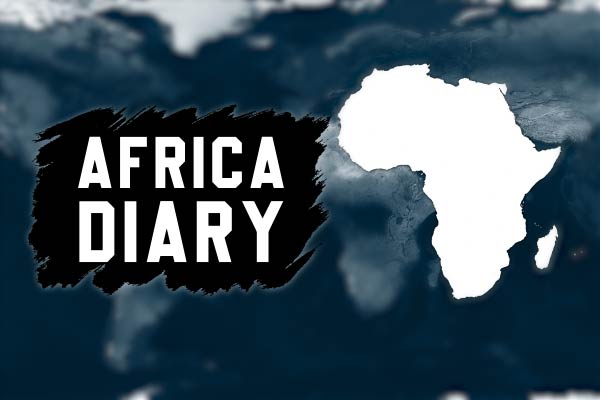 Anti-France Sentiment Spikes In Niger, Tense Weekend Of Protests Ahead
Niger has braced itself for a weekend of planned anti-French rallies as tensions mount between the country's new military rulers and its traditional ally. A coalition of civil society groups opposed to the presence of French forces in Niger has called a three-day sit-in, starting Friday. The protest, organised by the M62 grouping, is set to take place in central Niamey to demand the departure of the French contingent. France has around 1,500 troops in Niger, many of them stationed at an airbase near the capital, who are deployed to help fight a bloody jihadist insurgency. Separately, a "permanent" sit-in has also been called by another civil society group, the Patriotic Front for the Sovereignty of Niger. Kicking off Saturday, it will continue "until the departure of all French soldiers", organisers say. Relations between Niger and France have deteriorated since President Mohamed Bazoum, a close ally of France, was toppled in a coup on July 26. Paris has stood by Bazoum and refused to recognise the new rulers in the troubled Sahel state.
Source: North Africa Journal
Gabon Opposition Calls For Pressure On Junta To Hand Power To Civilians
Gabon's main opposition group, Alternance 2023, on Friday, urged the international community to encourage the junta that overthrew President Ali Bongo to hand power back to civilians. Military officers seized power in a coup on Wednesday minutes after an announcement that Bongo had secured a third term in an election, ending his family's nearly 60-year hold on power. But the opposition, which says it is the rightful winner of Saturday's election, has raised objections. The Spokesperson for Alternance 2023 leader, Alexandra Pangha, told the BBC "We were happy that Ali Bongo was overthrown but … we hope that the international community will stand up in favour of the Republic and the democratic order in Gabon by asking the military to give back the power to the civilians." Pangha also said the junta's plan to inaugurate Nguema as head of state on Monday was "absurd." Bongo was elected 2009, taking over from his late father who came to power in 1967. Opponents say the family did little to share Gabon's oil and mining wealth.
Source: Punch Newspapers
Deaths Reported in DR Congo Amid Anti-UN Protest
Clashes in Congo between armed forces and members of a religious sect protesting Western organizations' presence in the country have resulted in dozens of deaths, local officials say. The head of the International Red Cross branch in Goma, Anne-Sylvie Linder, said her clinic had received many patients with serious stab and gunshot wounds after the protest. A United Nations source told Reuters news agency there were "credible" reports of more than 50 fatalities after soldiers blocked protesters who had gathered at a church before the demonstrations got underway. On Thursday, protesters accused the army of firing indiscriminately at civilians. The army said 160 people were arrested amid the unrest.
Source: All Africa
UN Peacekeepers Face 'Difficult' Next Phase Of Mali Force Pullout
The second phase of the withdrawal of UN peacekeepers from Mali will be very challenging due to a tight calendar and dangerous security conditions, the UN special representative to the country said on Monday. The UN peacekeeping mission, known as Minusma, has until December 31 to exit Mali after a decade of struggling to stabilize the country's security environment amid separatist and militia rebellions. The 13,000-man mission was ordered to withdraw earlier this year under the demand of Mali's ruling junta, following the pullout of French troops in 2022. UN peacekeepers say that by September 30 one-third of UN forces will have pulled out but the second phase, through December 15, will involve abandoning six bases in northern, northeastern and central Mali which will be dangerous due to insecurity and difficult terrain. Added to the difficulty is what Wane called "the paralysis" of the bodies responsible for monitoring the 2015 peace agreement signed between the Coordination of Azawad Movements (CMA) — an alliance of predominantly ethnic Touareg groups — and the then-civilian Mali government.
Source: The East African
US Announces Visa Ban On Sierra Leone Government Officials Over 'Vote Rigging'
The US has imposed visa restrictions on officials that it says are responsible for undermining democracy in Sierra Leone. The move follows the disputed June 2023 general election which Western observers say lacked transparency. While the Electoral Commission of Sierra Leone (ECSL) has been criticised by the West for its lack of transparency local and regional observers from the African Union (AU) and Ecowas cleared it as free and fair. The main opposition the All People's Congress (APC) believes the polls were to favour the incumbent President Julius Maada Bio. President Bio has attacked the US's decision calling it "Western interference." He stated that no outsider had the right to validate the outcome of the elections.
Source: The Daily Nation
Amid Protests, PM Hamid Dbeibah Affirms Libya's Rejection Of Normalisation With Israel
Hamid Dbeibah, one of Libya's rival prime ministers, rejected on Thursday the prospect of normalizing relations with Israel days after news broke of a secret meeting between the countries' two foreign ministers. Last Sunday, Israeli Foreign Minister Eli Cohen publicly announced that he and Libya's foreign minister Najla Mangoush had held a private meeting in Rome the previous week, the first ever between top diplomats from both countries. The next day, Libya's Prime Minister Abdul Hamid Dbeibah suspended the foreign minister and launched an investigation into the meeting. It is illegal to normalize ties with Israel under a 1957 law in Libya, which has long been hostile toward Israel and supportive of the Palestinians and Dbeibah said that his government completely rejects "any form of normalization" with Israel, during a televised ministerial meeting on Thursday evening. News of the meeting ignited angry street protests in several Libyan cities, prompting Mangoush to flee to Turkey for fear of her safety. Her exact whereabouts remain unknown.
Source: Africa News