A Guide To Contemporary China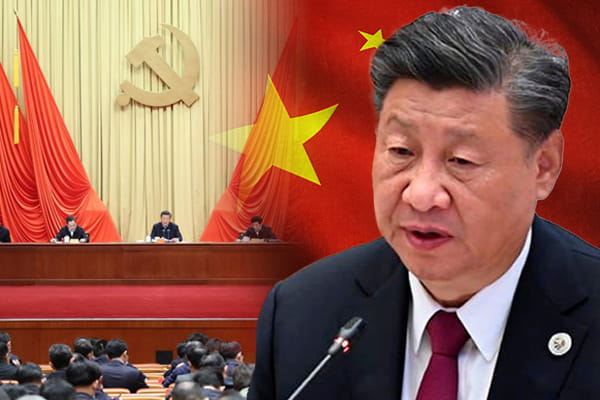 PLA Vows Countermeasures Over US Military Package To Taiwan Region
The Chinese People's Liberation Army (PLA) will take all necessary measures against the U.S. State Department's recent approval of an $80-million military aid package to the Taiwan region, Wu Qian, spokesperson for the Chinese Ministry of National Defense, said at a news briefing on Thursday. Wu Qian made the comments in response to reports that the U.S. administration has approved the military transfer to Taiwan. Whether the U.S. supplies weapons to Taiwan through military aid or arms sales, the U.S. military-industrial complex will rake in huge profits, Wu said, warning that the security and well-being of Taiwan compatriots will be damaged. Wu reiterated that the security of the Taiwan region relies on the joint efforts of compatriots on both sides of the Taiwan Straits under the one-China principle, rather than U.S. military aid and arms sales to the region.

Source: CGTN
China, US Trade Ministers To Meet At Least Once A Year, Talk Directly On 'Key Matters': MOFCOM
China's Ministry of Commerce (MOFCOM) has given a further explanation on the results of the latest trade talks amid US Commerce Secretary Gina Raimondo's visit to China, saying the two nations' trade ministers have agreed to meet at least once a year. China and the US agreed to establish a multi-level communication mechanism to strengthen talks on economic and trade affairs, with Chinese Commerce Minister Wang Wentao and Raimondo agreeing to maintain regular communication, discuss key issues directly in a timely manner, and meet at least once a year, the MOFCOM said on Thursday. The multi-level mechanism includes the setting up of a joint working group, composed of officials at the deputy minister and bureau chief levels, convening biannual deputy ministerial-level meetings and inviting representatives from businesses on both sides.
Source: Global Times
CPC Leadership Deliberates Regulations, Plan For Training Of Officials
The Political Bureau of the Communist Party of China (CPC) Central Committee recently convened a meeting to deliberate a set of regulations and a five-year plan (2023-27) concerning the education and training of officials. Xi Jinping, general secretary of the CPC Central Committee, presided over the meeting. It was stressed at the meeting that the study and implementation of 'Xi Jinping Thought on Socialism with Chinese Characteristics for a New Era' should be the main subject, and the Party's theories must be employed to enhance cohesion and forge the Party's soul, and consolidate the Party's foundation. It is imperative to carry out political training throughout the whole growth cycle of officials, educate and guide them to establish a correct understanding of power, performance evaluation and career, so as to improve their political acumen, understanding and capacity to deliver. The meeting also stressed that efforts must be made to secure basic support for the education and training of officials, give full play to the primary role of Party schools (academies of governance) in this regard, strengthen political scrutiny, and introduce qualified teachers.
Source: Ecns.cn
China's Financial Authorities Mull New Policy Support For Private Sector
China's financial authorities are working on new policies to support the development of the country's private economy, according to a recent meeting by financial regulators and the All-China Federation of Industry and Commerce. Speaking at the meeting, Pan Gongsheng, governor of the People's Bank of China, said that more financial resources will go into the private sector, and credit supply will be increased for private enterprises in key areas such as sci-tech innovation as well as green and low-carbon development. Zhou Liang, deputy head of the National Financial Regulatory Administration (NFRA), said the NFRA will work to reduce the financing costs of private enterprises, ease their access to financial services, and create a better financial environment that benefits the development of private economy. During the meeting, a number of strategic cooperation agreements were signed between financial institutions and private enterprises, as well as between private developers and the Shanghai and Shenzhen stock exchanges, and the National Association of Financial Market Institutional Investors.
Source: Xinhua
Xi Calls For Efforts To Build A 'Beautiful Xinjiang'
President Xi Jinping has urged "thorough, meticulous, concrete and sustained" efforts to develop a "beautiful Xinjiang Uygur autonomous region that is united, harmonious, prosperous and culturally advanced, with healthy ecosystems and people living and working in contentment", in the process of pursuing Chinese modernization. Xi, who is also general secretary of the Communist Party of China Central Committee and chairman of the Central Military Commission, made the remarks on Saturday in Urumqi, the region's capital, when he was briefed by local officials about the work of the autonomous region's Party committee and government as well as the Xinjiang Production and Construction Corps. Established in 1954, the corps combines the functions of production, administration and defense, and has made contributions to the development of Xinjiang by promoting unity among all ethnic groups, maintaining social stability and guarding the border areas. Xi was in Xinjiang after returning to China from South Africa, where he attended the 15th BRICS Summit and made a state visit.
Source: People's Daily
Saudi Arabia Makes Its Students Learn Chinese
Amid closer ties with China, Saudi Arabia's Ministry of Education has asked the nation's public and private secondary schools to teach Chinese language classes twice a week. Local reports said that the schools were asked to set aside time on Sundays and Mondays for Chinese lessons.An agreement was reached in 2019 during Saudi Crown Prince and Prime Minister Mohammed bin Salman Al Saud's visit to Beijing to include the Chinese language as part of the curriculum at all levels of education in Saudi schools and universities. In December last year, during President Xi Jinping's state visit to Saudi Arabia, leaders from the two countries signed an agreement on education cooperation. Based on the agreement, the Center for Language Education and Cooperation of China's Ministry of Education will send Chinese language teaching experts to compile the syllabus and help Saudi Arabia train local teachers and host Chinese language proficiency tests. Experts said the closer relationship and increasing trade and economic ties between China and Arab countries in recent years have increased the popularity of the Chinese language in the region.
Source: China Daily