Understanding The World's Second-Largest Continent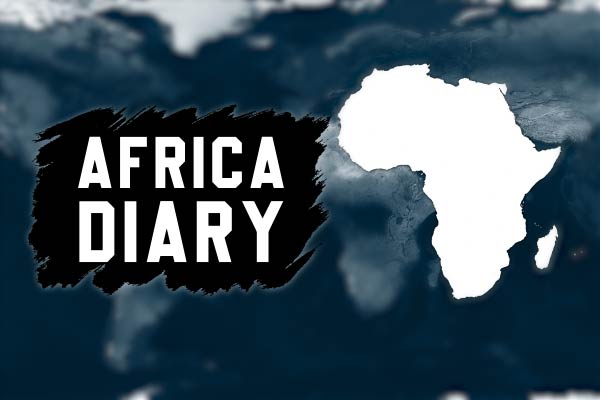 Niger Scraps Military Pacts With France
Niger's junta said in a televised statement that it has "decided to scrap cooperation agreements in the field of security and defense" with France. It is currently unclear if and when French forces will begin withdrawing. The French general staff in Paris has told newspaper Le Monde that it does not recognize any other authority than that of deposed president Mohamed Bazoum. After France withdrew from Mali and Burkina Faso following military coups in both countries, the government of ousted Bazoum was one of it's last strategic allies in the restive Sahel region. Between 1,000 and 1,500 French troops are currently stationed in Niger. The United States joined several European nations in evacuating their nationals from the country but says it's closely watching the situation. The State Department, however, said that the mission will remain open and senior leadership will continue working. Washington has so far not announced any withdrawal of troops from niger were it has around 1,100 US troops. Earlier, France's military and foreign ministry said France has been evacuating not only its citizens but people of other nationalities. The foreign ministry said about 1,000 people have left Niger on four flights and a fifth flight is under way. People from Portugal, Belgium, Ethiopia, Lebanon, Germany, Canada, India, Austria and the U.S. are being evacuated by the French.
Source: All Africa
African Leaders Call For The Release Of Russian Cereals
African leaders involved in peace talks over Ukraine have called for the unblocking of Russian grain and fertilizer exports to revive the deal on grain exports through the Black Sea, South Africa said on Thursday. The group has also called on the United Nations to take action to release 200,000 tonnes of Russian fertilizer stuck in European Union ports, said Vincent Magwenya, spokesman for South African President Cyril Ramaphosa. "Leaders called for specific measures to remove barriers to Russian grain and fertilizer exports, allowing for the resumption of full implementation" of the Black Sea deal, Magwenya said during the meeting. a press briefing in Pretoria. Last month, Russia withdrew from a UN-brokered deal that allowed Ukraine to export grain through the Black Sea, leading to a spike in grain prices that hit hard affected the poorest countries. Moscow is demanding guarantees on another agreement concerning its own exports, in particular of fertilizers. The call to meet some of the Kremlin's demands was made by Mr. Ramaphosa and six other heads of state, including Abdel Fattah al-Sissi (Egypt) and Macky Sall (Senegal), following talks with Mr. Putin in St. Petersburg last week, Magwenya said.
Source: Africa News
Senegal On Edge Amid Violent Protests, Social Media Shutdowns
Growing concern over violent protests in Senegal, and the country's decision to ban the main opposition party Pastef Les Patriotes, has led to global calls to protect human rights in the West African nation, one long considered a successful model of democracy on the African continent. Social media platform Tik Tok has been shut down, while Senegal experienced Wednesday its second day of "curfew-style mobile internet blackouts, the latest in a series of measures leading up to the arrest of opposition leader Ousmane Sonko," said digital rights watchdog NetBlocks. The shutdowns follow on the efforts of President Macky Sall and his administration to crack down on the political opposition. Twitter, Facebook, WhatsApp, Instagram and YouTube all have been subject to blackouts in recent months.
Source: Africa Times
Ethiopia Declares 'State Of Emergency' Over Amhara Violence
Ethiopia's Federal Government on Friday declared a "state of emergency" as violent clashes escalate between the national army and local fighters from the northern region of Amhara. "It has become necessary to declare a state of emergency as a situation has emerged where it has become difficult to control this unacceptable movement under current law," the office of Prime Minister Abiy Ahmed said in a statement posted on social media. The statement did not make clear if the state of emergency applied nationwide or just to Amhara, which lies to the north of the capital Addis Ababa. Abiy's government did not reply immediately to questions from AFP. Clashes in Amhara between the national army and local fighters have escalated in recent weeks, prompting travel warnings from foreign governments and the cancellation of flights by the national carrier Ethiopian Airlines.
Source: The East African
Kiharu MP Ndindi Nyoro Tightens Grip On Kenyan Power
Lawmaker Ndindi Nyoro has bought additional 5.2 million shares in Kenya Power, tightening his grip as the single largest individual shareholder in the near-monopoly electricity distributor. Mr Nyoro raised his holding in the firm to 32.5 million shares, which is an equivalent of nearly 1.67 percent stake in the utility, at the end of June 2023 compared with 27.29 million in the same month last year, according to regulatory filings. His current ownership in the struggling utility is valued at Sh48.75 million, with the additional purchases in the year ended June worth nearly Sh7.92 million. Kenya Power shares have gained a modest 4.83 percent over the last year, closing trade on the Nairobi Securities Exchange (NSE) at Sh1.52 on Thursday compared with Sh1.45 per unit in August 2022. Mr Nyoro, who chairs the Budget and Appropriations Committee in the National Assembly, said last September he started his investment journey in the equity market as a first-year student at Kenyatta University.
Source: Business Daily Africa
BP, Sonatrach And ENI Resume Operations In Libya After 10 Years
Three major international oil companies – BP, ENI and Sonatrach – have announced a resumption of their operations in Libya after a 10-year absence, the Libyan National Oil Company said on Thursday. The NOC said in a press release it "received official notifications from the Italian company ENI and the British company British Petroleum regarding the lifting of force majeure and the resumption of exploration and contractual obligations in the blocks awarded to them in the Ghadames Basin (A-B) and offshore Block C." It said it had also been notified by Algeria's Sonatrach that "exploration and fulfilment of contractual obligations in blocks 065 and 96/95 in the Ghadames Basin" had resumed. In December, the NOC called on foreign companies with which it had hydrocarbon exploration and production agreements to lift the force majeure they had invoked, arguing that the security situation had improved. Crude oil is the main revenue source for Libya, which has been torn by more than a decade of stop-start conflict, involving foreign powers and a myriad of militias since a NATO-backed revolt toppled Muammar Gaddafi in 2011.
Source: Africa Report