Quad Focus on Ukraine And Russia May Have Been Intended To Corner India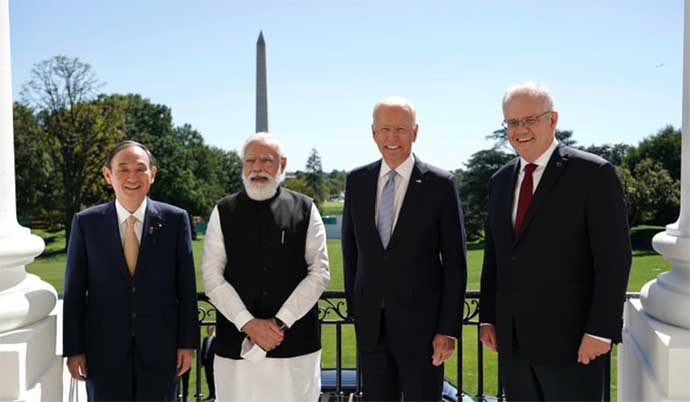 NEW DELHI: It was perhaps inevitable that the shadow of Ukraine would fall on the virtual summit of Quad leaders on Thursday. At the end of the two hour meeting, it was evident that India's reported efforts to keep the meeting focussed on the Indo-Pacific didn't cut much ice with the other leaders, notably US Prsident Joe Biden. Sources say that Biden insisted that the focus be on Ukraine and Russia's atrocities.
Post the meeting, Biden said, "I met with my fellow Quad leaders Prime Minister Scott Morrison, Prime Minister Narendra Modi, and Prime Minister Kishida Fumio about Russia's ongoing attack on Ukraine and our commitment to sovereignty and territorial integrity around the world, including in the Indo-Pacific."
A White House readout underscored that the leaders discussed the "ongoing conflict and humanitrian crisis in Ukraine and assessed its broader implications." There were calls for a "humanitarian and disaster relief mechanism" to cater for "future humanitarian challenges in the Indo-Pacific and provide a channel for communication as they each address and respond to the crisis in Ukraine."
Prime Minister Modi refused to mention the issue altogether as he tweeted. "Participated in a productive virtual Quad Leaders' meeting today with Joe Biden Scott Morrison and Kishida Fumio. Reaffirmed our shared commitment to ensuring security, safety and prosperity in the Indo-Pacific. Reports said that the prime minister had reiterated the importance of adhering to the UN Charter, international law, respect for sovereignty and territorial integrity at the meeting.
India was always going to be under pressure going into the meeting. It is the only country in the Quad to have abstained three times from voting against Russia at the UN. New Delhi was conscious of this and had earlier tried to prevent it from being talked about. External Affairs Minister S Jaishankar had stated at the Quad foreign-ministerial meeting in Melbourne in February that the plurilateral grouping's focus remained on the Indo-Pacific and Ukraine remained out of it as it was a "question of geography."
But the US was clear that Russia's role in Ukraine would dominate even more than the China challenge. The US intent to corner India (and possibly other abstainers like the UAE) was clear when a media report by Axios pointed out that a leaked diplomatic cable (since revoked) by Washington described both nations as being in "Russia's camp." The report stated that the cable was sent to US embassies in 50 countries. India's foreign affairs spokesperson Arindam Bagchi refused to comment on the report at a press briefing earlier in the day.
Russia aside, the Quad leaders discussed developments in ASEAN, the Indian Ocean region and the Pacific Islands. They agreed to stay in touch and to work towards an ambitious agenda for the forthcoming summit in Japan.