India Continues To Court Russia Even As Moscow Looks To China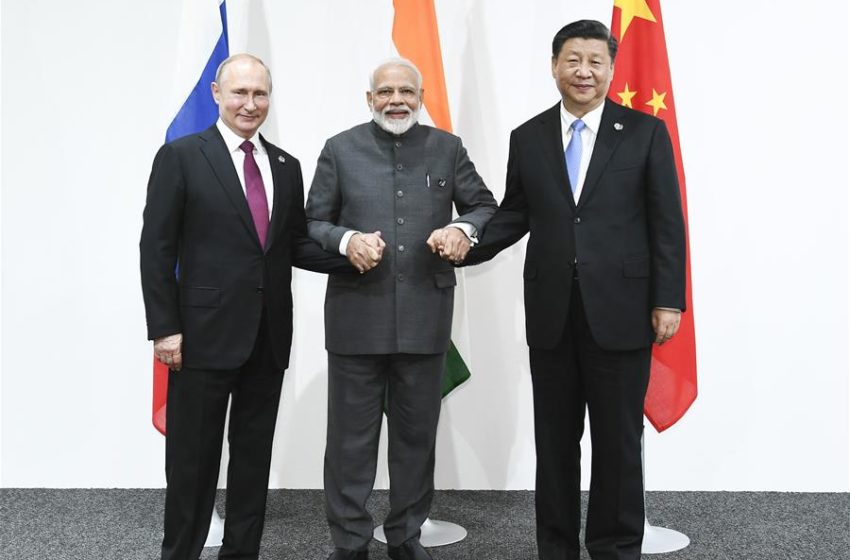 NEW DELHI: The coronavirus and the Ladakh clashes have forced the government to "go virtual" or put off high level meetings but not events involving Russia. A case in point was the RIC summit which went off virtually (though not without some warnings by India that it may not attend). Though the BRICS and SCO summit in Moscow, which were to be held later this month, have been postponed by the host, bilateral engagements with Russia have continued without a break, underscoring the view in South Block that Russia remains important despite its hedging on the Ladakh clash.
So Defence Minister Rajnath Singh was there at the Victory Day celebrations and the defence deals that followed were expected on the agenda. After all, Russia continues to remain India's largest defence partner to the extent of supplying over 60 percent of its arms requirements. Given New Delhi's huge dependence on Moscow for arms and the fact that it knows Russia is happy to supply to both India and China ensures that India has no choice but to go that extra mile for its ally.
It was then but natural that Prime Minister Modi congratulated President Putin on winning the referendum on Monday where the two leaders reportedly discussed "the importance of closer India-Russia ties for jointly addressing the challenges of the post-COVID world."
Senior diplomats say to expect as some do that India is looking to Russia to help solve its China problem is far-fetched. "Russia has tried to play mediator in the past," a Russian-speaking former Indian diplomat acknowledged, noting that "they offered their services on Kashmir last year and even when we were admitted to the SCO, Russia said this as a good platform where India and Pakistan could come together. They saw it as a role for themselves. But with China it is a case of hard-headed strategic calculation. The Chinese know what they want and the Russians telling them or not telling them will not make a difference. And the Russians know this."
It's not just the fact that Russia knows its services are not wanted it is also the fact that Moscow needs Beijing and it needs to keep Beijing on its right side more than ever. Shunned by the West, Russia has built up a very substantial relationship with China in the Putin era. and for each of them, the other is the most important strategic partner today. In terms of energy requirements, China is a key buyer of Russian oil, recently buying a record 1.6 million tonnes in March.
In terms of weaponry, China, like India, was reliant on Russian arms imports, but has now become a major arms exporter in its own right. Research from the Stockholm International Peace Research Institute (SIPRI) suggests that China is the second-largest arms producer in the world, behind the United States but ahead of Russia.
The other worry for Moscow is the large concentration of a Chinese presence on its eastern landmass. Beijing's speedy inroads into Eurasia after Russia linked the BRI project with the Eurasian Economic Union (EAEU) may also be making Moscow uneasy and there is talk that the ongoing proposed FTA between the EAEU and India is a bid by Moscow to balance Chinese leverage in Central Asia.
Despite Moscow's concerns with Beijing, it is also true that if Chinese President Xi Jinping were to listen to any global leader today, it would be President Putin. Thus, New Delhi can be confident that messages passed on by Moscow would be listened to and considered if not acted upon.
The China factor aside, the prime minister's courtesy call to Putin was a need to set right possible misgivings. Says a senior diplomat, "Moscow has been upset with India's recent moves. What would probably have concerned them most was our decision to upgrade the QUAD groupings from joint secretary level to foreign ministerial level last year. The PM's courtesy call to Putin was a good chance to allay some of these concerns. Both of them would also have discussed the US elections as Modi and Putin would be very much aware of the fact that Putin's visiting just after the new US administration is elected."