Geopolitics Apart, Can India & Russia Tread Common Path?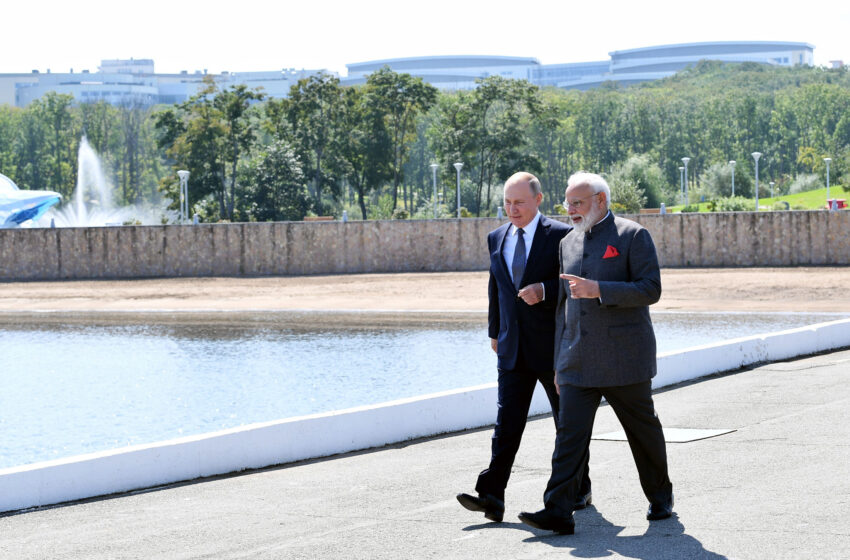 NEW DELHI: India's Foreign Secretary Harsh Vardhan Shringla has a full brief as he sits down in Moscow for talks with his counterpart Igor Morgulov on Wednesday and Thursday. Priority could be fixing dates for a Narendra Modi-Vladimir Putin summit. It could not be held last year owing to the pandemic but with vaccinations now surging forward in both countries, an early summit seems feasible.
Shringla is expected to bring the Russians up to speed on the disengagement of Indian and Chinese forces in eastern Ladakh. They are expected to review the progress on various arms deals including of course the delivery of the S-400 missile defence system and the negotiations for made in India Kalashnikov rifles and transport helicopters. They will look at energy cooperation and a host of other initiatives in the pipeline.
That's relatively easy. Managing politics is tougher. Balancing the Russia relationship at a time when India needs U.S. support to counter China is tricky. Russia is under U.S. sanctions, which has degraded its economy and limited its room for manoeuvre. It has forced Russia into a greater dependence on China, in turn deepening suspicions and misgivings in Delhi.
President Putin's recent statements didn't help matters. Early in the new year, he referred to "significant military technical cooperation involving sharing of technologies" with China, adding that boosting the defence potential of the People's Liberation Army "is in the interest of both Russia and China." This is at odds with his past statements that no other country receives the kind of technologies that India gets. Was he preparing the ground for transferring high tech military technologies to China? Was he warning the U.S.? Or was it a message to India about its proximity to the U.S.? Maybe it was all three.
Earlier his foreign minister Sergei Lavrov stirred a hornet's nest in Delhi when he cited the "very tough pressure" that the U.S. was exerting on India on its arms relationship with Russia. Then he insinuated that the West was trying to engage India in "anti-China games by promoting Indo-Pacific strategies …"
As PS Raghavan, former ambassador to Russia, wrote in an analysis recently: "the insinuation that India is being unwillingly dragged into an arrangement against its perceived national interests is somewhat condescending. Whatever Russia may feel about an Indian 'tilt' away from Russia, no senior Indian official or minister has deviated from public reiterations of India's commitment to the partnership with Russia."
The incident appeared to blow over when the Russian embassy in Delhi stepped in with clarifications, including that "India's concept of Indo-Pacific is inclusive". Lavrov too appeared to walk back from his earlier remarks, saying "I know India is not going to move this Indo-Pacific cooperation in a way which would not be positive and constructive".
But the point India has made and continues to make, is that it is in its security and economic interest to ensure that no one country (in this case China), should have hegemony in the Indo-Pacific region. As a Pacific power, Russia should also have every interest in ensuring this. If one goes back to the Modi-Putin summit in Vladivostok in 2019, the joint statements did refer to security in the "Indian and Pacific oceans". There's also the fact that India wants to draw China into discussions on the Indo-Pacific, unsuccessful so far.
Hopefully, an early Modi-Putin summit will settle these issues and give political direction to the two bureaucracies. But the two leaders may also need to take a hard look at the future, and ask what they want from each other. The economic relationship although growing, largely revolves around energy and arms transfers. Two-way trade is a little over $11 billion. Despite the positive signals from the top, business and industry in both countries are reluctant to venture forth in either direction. Add to that India wants private industry to take the lead in trade and investment, government-controlled PSUs are being privatised. An era is ending in India but in Russia state enterprises remain the norm. The future is out there but whether India and Russia are together or apart is the question.