Diplomacy On The Table: Get The Cuisine Right, Serve It Well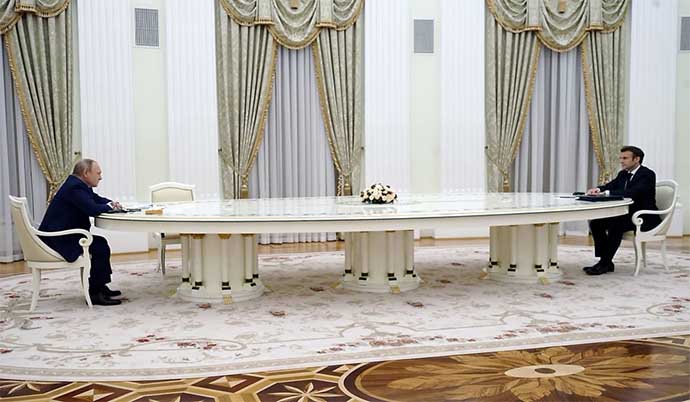 NEW DELHI: Russia's military shadow boxing over Ukraine may have overshadowed the rather fascinating display of lunch diplomacy that played out at the Kremlin, where President Putin hosted his French counterpart Emmanuel Macron.
While the 16-feet-long table that separated the two has conveyed conflicting interpretations (including reportedly Putin's determination to remain Covid-free), the lavish menu served up the best of Russian cuisine from its vast regions. There were Russian wines from the Black Sea-bordering region of Krasnodar, pickled apples (a nod to the preservation techniques of the frigid north, with langoustine), reindeer meat, sturgeon steak (no one wants to be a "caviar socialist", after all) served up as haute cuisine but decidedly Russian style—powered by Russian ingredients and a Russian sense of luxury.
Then, there was also pititim or "Israeli couscous", food for children of the Mediterranean belt, elevated to star status in New York restaurants. The inclusion of couscous may seem odd but put it down to the chef's style. The fact is the Russian elite historically followed French manners and customs—including food and beverage choices. In the 19th century, it was common for Russian aristocrats to speak French, employ French cooks and prefer only French wine. In fact, some Champagne houses bragged about how their biggest market was Russia, where consumption was sometimes even more than domestically.
Veuve Clicquot, the widow who founded the eponymous Champagne house (one of the world's finest), now owned by the conglomerate LVMH (Louis Vuitton Moet Hennesy), in fact, was a leader in international trade from France. As soon as the Napoleonic war ended, and ceasefire was announced, she seized the moment and rushed stocks to Russia in 1814, confident that the soldiers who had drunk her champagne while in France will fuel its popularity once back home too. So popular did her bubbly become that the czar declared he'd drink nothing but Veuve Clicquot (or so the story goes). While Russia won the war, French culture and food reigned.
In later years, the French and the rest of the world adopted Russian-style table service ("service a la russe", where meals are served course by course, though most people mistakenly assume that is "French-style"), vodka became fashionable in America, the new cultural leader post World War II, and Russia itself had a brief tryst with partial prohibition (under Gorbachev, vineyards in southern Russia, one of the few areas where it is possible to grow grape vines, were pulled out and repurposed to produce crops—and drinks—for the masses). But elite preferences for French-ified wining and dining seemingly endured.
Under Putin, however, made-in-Russia is being zealously championed, including when it comes to wines. Spanking new wineries by the Black Sea have been producing wines, trying to increase domestic footprint but also attract global wine tourism and attention. Wine critics like Jancis Robinson (of the Financial Times), who was invited on a trip and wrote about it some years ago, called the quality mixed. But of late some wines like the Usadba Divnomorskoe Rebo 2015 that was served to Macron have been rated well.
Luckily, everyone managed to avoid "Russian Champagne", a contentious issue and drink, after Putin's legislation on it had French winemakers up in arms some time ago. As the Western press reported, Champagne from Champagne had to be labelled "sparkling wine" (in Russian), while Russia-made sparkling wine is to be called "Shampanskoye" (or "Champagne", in Russia). Given how zealously the Champagne appellation is protected by the French (whose stance has always been that only Champagne from Champagne is Champagne, a mandate to which India and most other nations globally are signatories), one wonders what Macron's reactions may have been to any suggestion of "Russian champagne"!
Food diplomacy after all is about subtle (or not so subtle) signalling. What is served and how it is served sums up the message being conveyed.

Some examples from India would be relevant here. When Sir Thomas Roe, ambassador of the Court of St. James, was a guest at the court of the Mughal Emperor Jahangir in Agra, he found nobody would dine with him. Even when he finally managed to get himself invited to a senior courtier's home, and found the table laden with fine food, the host himself had disappeared. No one was willing to break bread with the foreigner.
In modern India, on the other hand, lavish hospitality and a mutual partaking of food and drink at state banquets has often been a hallmark of diplomacy—none perhaps as talked about as the meal hosted by then Prime Minister Atal Bihari Vajpayee for Pakistan's Pervez Musharraf in Agra in 2001. Well-known food consultant and writer Jiggs Kalra was tasked with creating a unique, never-to-be-forgotten menu.
Kalra and his team of chefs created dishes inspired from all over India, cooked using the principles of Ayurveda. Every dish, such as the poetically named prawns, Daure ki tafreeh, had special spices from Lucknow to go with the main ingredient, depending on its taseer and seasonality. Before this, Kalra had created a special rose and cardamom kulfi for Princess Diana during her India visit. Rose for an English rose? The symbolism was evident.
A well-tailored menu for a state banquet obviously seeks to showcase not only a country's culture via cuisine but also accommodates the food preferences of its main guest—how can diplomacy succeed if you don't show care there? Guests at Rashtrapati Bhavan often get a taste of Dal Raisina, and when Trump came calling, the meal finished off with not just a malpua-rabdi roll but hazelnut-apple pie too with salted caramel sauce in keeping with American tastes.
Some savvy guests may use food to earn goodwill. Food blogs and accounts in the past have talked about how almost every city in the world has a restaurant that is highly recommended to tourists because Bill Clinton ate there. Obviously this was a system of rating unknown to Michelin inspectors but legit for many, not because of Clinton's reputation as any gourmand but perhaps because of his charisma. There are also accounts of him always talking to hotel and restaurant staff and other customers (should there be any) and posing for pictures. In New Delhi, the Bukhara at ITC Maurya that hosted the Clintons for a meal during a state visit, kept alive the memory (and prestige) of that visit by inserting a "Clinton platter" (mixed grills) on the restaurant's menu.
Sometimes, however, food diplomacy does not have the desired effect. When Justin Trudeau came visiting Delhi, an event had Vikram Vij, owner of Vij's, a popular Indian restaurant in Vancouver, flying down to feed local VIPs Indian food! Perplexing to say the least, considering that India is home to every sort of food, including fusion or modern Indian!
(The author is a culinary analyst and historian, and has written a book titled 'Business on a Platter'. Views expressed in this article are personal.)