Back To The Future: Modi, Putin Chart The Way Forward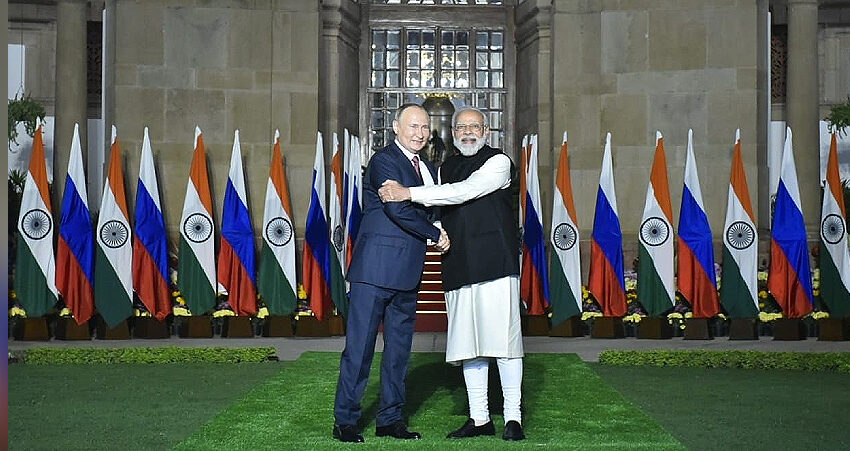 NEW DELHI: Four hours and a record 28 agreements! President Vladimir Putin's hurricane working visit to Delhi may have gone a long way in setting at rest frequently voiced doubts about the future of the India Russia relationship.
"We needed to correct some of the negative narratives which were created due to the postponement of the summit last year," said P S Raghavan, former ambassador to Russia. "There were also statements by various people which suggested that India and Russia are drifting apart."
Of course, not all the documents signed were agreements, some were MoUs, some were protocols requiring negotiations before they are implemented. Others, as in the defence sector, may remain unknown since this is one area where Russia shares technology and expertise that no other country does.
What was revealed was that a programme of military co-operation for defence between the countries for the next 10 years was also charted out with the key takeaway for India being the conclusion of the AK-203 assault rifle deal. Under the deal, five lakh AK-203 rifles would be produced in Korwa, Amethi for around Rs 5,124 crore.
The deal which is part of a number of defence agreements signed today, is a boost to the Army who has long sought the AK-203 for counter-insurgency and counter-terror operations. It is also a boost to the government's 'Make in India' programme. As for other defence matters, senior MEA officials confirmed that the S-400 air defence supplies from Russia would be received by India within this month. Notably, however, CAATSA was not discussed.
The documents signed also gave a sense of how broad-based cooperation between the two countries is. From space launch vehicles to metallurgy where India needs to fill crucial gaps; cooperation in the Blue Economy to building shields against cyber-attacks on India's fintech industry; Russia will provide expertise and training in the oil and gas sector while India will help Russia with modern accounting methods.
There was exchange of ideas on issues like the Indo-Pacific where Delhi has major concerns vis a vis China, but during the media briefing that name was never mentioned.
"The discussions were broad ranging and touched upon a number of geo-political issues. We did discuss the Indo-Pacific and, yes, India's security concerns were put forward," said foreign secretary Harsh Shringla.
Earlier, there was the inaugural 2+2 Dialogue of the foreign and defence ministers of both countries. Rajnath Singh told his Russian counterpart Serbey Shoigu that India's defence challenges are "legitimate, real and immediate," and that the country sought partners who are "sensitive to its requirements."
"The [Covid-19] pandemic, the extraordinary militarisation and expansion of armament in our neighbourhood, and the unprovoked aggression on our northern border since early summer of 2020 have thrown in several challenges," he said. Singh underscored that defence cooperation remained "one of the most important pillars of the India-Russia partnership."
External Affairs Minister S Jaishankar said that India and Russia had many challenges to address one of them being the "consequences of over-centralised globalisation." Stating that the Covid-19 pandemic had raised questions about the current model of global affairs, the minister said that even as long-standing challenges remained, new ones had emerged for India and Russia to address. Prominent among them were terrorism, violent extremism and radicalisation.
Jaishankar added that India and Russia had a number of common concerns in a number of regions in the world, "The situation in Afghanistan has wider repercussions, including for Central Asia. West Asia or the Middle East continues to present hotspots. Maritime security and safety is another domain of shared concern. We both have a common interest in ASEAN centrality and ASEAN-driven platforms."
The much talked about personal chemistry between Modi and Putin was also visible. "My dear friend President Vladimir Putin … The way you have shown your attachment to India, it is a kind of symbol of your personal commitment, it shows the importance of India-Russia relations, and for this I am very grateful to you," Modi said.
The Russian president responded, "We perceive India as a great power, a friendly nation, and a time-tested friend. The relations between our nations are growing and I am looking forward to even more outcomes going into the future."