As Russia Batters Ukraine, Delhi's Concerns Centre On Indian Students And Impact Of Western Sanctions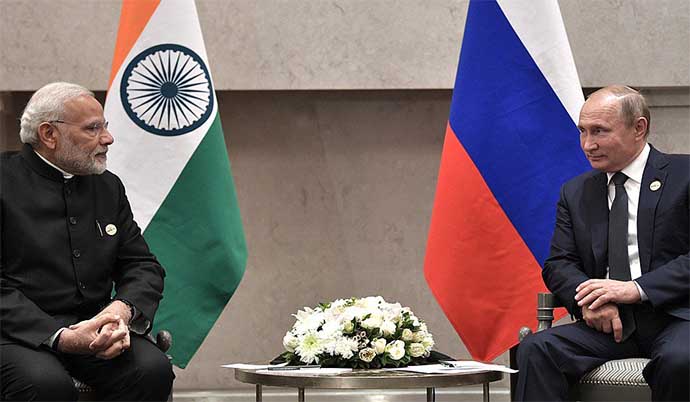 NEW DELHI: India's cabinet committee on security met late on Thursday to discuss the situation triggered by Russia's invasion of Ukraine. Perhaps the most crucial phone call of the day was Narendra Modi's chat with Russia's President Putin on Thursday night. The foreign office press release said the prime minister "called for an immediate cessation of violence … and for concerted affairs on all sides to return to the path of diplomatic negotiation." Putin's response, if any, was not mentioned.
But with Russian troops battering at the doors of Ukraine's capital Kyiv, its ambassador in Delhi demanded that the Indian government use its "strong voice" to persuade Russia's President Putin to relent on the invasion. Ambassador Igor Polikha, briefing journalists in Delhi, also said he was "deeply dissatisfied" with Delhi's response to the crisis. Foreign Secretary Harsh Shringla, at a briefing late on Thursday evening, said he "had not seen any disappointment", insisting that India was talking to all concerned and the External Affairs Minister S Jaishankar would be talking to his Ukrainian counterpart soon.
As for any diplomatic initiative by India, Foreign Secretary Shringla said, "We have emphasised on the Minsk agreement, the Normandy format and we have maintained that people need to talk to one another, parties need to be engaged. If there is anything we can do to facilitate this engagement, we are more than happy to do so."
Shringla was careful when asked about sanctions by the West. "Clearly, we have to study this as any sanctions will have an impact on our existing relationship. It would be correct to acknowledge that factor. The actual impact of the sanctions need to be studied further and we will do that."
Asked about the resolution being framed against Russia at the UNSC, Shringla said that India had so far seen a "draft copy of the resolution at the UNSC. This will change and we will have to see our position when the final resolution is tabled."
Concern over the plight of thousands of Indian nationals, many of them students, stranded all over Ukraine. Modi mentioned this in his chat with Putin. Again, it was not clear what Putin's response was. In fact, the plight of Indian nationals was the major point of discussion at the briefing by Harsh Shringla. Four thousand Indian students had left Ukraine, he confirmed but 16,000 remained, some in Kyiv, others scattered all over the country including in places like Kharkiv that was under attack by Russian forces. Camp offices are coming up Ukraine's border with Poland and also in Lviv to facilitate movement of Indians.
"The government has had great experience in repatriating nationals in moments of crisis. We did this through the Vande Bharat Mission (VBM) which repatriated India nationals during the peak of Covid and again with the Devi Shakti mission which repatriated Indian nationals from Afghanistan. We are confident that we can and will do the same in Ukraine," Shringla said.