Yuan Wang 5 Chinese Tracking Vessel: Foreign Policy Test In The Making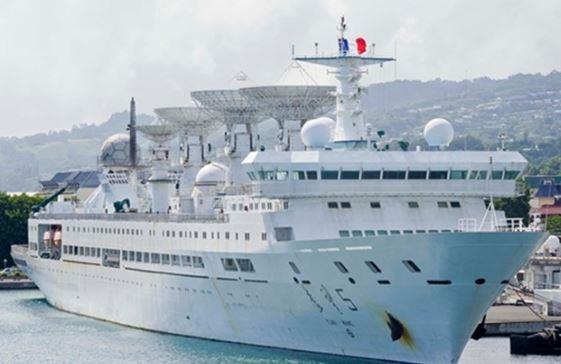 The Ranil Wickremesinghe-Dinesh Gunawardena government faced its first major foreign policy test last week, over the planned visit by a Chinese satellite tracking vessel to Sri Lanka.
The Sunday Morning reliably learns that the foreign ministry is in discussion with China, in an attempt to convince it to replenish the State-owned satellite tracking vessel at a different port to avoid the geopolitical conundrum the island nation is faced with due to the vessel's visit.

The vessel, the Yuan Wang 5 (IMO: 9413054), a 222 metre-long 22,000-tonne ship built in 2007 for tracking space operations, is expected to call at the controversial Hambantota Port in southern Sri Lanka on Thursday.
Permission for the vessel to call at the port had been given by the previous Gotabaya Rajapaksa Government. It was expected that the Yuan Wang 5 (YW 5) would resupply at Hambantota and it was expected to remain in port for several days to replenish.
It is understood that Sri Lanka had allowed a number of Chinese scientific research vessels to call on Colombo Port over the last few years, which did not generate controversy. However, a research vessel which had sought permission to dock at Colombo Port in July had not been granted permission.
The visit to Hambantota Port by the Chinese State-owned vessel has once again renewed speculation that China plans to use the port for military purposes.
The Sunday Morning reported last week that India had verbally registered its protest to Colombo over the visit of the Yuan Wang 5. The Indian foreign ministry spokesman stated that India would take all necessary steps to protect its security and economic interests.
The Indian High Commission and the Chinese Embassy in Colombo declined to comment on the matter. When The Sunday Morning contacted the Ministry of Foreign Affairs, they too declined to comment.
Recently-reappointed Foreign Minister Ali Sabry who was attending the 29th ASEAN Regional Forum (ARF) Ministerial Meeting was expected to discuss the matter with his Indian and Chinese counterparts and try to convince China to get Yuan Wang 5 to call at a different port for replenishment.
Last week, Cabinet Spokesman and Minister of Transport, Highways, and Mass Media Dr Bandula Gunawardena confirmed that the vessel had received prior permission to replenish at the southern port.
Timing Of The Visit
The visit of the Yuan Wang 5 to bankrupt Sri Lanka comes against the backdrop of an unprecedented economic and political crisis, where assistance from India and China is crucial to sustain essential services and restructure debt.
This puts Sri Lanka in a difficult situation regarding the visit of the vessel. The International Monetary Fund (IMF), with which the government is engaged in complex negotiations for an assistance programme presently, has highlighted the need for Sri Lanka to begin debt restructuring discussions with China.
China holds close to 10 per cent of Sri Lanka's external debt. Both India and China have offered Sri Lanka much-needed assistance during the Covid-19 pandemic and to weather the economic crisis which followed. India and China have provided Sri Lanka with lines of credits, grants, and new loans to sustain essential services and supplies.
Last month, Ambassador of Sri Lanka to China Dr Palitha Kohona told foreign media that Sri Lanka had sought a multi-billion-dollar assistance programme from China to help stabilise the economic conditions of the island.
President Wickremesinghe is also expected to visit Beijing next month.
The Yuan Wang 5's visit also comes in the backdrop of international criticism – particularly by the U.S. – of Chinese loans and investments to Sri Lanka and of Sri Lanka's external debt held by China.
Sri Lanka also walked back plans by a Chinese investor to build a mixed-renewable energy project on a three-island cluster off the northwest coast last year following security concerns raised by India.
A Diplomatic Blunder
A senior diplomat told The Sunday Morning on the condition of anonymity that Sri Lanka should have been more cautious in permitting the vessel to dock at Hambantota Port, terming the way the matter was handled as a 'serious diplomatic blunder'.
"While Sri Lanka can grant access to any of its ports to any ship as a sovereign nation, we should have had the foresight that India would be agitated by this move. Survey vessels from China and other countries visit our seas and call into our ports occasionally, but there are ways to reduce the suspicion around them. This visit is a litmus test to gauge how Sri Lanka's foreign policy is calibrated under Ranil Wickremesinghe," he opined.
Diplomatic historian Dr George Cooke, speaking to The Sunday Morning stated that the Yuan Wang 5's visit was not the first foreign research vessel to enter Sri Lankan waters, nor the first such Chinese vessel. He said that when such vessels were in Sri Lankan territorial waters, they had to obtain permission and follow protocol during navigation and stay.
"When such a vessel wishes to enter Sri Lankan waters, there are protocols that require obtaining clearance from the foreign ministry and related agencies. The practice is also for officials of the National Aquatic Resources Research and Development Agency (NARA) to remain on board the vessel during its time in our waters. The Chinese would have notified the Sri Lankan authorities in advance and sought relevant clearance as the path of the vessel is planned months in advance," Cooke said.
He added that such a visit has turned into diplomatic concern at present, with India expressing strong reservations, which was also natural. "This is why Sri Lanka needs strong diplomatic and negotiating capabilities to resolve such issues. A lack of sound policymaking in the past has brought us to this juncture," Cooke opined.
India's Concerns
Reports in the Indian press indicate that New Delhi is concerned about sensitive critical energy and maritime infrastructure in South India coming under electronic surveillance by the YW 5 vessel during its stay at the Hambantota Port.
According to Indian defence analyst and author Nitin Gokhale, if the Yuan Wang 5 is permitted to call at the Hambantota Port, it may reinforce New Delhi's concerns that the Chinese-funded port may be used for military activities by their adversaries.
He acknowledged that India was concerned that China might want to collect information on India's military and scientific infrastructure in southern India.
"India's concern is on the long-term consequences. Once allowed without resistance, the Chinese are bound to push the envelope," Gokhale told The Sunday Morning. He opined that India saw the move as an act of provocation by China, similar to the arrival of two People's Liberation Army (PLA) Navy submarines off the Colombo Port in 2014.
Gokhale's views were echoed by Nanyang Technological University Singapore Institute of Defence and Strategic Studies (IDSS) Research Fellow Dr Collin Koh Swee Lean, who pointed out that the concern was due to the stop at Hambantota.
"The issue isn't about these ships visiting the Indian Ocean; in fact, over the years China has deployed its space tracking ships to the Indian Ocean. The last one before this latest YW 5 mission was the YW 6 that was deployed to the Indian Ocean in August 2021. Nobody raised any issue. Now the issue is about YW 5's planned port call to Hambantota. That appears sensitive to India, not least surprising when we consider what happened in the past.
"For example, during the 2014 Ladakh standoff, a PLA Navy submarine called into Sri Lanka. Then, in 2017, when the Doklam standoff broke out, there was a surge in PLA Navy presence in the Indian Ocean. And if you consider the broader context for this YW 5 visit, it's the ongoing tensions along the Line of Actual Control (LAC). Recent Indian reports alleged that the PLA appears to be trying to provoke the Indian military along the contested border by intensifying military aerial activities near Ladakh."
India and Sri Lanka have built a close security relationship since the end of the civil conflict in 2009. Maritime security and intelligence cooperation have been cornerstones of the relationship after the change of government in Sri Lanka in 2015.
In March 2021, a secretariat for trilateral National Security Advisors (NSA) was launched at the Navy Headquarters in Colombo to act as a platform to improve maritime security cooperation between the Maldives, India, and Sri Lanka.
The coordination secretariat was a decision reached at the trilateral NSA's conclave, which is spearheaded by India. India and Sri Lanka have also been in discussions about Sri Lanka acquiring Indian-built maritime patrol aircraft to improve the island's maritime security.
Gokhale argued that New Delhi did not expect to be 'surprised' once again about a Chinese naval asset's arrival in Sri Lankan waters given the robust maritime security coordination mechanisms already in place between India and Sri Lanka. He said that Sri Lanka should persuade the Chinese not to visit the Hambantota harbour.
However, Sri Lanka has over the years strongly stated that all security and naval operations in and from the Hambantota Port will be done by Sri Lanka, with China only involved in the commercial matters.
The 2015-'19 Yahapalanaya Government also moved the Sri Lanka Navy (SLN) base at Tangalle to a site adjacent to the Hambantota Port in 2019 and intended to move the SLN Southern Command to the site from its current base at Galle once the infrastructure is in place. According to Navy sources, a number of foreign warships, including Japanese, Russian and US naval vessels have called at Hambantota Port over the years. This year, two Indian warships visited the Hambantota Port in March.
The Sri Lanka Police, Customs, and Immigration Department handle law enforcement and compliance monitoring within the harbour premises.
According to former Chief of Staff of the Sri Lanka Navy Rear Admiral (Retd) Y.N. Jayarathna, the choice of Hambantota Port as the port of call for the Chinese vessel may also have been due to practical reasons related to proximity to the central Indian Ocean Region where the vessel is expected to reach and the availability of berthing facilities for a ship of its size for a period of several days.
Jayarathna pointed out that earlier visits by scientific vessels had included learning exchanges for local scientists and university students, who would visit the vessel in port or come onboard for a short duration.
Such exchanges are aimed at improving goodwill between the countries and helping local academia to gain valuable knowledge on how advanced technological systems used for such disciplines work. However, there is no indication that such a programme has been arranged for the visit of Yuan Wang 5. Further, some survey vessels, which called on Sri Lanka earlier and operated in the Sri Lankan Exclusive Economic Zone (EEZ), had Sri Lankan officials on board.
Jayarathna explained that it was the norm for such vessels not to use their analytical systems while in port. He said that if any vessels were found to be carrying out active electronic surveillance, while at a foreign port, such vessels ran the risk of being blacklisted and barred from entering ports across the world. However, he acknowledged that Sri Lanka was too technologically challenged to monitor electronic emissions from high tech surveillance systems.
What Is A Tracking Ship?
The Yuan Wang 5 is not an armed warship.
According to Nanyang Technological University Singapore Institute of Defence and Strategic Studies (IDSS) Research Fellow Dr Collin Koh Swee Lean, the concern surrounding the vessel stems from two facts. First, the ship belongs to the People's Liberation Army Strategic Support Force and is not a civilian entity; and secondly, due to China's emphasis on civil-military fusion, it means many platforms can carry out dual functions.
"That said, it doesn't change the fact that the Yuan Wang 5 (YW 5) is a typical space tracking ship whose capabilities are especially designed to conduct space support missions and not for military espionage," Dr Koh opined.
"A number of space-faring nations possess such specialised vessels, more generally known as a space tracking ship even though its typical role is to track and monitor satellites, especially in supporting their launches from Earth. China's YW series (the class of ship that Yuan Wang 5 is in) space tracking ships are also involved in supporting the manned space programme, such as the Shenzhou-13 mission last October. Almost all UN Security Council permanent members except the UK have such ships in service, in fact for decades. India is joining with its new, similar ships too," Dr Koh explained, responding to a question by The Sunday Morning on the Yuan Wang 5 type of vessel.
According to Dr Koh, the onboard mission suite of YW 5 is optimised for space support missions, especially tracking of spaceborne objects such as satellites.
Koh argues that the YW 5 barely have the types of specialised equipment to conduct normal electronic spying within terrestrial domains – a role that is left to specialised intelligence collection ships, which the Chinese military possesses.
However, Australian National University National Security College Senior Research Fellow Dr David Brewster told The Sunday Morning that it was fair to call the YW 5 a spy ship, despite having the primary role of tracking satellites in orbit.
"The Yuan Wang 5 is primarily a satellite/missile tracking vessel. It can be used for relatively benign purposes such as tracking Chinese satellite launches. However, we should assume that it's probably being used to undertake surveillance of other countries in the region, possibly to monitor Indian missile launches which are undertaken in waters near Sri Lanka. The vessel will also likely have capabilities to conduct electronic surveillance on surface vessels and potentially even undersea communications cables. It's fair to call it a 'spy vessel,'" he opined.
Dr Brewster said that while such vessels could conduct surveillance missions in international waters, it was illegal for such activities to be conducted within a nation's territorial waters. He warned that it would be "a far-reaching mistake by Sri Lanka" if the country were to allow Sri Lankan waters or a port to be used to mount surveillance on India.
A Similar Scenario
Earlier this year, a Chinese surveillance vessel navigated off northern Australia, which Canberra said was not a breach of international maritime laws. However, the visit also raised security concerns in Australia.
The seas around Australia, Southeast Asia, and countries in the Pacific rim are frequented by Chinese survey and tracking vessels. Similarly, tracking and intelligence gathering vessels of several global powers routinely operate in the waters of China and Taiwan and the disputed regions of the South China Sea.
In September last year, India launched the INS Dhruv, its first purpose-built missile tracking vessel. The INS Dhruv is reported to be capable of tracking ballistic missiles and satellites. Its ballistic missile tracking capabilities will likely also serve as an early warning system and enable India to monitor missile tests and satellites in the region. It is reported that the Indian vessel is also equipped with the capability to map ocean beds for research and detection of enemy submarines.
(By arrangement with 'The Morning')