Protests Outside 'Rajapaksa Hideout' Trincomalee Naval Base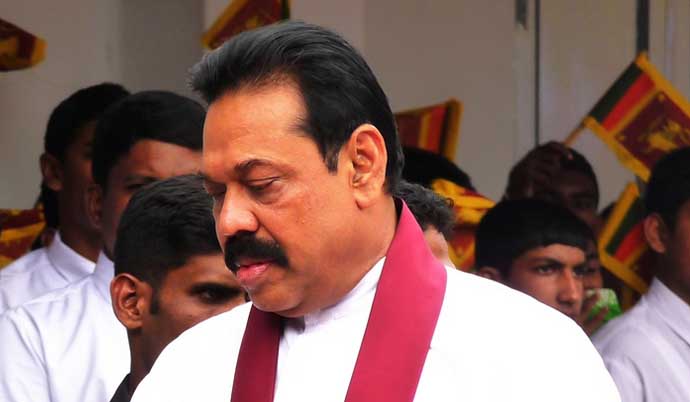 There have been protests in front of the Trincomalee Naval Base where former Prime Minister Mahinda Rajapaksa is reportedly staying along with a number of his family members.
Video reports showed a helicopter, reportedly belonging to the Sri Lanka Air Force, being boarded by a few people at the Police Field Headquarters. Reports claim it was boarded by Rajapaksa's third son, Rohitha Rajapaksa, and the latter's wife and children, adding that other family members, including Chamal Rajapaksa and Basil Rajapaksa, are also at the naval base.
"Give our money back. Do not protect thieves. They are all murderers," the protestors chanted in front of the naval base.
Mahinda Rajapaksa's son, Namal Rajapaksa, told AFP that his father will not flee the country.
Mahinda's second son and former Prime Minister's Chief of Staff Yoshitha Rajapaksa and his wife reportedly left the country early on Monday. Some reports claim they have reached Melbourne, Australia.
Mahinda resigned as prime minister on Monday. Calls for his arrest have begun, with Tamil National Alliance Spokesman M.A. Sumanthiran saying Rajapaksa should be held accountable for inciting violence.
On Monday, supporters of Mahinda gathered at the Temple Trees, where they engaged in chants asking him not to resign. After Mahinda addressed them, the crowd assaulted protesters outside the Temple Trees, at "MynaGoGama", where they were engaged in a days-long struggle, demanding his resignation. The crowd then moved towards "GotaGoGama", where they assaulted anti-government protesters, setting fire to many structures near the Galle Face Green.
In retaliation, the homes of several MPs have been burnt around the island, including the ancestral home of the Rajapaksas in Hambantota.
(By arrangement with www.themorning.lk)