With Eye On FATF, EAM Urges Pak Be Held To Account On Terrorism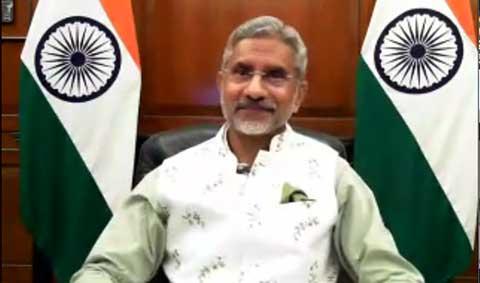 NEW DELHI: There's nothing like terrorism to get India moving, and at the 19th annual Darbari Seth Memorial Lecture, External Affairs Minister S Jaishankar did not hold back. Not that Darbari Seth had anything to do with diplomacy or terrorism, he was an esteemed late director of the House of Tatas, but the annual lecture covers a broad range of subjects and issues.
Jaishankar warned that the international community must continue to ensure that certain 'states' Read More
were held accountable for their inaction against terrorist activities on their soil.
"Certain states have attempted through bland denials of their export of terror and have painted themselves as victims," he said during the web address, "but as we have seen from last week, pressure through the use of international mechanisms to prevent the funding of terror groups can work. It has eventually ensured certain states have grudgingly admitted that they have aided and abetted certain terror groups and associated criminal syndicates. The onus remains on the international system to shut down the systems that enable support to these terror groups."
The EAM was speaking after what has been a harrowing week for Pakistan. In a bid to get off the FATF grey list, Pakistan admitted to the presence of 87 terrorists – among them being Maulana Masood Azhar, Hafiz Saeed and Zakiur Rehman Lakhvi –  were on its soil. But what was an even bigger coup for India was the fact that Islamabad admitted that Dawood Ibrahim – mastermind of the 1993 Mumbai bombings and designated a global terrorist in 2003 – was living in Karachi.
Pakistan's admission was clearly on the EAM's mind though he did not name it. He called for  putting in more institutional mechanisms to deal with the 'menace' of terrorism, a menace he said was as deadly and as  important to deal with as the global pandemic.
"It has been 19 years since 9/11, but the globalised response to terrorism has only tended to emerge when there has been the creation of a spectacular event. We do have a range of international mechanisms to deal with terrorism such as the FATF, various UN sanctions and Counter Terrorism Enforcement Directorate. But we still lack a Comprehensive Convention on International Terrorism. This is the need of the hour," he said referring to the late Rajiv Gandhi's signature UN initiative.
The EAM's address comes at a particularly emotive time for India. Earlier this week, India National Intelligence Agency [NIA] released 13,800-page chargesheet with details of several Pakistan-based terrorists' involvement in the 2019 Pulwama attack in J&K. Analysts believe that Islamabad anticipating Delhi's action had attempted to forestall them by admitting that the terrorists were on their soil. This is a desperate bid by Pakistan to ensure that the FATF sanctions are not tightened – Pakistan has to show ready evidence to the international body every three months that it is cracking down on terror funding. The country is currently Rs 14 trillion [87 billion dollars] in debt and desperately needs aid from international bodies such as the IMF, ADB to help it stay afloat.
FATF issues have engulfed Pakistan's internal politics. In a series of tweets earlier this week, Prime Minister Imran Khan attacked the Opposition for defeating two bills related to the FATF.
"Opposition tries to hide behind facade of democracy to protect their loot & plunder. To blackmail for NRO by defanging NAB, they would even have Pak put on FATF black list to destroy nation's economy & increase poverty. They keep threatening to bring down govt unless given NRO," Khan's tweet ran.
"Let me make clear: No matter what happens, my govt will not allow any NRO as it would be betrayal of nation's trust in holding plunderers of public wealth accountable. Musharraf gave NROs to the 2 pol ldrs which quadrupled our debt & destroyed economy. There will be no more NROs."
The NRO is the National Reconciliation Ordinance introduced by former president Pervez Musharraf in 2007. It granted amnesty to politicians and bureaucrats before it was struck down by the Supreme Court in 2009. Khan has long threatened that certain Opposition leaders are putting pressure on him to reintroduce it. By doing so, he claimed, they would hide their 'corrupt money' but ensure the bills failed by which Pakistan would remain on the FATF grey list. His critics however argue that these moves are just theatrics to ensure his political standing remains high and has nothing to do with the FATF which will decide on Pakistan's case at its next meeting in October.