An Angry Pakistani Army, A Stubborn Politician And Turncoats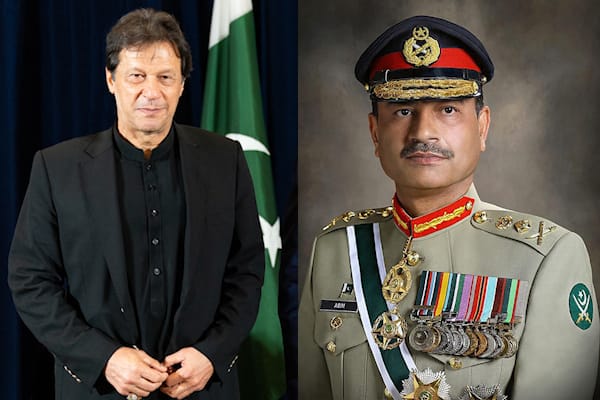 NEW DELHI: Scars of violence take time to heal and the mayhem unleashed on May 9 by Imran Khan's supporters, who vandalised military installations and stormed the Lahore Corps Commander's house, remains a gaping wound. The Army is in no mood to forget or forgive, more so in a country that has seen military rule for the better part of its 75-year history and where the army still calls the shots.
A four-day meeting of formation commanders, chaired by Army Chief Gen. Asim Munir, resolved to speedily try those responsible for the violence under the Pakistan Army Act and Official Secrets Act. This comes as no surprise, especially when a section of the judiciary and the Supreme Court has been what many call unusually lenient towards Imran Khan and his party workers. There was a veiled threat for Imran-leaning judges as well: "endeavours by any quarter to create obstructions and stymie the conclusive defeat of ill design of inimical forces will be dealt with iron hands".

The Army chief is said to have made it clear to the rank and file that political affiliations should not in any way impede discharge of duties and institutional sanctity. And that violators will be penalized.
Imran Khan has divided various segments of society, including the establishment. Both of them draw their strengths from Punjab. Even military veterans, who normally don't indulge in overt display of support for a political figure or party, have backed Imran. But May 9 proved to be a spoiler.
"There's no doubt that a section of Army officers used to like Imran Khan but the attack on military installations is not digestible to any uniformed person. So after the incidents of May 9, the Army stands united," says Azaz Syed, a senior journalist working for Jang Geo group, Pakistan's largest media network.
Meanwhile, politics is hotting up. Many of the deserters from Imran Khan's party PTI have joined the Istehkam-e-Pakistan Party, a new entity formed by Jahangir Khan Tareen who was once Imran's close confidant.
Simultaneously, PPP leader and former Pakistani President Asif Ali Zardari is trying to woo PTI defectors, especially those who have a vote bank in Punjab, to join his party. Apparently, Zardari wants his son Bilawal, who's right now Pakistan's foreign minister to be prime minister, besides eyeing the presidency himself.
Imran Khan finds himself increasingly isolated but is refusing to back down. Senior PTI leader Shah Mehmood Qureshi, who was arrested for the May 9 violence and came out of jail last week, met Imran on Wednesday. He told the waiting media that he would speak to them after meeting Imran. No such thing happened. Reports suggest he told Imran to back down, maybe go abroad for a while and leave the party reins to him, else he (Imran) and the party will pay a heavy price. Imran reportedly didn't agree and a bitter exchange followed.
Will Qureshi join the new political bloc? "That's not clear yet but Shah Mehmood Qureshi is a seasoned politician. And he has this knack of siding with the party in power or the one he thinks would come to power after the next elections," says Syed.
Elections are due later this year but nobody knows if they will be held on time. So what next for Imran Khan? The Army wants him to fall in line. He remains defiant but would do well to take lessons from Pakistan's political history: beating the Army is tough if not impossible. He can also learn from cricket, the game that catapulted him to a national hero and eventually into political stardom. If you can't occupy the crease, the next best place is the non-striker's end—observe the proceedings, formulate your strategy and wait for your turn.
Related stories/videos: