Uproar Forces Nepalese PM Oli To Scrap Ordinances That Threatened Federal Polity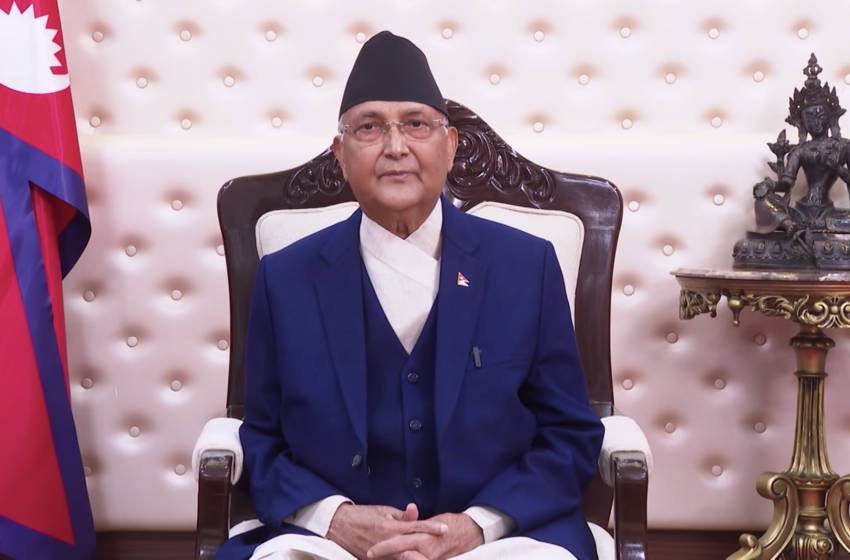 NEW DELHI: 'Undermining Loktantra' (Undermining Democracy)–"Yet, it seems that the large mandate has been entirely misinterpreted by the man in charge of both the ruling party and the federal government, Prime Minister KP Oli. It is no secret that Oli has been critical of the move towards federalism from the start. It is also not news that Oli has, time and again, embraced authoritarian tendencies over more cooperative and democratic ones."–Editorial in The Kathmandu Post, April 24.
April 24 is celebrated as Democracy Day in Nepal but there's been little to celebrate. Rather Prime Minister K.P.Sharma Oli, despite failing health (he underwent a second kidney transplant last month) and related uncertainties, focused more on shoring up his diminishing political standing than anything else (coronavirus included).
On April 20 his cabinet approved two controversial ordinances, approved post-haste by President Bidhya Devi Bhandari (questions are being raised about her role). One ordinance sought changes in Nepal's Political Party Act, making it legal if 40% of MPs or central committee members of any party wanted to break away and form a separate party. Until now, it had to be 80 members drawn from both the central committee and parliament.
The other ordinance sought changes in the functioning of the constitutional council, a body representing all pillars of government (from PM to speaker and chief justice). It proposed to replace the unanimous mode of decision making on key constitutional matters, to one by majority vote. Both ordinances were seen as attempts to undermine Nepal's federal democratic polity.
The respected Kathmandu Post summed it up aptly: "It is no secret that Oli has been critical of the move towards federalism from the start. Many essential bills that would strengthen democracy have been waylaid, while many controversial ones have been encouraged. "
Following a torrent of criticism, both ordinances were repealed. But analysts say democracy was hardly the issue. PM Oli was looking to ensure his position in the event his Nepal Communist Party (NCP) fell apart. Although it has a two-thirds majority in parliament, the NCP is actually a merger of Oli's parent Nepal Communist Party (Unified Marxist Leninist), and the Maoists led by Pushpa Kamal Dahal 'Prachanda'.
Oli and Prachanda co-chair the party but it's been an uneasy relationship with the former unwilling to yield power to the latter. Prachanda has been pressing Oli to adhere to the gentlemen's agreement they had, wherein the co-chairs were to head the government for an equal time period. Oli, though has shown no inclination to yield
Prof. S.D.Muni of Delhi's Jawaharlal Nehru University said: "There is a lot of political flux in Nepal right now triggered by the pandemic. Oli's problem is that he is facing serious internal problems within the NCP which itself is deeply divided. Prachanda who is very upset since Oli is showing no signs of sharing power, made his move during the pandemic, demanding a national government. Oli made a counter move by coming up with the ordinance on political parties."
The counter move was a signal to two Madhesi parties comprising Nepalis of Indian origin, the Samajbadi Party and the Rastriya Janata Party, that he was ready to break with the ruling coalition and join hands with them to form a new government. Instead, the Madhesi parties announced their merger to form the united Janata Samajbadi Party. Their move was apparently orchestrated by India whose unhappiness with Oli's pro-China tilt has been quite evident.
For now some kind of stalemate is evident. But Oli's government has been faltering on social and economic delivery. Oli's cronies are reported to be running the show given his ill health. Prof Muni believes Oli could survive if a national government was formed although his powers would be severely diluted. But Oli is not inclined to see a dilution in his power and status. So expect more manoeuvers and backstabbing as the politicians up their game.