Ties With Nepal: A Reality Check For India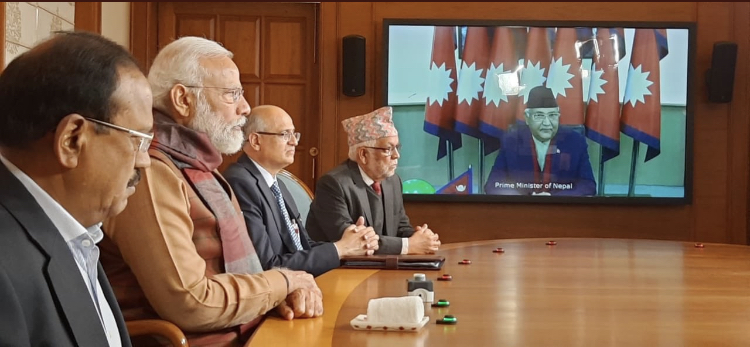 NEW DELHI: The inauguration of an Integrated Check Post at Biratnagar on the India-Nepal border saw Prime Minister Narendra Modi ooze charm and goodwill when he said via a video link to Kathmandu: "I wish that with your cooperation and support in the new year, we take our relationship to a higher level." He hoped "this new decade becomes the golden decade of Indo-Nepal relations."
His Nepalese counterpart KP Sharma Oli, while thanking Modi for his help in helping build 50,000 homes for those displaced by the 2015 earthquake, raised a few eyebrows when he said "The time has come to resolve all pending issues through dialogue in the lasting interest of our two countries and peoples."

It was seen as an oblique reference to Kalapani, the enclave at the trijunction of India, Nepal and China which Kathmandu claims and India holds. Kathmandu has been seeking a meeting at the foreign secretary level on Kalapani after India included it in a map following the bifurcation of J&K into two union territories.
Oli is also reported to be demanding that the security clause of the Indo-Nepal Treaty of 1950 be removed. The clause requires the two sides to enter consultations in the event of "serious friction or misunderstanding with a neighbouring state", which could affect ties between Delhi and Kathmandu.
The tough line Oli is pursuing with India could be part of the traditional balancing by Kathmandu's political elite. But given Oli's equations with China, there may be a sense in Kathmandu that it has greater leverage to blackmail Delhi. So what does Oli want? He has New Delhi's attention, there's no doubt about that.
Last September the two leaders jointly inaugurated the India-built Motihari-Amlekhgunj pipeline which carries two million tonnes of petroleum products to Nepal. They are working on no less than five cross-border railway links including one from Raxaul in India's Bihar to Kathmandu. Bus services from the temple town of Ayodhya in India's Uttar Pradesh to Janakpur in Nepal are expected to strengthen ties of custom and tradition besides boosting trade and economic activity.
"The importance of better connectivity increases even more when it comes to India and Nepal," said Modi, "because our relationships are not just neighbourly. History and geography have connected us with nature, family, language, culture, progress and how many more threads. Therefore, good connectivity between the two countries connects our lives more closely and opens up new avenues between our hearts."
While Modi is making a serious bid to restore the Nepal connect, others say he needs to do more and improve timelines for completing projects if the idea is to compete with China. President Xi Jinping's visit to Kathmandu last October with offers of billions of dollars in development aid challenges India but how much money will actually come is not clear. It is also acknowledged in Nepal that many such projects may not be viable and could saddle that country with enormous levels of debt.
Even as Nepalese debate the China link, Sujeev Shakya of the Nepal Economic Forum, says India must do more to reach out to young Nepalese who may no longer be looking to India for education or jobs. He warns that the relations between the earlier generation of political leaders of the two countries have frayed and there is less understanding and expectation from each other. Nepal's economy has also transformed, he says; it is no longer as dependent on aid as it used to be but this is something India may not have woken up to.