India-Nepal: Protocol Set Aside For India's Top Diplomat, Ties in Reset Mode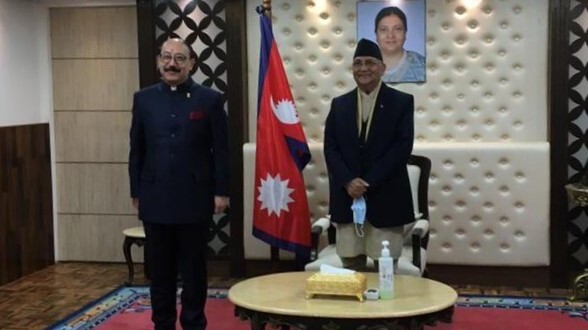 NEW DELHI: India's Foreign Secretary Harsh Shringla appeared to have struck all the right notes in Kathmandu, describing Nepal as "nikatam mitr" or close friend in initial remarks at the airport. As the day unfolded, protocol was brushed aside as Shringla called on Nepal's Prime Minister KP Sharma Oli, for a one-on-one that included a "candid review" of bilateral ties.
Sources said "the special relations between India and Nepal, and the importance of respecting each other's sensitivities was noted. Both sides felt that we should focus on the positives of the wide-ranging relationship."
The sources said Oli conveyed Nepal's desire to build on the momentum in the bilateral relationship and enhance the level of bilateral engagement. The Nepal government statement underscored that the talks between Shringla and his counterpart in Kathmandu, Bharat Raj Paudyal "were held in an atmosphere of utmost cordiality and friendship."
The meeting with Oli and the Nepali statement hinted that Kathmandu was willing to overlook recent misunderstandings and mend fences. It may obviate to some extent, Delhi's anxieties over Oli's China romance although that is a battle which is far from over. On Sunday, China's defence minister will be in Kathmandu where he is likely to push for closer military to military ties.
But for now, Shringla had another reason to smile: there appeared to be some progress on the border dispute.
"Both sides shared their perspectives on boundary matters and discussed ways to take it forward under the appropriate bilateral mechanisms," sources said after Shringla's meeting with his counterpart Bharat Raj Paudyal. Nepal has claimed Kalapani, Lipulekh and Limipyadhura and even included these territories in an amended map. That has made a solution difficult if not impossible.
Shringla called on Foreign Minister Pradip Gyawali and invited him to Delhi for the next meeting of the joint commission. He promised all help in terms of helping Nepal fight the coronavirus. There was also reference to introducing an air bubble between the two countries given that their land borders are locked. India's help for the Pancheshwar Dam also came up for discussion.