Can Nepal Justify Adoption of New Map?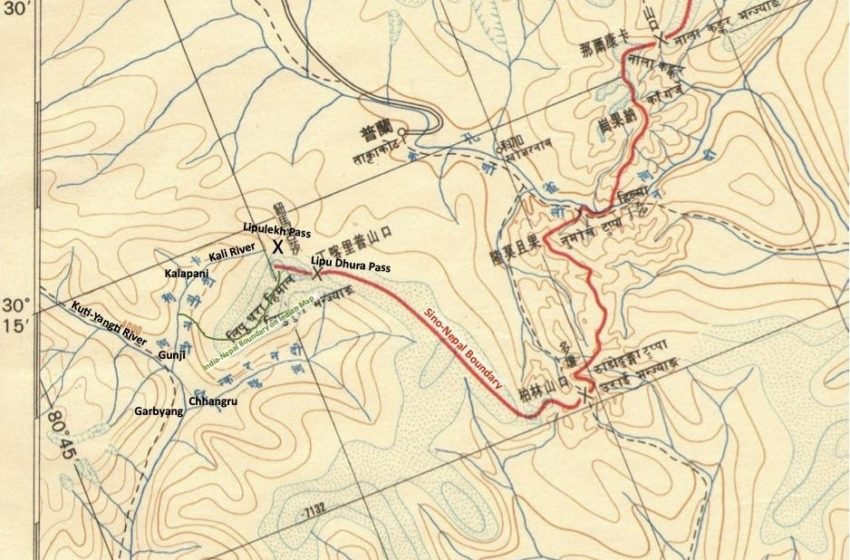 CHENNAI: Nepal's Parliament unanimously passed a resolution to adopt a new map in which some Indian territory claimed by Nepal has been included. Is it plain cartographic aggression? Let us see how the claim originated. The India-Nepal boundary in Kalapani area is aligned to the Kali river, based on the Sugauli Treaty of 1816. Nepal never raised a claim to this area till 1996. No claim for 180 years and within 24 years of raising a claim, a new map is being published. The origin of Kali river has been shown to be near Lipulekh Pass in Indian and Chinese maps and in Nepalese maps till now. In 1996, Nepal claimed that its origin is at Limpiyadhura, much to the west of Lipulekh.
In 1804, Nepal began expansion westwards into Kumaon and up to Kangra across the Sutlej river. In 1808, Maharaja Ranjit Singh drove them back across the Sutlej and by 1815 the British Indian forces drove them out of Kumaon, across the Kali river. A treaty was concluded at Sugauli on March 15, 1816, with the Kali river as the boundary between Nepal and the Kumaon region of India. The origin of Kali river was not mentioned in the treaty and it did not have a map along with it as can be seen in CU Aitchison's, 'A Collection Of Treaties, Engagements And Sanads Relating To India And Neighbouring Countries', Vol II, printed by Superintendent Government Printing India, Calcutta in 1909.
On November 2, 2019, India published a new political map showing the newly created union territories of Jammu & Kashmir and Ladakh. Nepal made a claim that this new map erroneously showed Kalapani as Indian territory. Actually, the map did not show any change in India-Nepal boundary, which remained exactly as it was in the 1954 map.
Nepalese scholars say that in 1952, Nepal and India established 18 joint check posts along Nepal-China border, which were vacated by 1969, except the one at Kalapani/Lipulekh, which India continued to hold. Buddhi Narayan Shrestha in his book titled 'Border Management of Nepal' mentions the details of these 18 check posts. Kalapani/Lipulekh is not one of them, thus invalidating the claim.
Scholars like Mangal Siddhi Manandar and Hriday Lal Koirala claimed that the maps available from 1816 to 1850 showed Limpiyadhura as the origin of the Kali river and the maps published thereafter wrongfully changed the boundary to Lipu Khola. However, it was only by 1856 that Superintendent of the Great Trigonometrical Survey of India commenced scientific survey of the sub-continent as given in the Historical Records of the Survey of India, Volume V, 1844-1861. This repudiates the claims of some authors that the British maps of 1856 and before showed Limpiyadhura as the origin of the Kali river. Even if there were maps in circulation, they were not scientifically surveyed or published as part of an international treaty.
In 1961, Nepal and China signed a boundary treaty, maps of which showed origin of the Kali to be near Lipulekh, conforming to Indian map. It is a bilingual map with markings in Nepali and Chinese. Number 1 boundary pillar has also been put at Tinker Lipu, to the east of Lipulekh Pass, conforming again with the Indian position. This being an internationally accepted map shows that at least from 1961, Nepal had no dispute with India in this regard. The map published by the Government of Nepal in 1975 also conforms to this.
Lipulekh Pass has been used by the Kumaonis, who are the original inhabitants of the Indian region bordering Nepal for trade with Tibet and for pilgrimage to Mansarovar Lake, from times immemorial. This had continued even when Nepal occupied Kumaoni territory for a short while. British India continued to use Lipulekh in the 19th and 20th centuries. After becoming independent in 1947, India continued to use the Pass for trade and pilgrimage. There is no doubt that Lipulekh Pass has been in India's possession physically and cartographically for a long period of time and Nepal initiated a claim for it only after 1995.
Even after attaining independence in 1947, India continued to exert administrative control along the route to Lipulekh. Article IV of The Sino-Indian Trade Agreement over Tibetan Border, 1954 mentions the passes through which traders and pilgrims of India and China are allowed to travel. Lipulekh Pass is one of them. Agreement to resume border trade in 1988 and agreement to enhance confidence building measures in 2005 reiterated this. Thus China has tacitly agreed to the Indian stand through agreements with India and Nepal.
Administrative control of the area has always been with India. The UP State Government has records showing Indian administrative control over the Kalapani area from 1830s. A UP State police post was at Kalapani in 1956 and an Indo-Tibetan Border Police (ITBP) surveillance post has been in existence from 1979. These records show that historically India has been in possession of the area while there are no records of Nepal having administered this area ever. The Garbyals residing in the area have always considered themselves to be Indians.
Now that Nepal has a new map, what next? Nepal does not have a legal stand on the case. There is also no point in a bilateral discussion with India after the map is promulgated. They cannot go back and de-promulgate the map as it will never get enough support in parliament and will be political suicide for any party. The area cannot be taken by force either. As the governments have also lost faith in each other, joint working groups are of no use. Only logical recourse is taking the matter to the International Court of Justice, for which both sides have to agree. The issue can be resolved only if both sides regain the lost friendship and if China does not try to prevent it. Finally, nothing can happen till the Coronavirus and Chinese intransigence on Indian borders subside.
(The author has commanded an independent Indian army brigade at Pithoragarh near Lipulekh and is a China specialist. Views expressed in this article are personal.)