Amid Strained Ties, Nepal Opens 'Military' Front, Wants Review Of Nepalese Gorkhas In Indian Army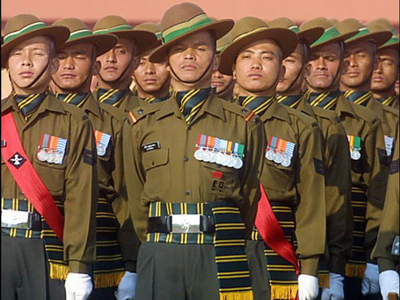 NEW DELHI: What prompted Nepal's foreign minister Pradeep Gyawali to say recently that the tripartite agreement of 1947, which allows his country's Gorkhas to serve in the Indian army, has become "redundant"? And that Nepal would instead like to have separate bilateral pacts with India and the UK—the other two signatories to the agreement.
Gyawali's remarks have raised eyebrows in India, given that Nepalese Gorkhas have been serving alongside Indian Gorkhas in the Indian army with rare distinction for nearly two centuries. They even carry Indian passports with their Nepal addresses when their battalions are deployed on peacekeeping missions abroad.
While the Indian government has said that it has got "no official communication from the Nepalese government" seeking a review of the agreement, the view within the security establishment here is that it's meant to needle India.
Bilateral ties have been strained since November last year over a boundary dispute. The Nepalese minister's remarks, therefore, are being seen as a "political move" to add fat to the fire. Besides, the sense here is that re-negotiating the agreement will only harm the interests of Nepalese Gorkhas who serve in the Indian army.
The Nepali government approached the UK with a formal request for a review of the tripartite agreement in February. This was after Nepalese PM Oli raised this matter with his then British counterpart Teresa May during a visit to the UK in June last year. But sources confirmed to StratNews Global that the matter has not been formally raised with India.
There are between 26,000 and 28,000 Nepalese citizens currently serving in the seven Gorkha regiments (1st, 3rd, 4th, 5th, 8th, 9th and 11th) of the Indian army. These regiments together have 39 battalions, which also include Indian-domiciled Gorkhas from Darjeeling, Dehradun and Dharamshala. The 2nd, 6th, 7th and 10th GR went to the British army after independence.
The Indian army recruits around 2,000 Gorkhas from Nepal every year. There are an estimated 1,28,000 to 1,30,000 Indian Army Gorkha veterans in Nepal.
The Nepalese soldiers are given the same pay, perks and pensions as their Indian counterparts, which wasn't the case for those serving with the British army until some years ago. They had to fight a court battle before parity in pay and pension with their British counterparts was introduced in 2007.
Explaining the logic for their government's demand for a review, Nepalese officials speaking from Kathmandu told StratNews Global: "It's an old agreement and the situation has changed. How long can citizens of a sovereign country
continue to work for the army of another country? The arrangement of Nepalese Gorkhas serving in the Indian army may not necessarily end but it does need a review."
Indian officials, however, disagree. "There's not much merit in their demand for a review of the agreement and they will do so at their own peril," said one official.
There are indications that among the changes being hinted at by Kathmandu are that Nepalese Gorkhas serving in the Indian army should not be part of operations against countries with which the Himalayan nation has friendly ties.
"Nepal has friendly ties with China. Does it mean the Nepalese Gorkha soldiers should not be deployed against China? Or against Pakistan, with whom it has cordial ties?" asked a senior official.
While it's not for the first time that Nepal has sought a review of the tripartite agreement—it did so under the Maoist government of Baburam Bhattarai too—there are worries that this could prove to be a politically and emotionally charged issue. "Gorkhas serving with the Indian Army are an extension of our
people-to-people contact and our 'roti-beti ka rishta'," remarked an official.
But for the current Nepalese dispensation tilting towards China, these words may have little meaning.