Myanmar's Armed Resistance Groups Ready To Go On Offensive: NUG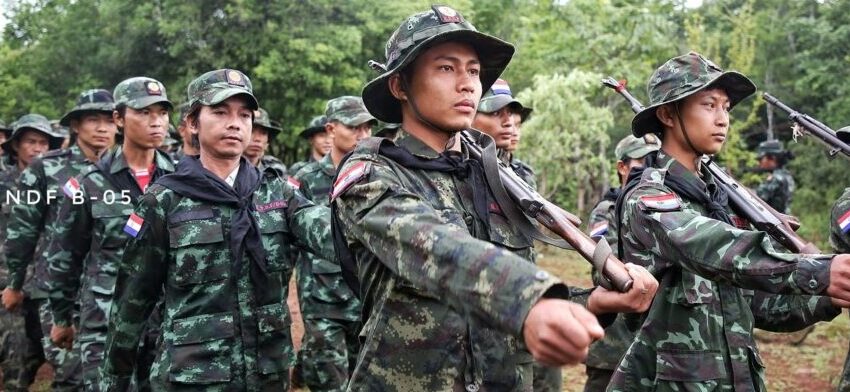 Myanmar's parallel National Unity Government (NUG) says its armed wings, the People's Defence Forces (PDF), have matured and are getting closer to the level of a professional army, over a year after they were first formed.
"More than a year after they were formed, PDFs have achieved certain progress in training, grouping, command, arms and weapons production, taking a step closer to being a professional army," said NUG media official Ko Nay Phone Latt.

Resistance to the military regime has intensified since March 2021, when armed resistance groups, now collectively known as PDFs, began to emerge. Since then, PDFs have conducting a variety of operations, including ambushes, targeted assassinations, bombings, the sabotage of junta-related facilities and businesses and, lately, seizing military and police outposts.
There are now some 259 PDFs with approximately 80,000 to 100,000 members, according to the NUG's defence ministry. In addition, there are also around 250 township-based forces and 400 guerrilla forces and most are in contact with the NUG.
Ko Nay Phone Latt said that, previously, the PDFs only waged guerilla warfare but that they are now ready to go on the offensive. "When we talk about the evolution of the PDFs, readiness was most important before they could move to the second stage of changing from defensive fighting to all-out attacks. Now we can say that we are ready for that," he said. However, he declined to say when those attacks will happen.
As far as controlling territory goes, the junta has lost full control of 90 per cent of the main roads in resistance strongholds Sagaing and northern Magwe regions, said Ko Nay Phone Latt, while the movement of PDFs has intensified in northern Mandalay and Tanintharyi regions. Urban guerrilla attacks are still ongoing in Yangon, Bago, Ayeyarwady and Naypyitaw, despite the junta's arrests of resistance fighters.
In other states, the dominance of allied ethnic armed organizations (EAOs) and PDFs is also growing, the spokesperson added.
Political analyst Ye Myo Hein, who recently published a report "One year On: The Momentum of Myanmar's Armed Rebellion", told The Irrawaddy that to take the next step, the anti-junta armed groups require a unified command structure and a readily available supply of arms and ammunition to rival junta forces.
He added that, according to his findings, the NUG and EAOs have managed to procure only 20 to 25 per cent of all the weapons needed by anti-junta combatants, largely with the support of public donations and their own money, while homemade rifles made by resistance fighters continue to make up 30 to 40 per cent of PDF weaponry.
The NUG has admitted that supplies of arms and ammunition remain a weakness. Ko Nay Phone Latt stated that the NUG has used 95 per cent of its budget, over US $45 million, on arming PDFs and manufacturing weapons.
That money has been raised by the sale of bonds, including shares in coup leader Senior General Min Aung Hlaing's Yangon mansion but is still only enough to meet the PDFs minimum requirements. Ko Nay Phone Latt said that at least US $10 million is needed monthly to fund the resistance movement. "The NUG is trying in various ways to raise this amount on a monthly basis. We urge business owners to pay taxes to the NUG as a revolutionary duty," he said.
(By arrangement with 'The Irrawaddy')