Myanmar Security Council Statement Prompts Speculation Military Rule Will Be Extended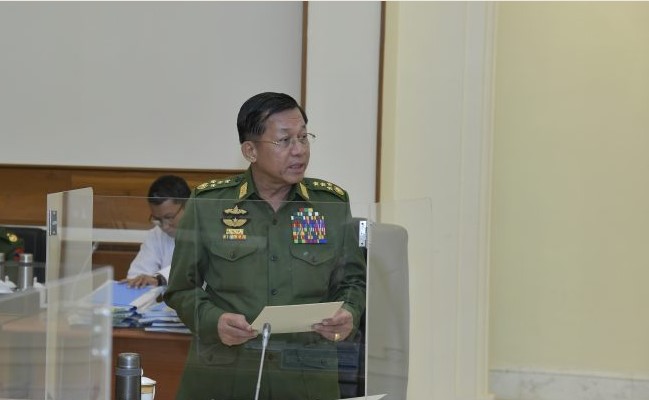 Myanmar's top defense and security body has said it discussed the "extraordinary situation" that continues to exist in Myanmar, prompting speculation that it will exercise its power to extend the period of military rule, which technically expired on Tuesday.
A statement said the military-dominated National Defense and Security Council (NDSC) meeting was held on Tuesday and the council would make an announcement about whether military rule will be extended on Wednesday.

Junta chief Min Aung Hlaing, who is an NDSC member, submitted his report on two years of military rule in the country to the council as required by Myanmar's Constitution. In his report, according to the statement, he said the country's parallel civilian National Unity Government (NUG) and its armed wing, the People's Defense Force (PDF), were trying to take power by violent means.
Based on his report, the statement said, council members discussed the fact that Myanmar was still in an "extraordinary situation", referring to the ongoing resistance movement against the regime.
Myanmar has been in turmoil since the military coup in February 2021. The junta seized power from the country's democratically elected National League for Democracy (NLD) government, announcing "emergency rule" on grounds of vote fraud in the 2020 general election—a claim dismissed by international election observers. The NLD won a landslide victory in the polls.
Two years on, the junta still has not been able to take control of the country as there has been nationwide armed resistance against the regime.
Under the Constitution, the NDSC may, under "normal" circumstances, permit two six-month extensions of emergency rule, after which Min Aung Hlaing has to hand back power to the council, which must hold an election within six months.
However, the NDSC's statement on Tuesday has raised concern among some observers that the regime intends to exploit the relevant provision in the charter to allow the council to extend military rule for another six months, arguing that circumstances are not "normal".
(By arrangement with 'The Irrawaddy')