Myanmar Regime, Russia Sign Nuclear Cooperation 'Roadmap'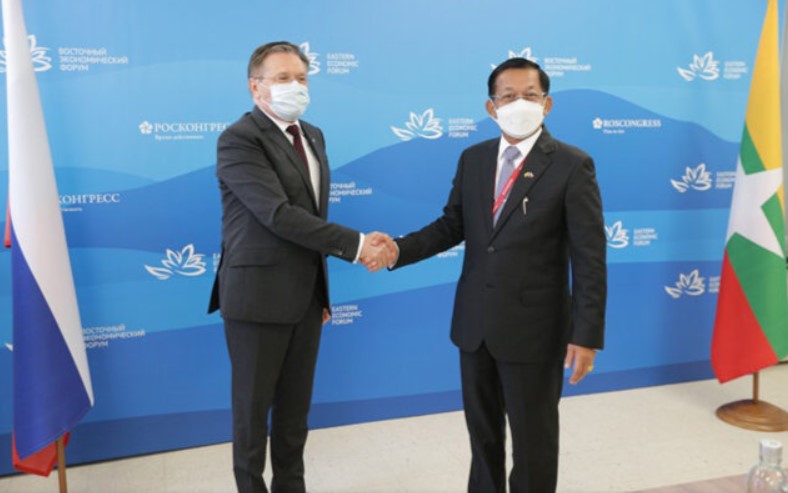 The Myanmar military regime and Russian state-owned nuclear corporation Rosatom have signed a roadmap for further atomic energy cooperation including the possible implementation of a modular reactor project in Myanmar.
The agreement was signed on the sidelines of the Eastern Economic Forum (EEF-2022) in Vladivostok, Russia, where regime chief Min Aung Hlaing has been since Sunday to attend the forum.

Rosatom said the document was signed by its director general Alexey Likhachev, and the regime's Science and Technology Minister Myo Thein Kyaw and Electric Power Minister Thaung Han in the presence of Min Aung Hlaing.
The Russian atomic energy agency said the roadmap would guide cooperation in the field of "peaceful use of atomic energy" for 2022-23. "In particular the document provides for the expanding of bilateral legal framework, possibility of implementing a small modular reactors project in Myanmar, as well as personnel training and work related to the improvement of public acceptance of nuclear energy in Myanmar," it said.
The regime's mouthpiece newspapers said the countries would cooperate on the peaceful use of nuclear energy for socioeconomic development; conducting scientific activities and research; manufacturing of pharmaceuticals; and industrial and other sectors including electricity generation.
The agreement follows up on an MoU signed by Rosatom and the junta's Science and Technology Minister Myo Thein Kyaw in Min Aung Hlaing's presence during his previous trip to Russia in July "to lay a solid foundation for the development of further cooperation on practical projects".
Min Aung Hlaing regime's further pursuit of a nuclear deal with Russia comes at a time when Myanmar is in social and political disarray due to his military coup against the country's democratically elected National League for Democracy government led by now detained popular leader Daw Aung San Suu Kyi. Since the takeover, the junta has faced popular armed resistance against its rule and killed more than 2,000 people.
Myanmar's Long Nuclear Dream
Successive Myanmar military regimes have chased the nuclear dream.
In 1999, the Southeast Asian country began negotiations with Russia on a nuclear reactor project, and in January 2002 the then military regime confirmed plans to build a nuclear research reactor for "peaceful purposes." The deputy foreign minister at that time, Khin Maung Win, declared that Myanmar's "interest in nuclear energy for peaceful purpose is longstanding."
In 2007, Russia agreed to construct a nuclear research centre in Myanmar that would comprise a 10 MWt (megawatts thermal) light water reactor working on 20 percent-enriched U-235, an activation analysis laboratory, a medical isotope production laboratory, silicon doping system, nuclear waste treatment and burial facilities, according to World Nuclear News.
In June 2015, Russia and Myanmar signed a preliminary agreement to cooperate on the peaceful uses of nuclear energy.
Separately, North Korea was suspected of working with the then Myanmar military regime on a nuclear programme amid its renewed ties with the regime in the early 2000s. One of the regime's top officials, General Shwe Mann, made a clandestine visit to Pyongyang's military facilities and missile factories in 2008.
Among the sites they visited were secret tunnel complexes built into the sides of mountains to store and shield jet aircraft, missiles, tanks and, possibly, nuclear and chemical weapons. However, no further news has emerged about a deal with the hermit kingdom since then.
(By arrangement with 'The Irrawaddy')