Myanmar Regime Orders Mid-Ranking Officers' Wives To Undergo Military Training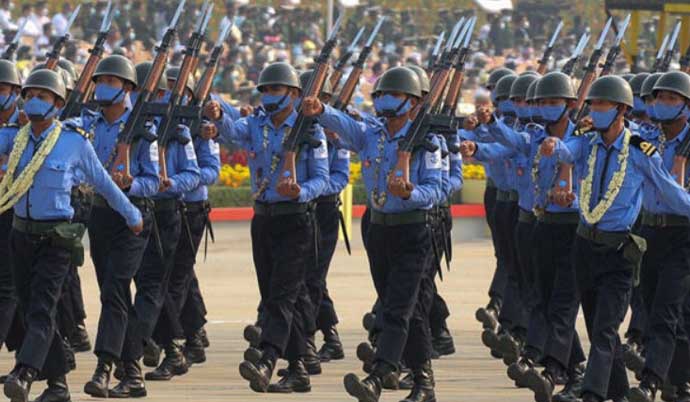 Myanmar's military is for the first time requiring the wives of its mid-ranking officers to undergo military training, according to some officers and their wives.
The training for spouses of captains and majors was launched on Monday at battalions in Pyin Oo Lwin in Mandalay Region as well as in Taunggyi and Aungban in Shan State. The two-week course covers the use of small arms and some heavy weapons, and basic military tactics, according to people who have undergone the training.

The move comes as the Myanmar junta's forces struggle with a shortage of human resources, with many soldiers, including some officers, having deserted their units since the military coup in February.
Military sources said the wives of rank-and-file military personnel were already supposed to undergo small arms training but it is unprecedented for mid-level officers' wives.
The wife of a captain based in Pyin Oo Lwin, where the Defence Services Academy, a training centre for military officers, is located, confirmed the training.
"We are now taking military training for the first time as wives of military officers. The training is joined by the wives of captains to majors," she said on condition of anonymity.
A military officer based in Taunggyi said: "Wives of lieutenant colonels are not included, as lieutenant colonels are heads of battalions."
The reason for the training, which is expected to be introduced at other battalions across the country, is unclear. "They only said 'It's required,'" said one source.
The regime has been sustaining heavy casualties amid growing resistance not only from battle-hardened ethnic armed groups but also from a newly spawned and widespread armed movement launched by young civilians who took up arms to wipe out military rule in the country.
To compensate for the defections, the junta has also mobilized paramilitary groups known as "Pyusawhtee," which comprise pro-military people, some members of the military-backed Union Solidarity and Development Party, and ex-soldiers.
(By arrangement with 'The Irrawaddy')