Myanmar Junta Marks UN's Call For Arms Trade Halt With Shopping Trip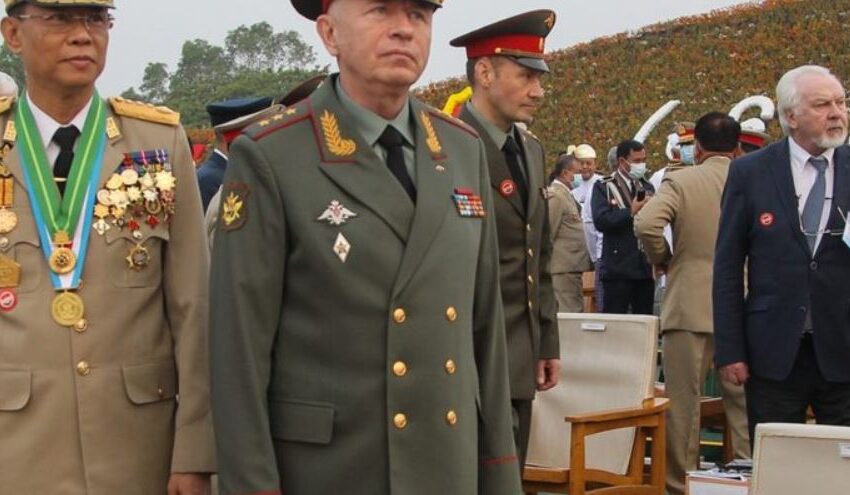 Myanmar military regime leader Senior General Min Aung Hlaing flew out of the country on Sunday to attend a conference in Moscow. This is his second trip abroad since grabbing power from Myanmar's democratically elected government in February. The official reason for his visit is to attend the Moscow Conference on International Security scheduled for June 22-24. He is not traveling alone, however; several undisclosed items are reportedly on his agenda involving a number of arms brokers and other businessmen close to the ruling generals, all of whom are no doubt looking forward to making a fortune under the junta.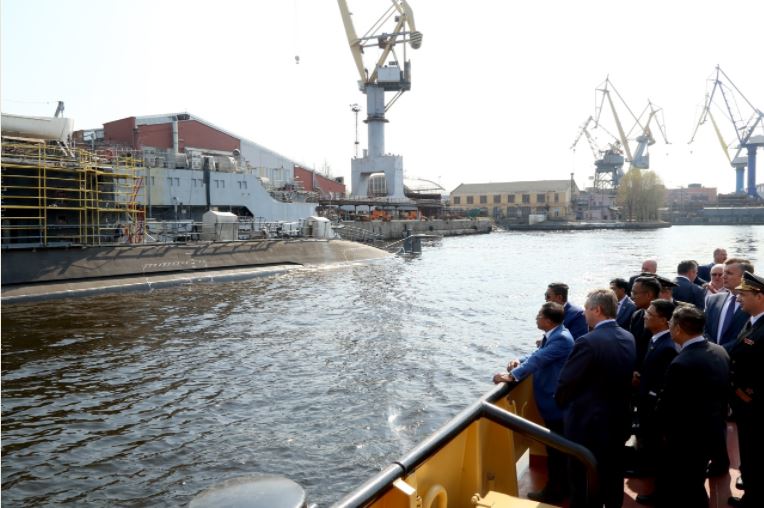 Snr-Gen Min Aung Hlaing and his delegation visit the Admiralteyskie Verfy Shipyard in St. Petersburg, Russia in April 2019. The director general of the shipyard and other officials briefed him on the production of submarines. (Photo: Myanmar military)
A few days ago, the UN issued a rare call to halt arms sales to Myanmar in response to the military's coup and its violence against civilians. While not legally binding, the resolution is politically significant.
Many in Myanmar hoped the 193-member world body would approve the resolution unanimously by consensus, but Belarus called for a vote. The measure was approved with 119 countries voting "yes", Belarus voting "no" and 36 countries abstaining.
Those not well versed in the international arms trade will be asking, "Why Belarus?" The Eastern European nation is one of a handful of countries that have continued to sell weapons to Myanmar since 1988, when Western countries including the US and the UK stopped arming Myanmar and training its officers in the wake of that year's coup and subsequent violent crackdowns on demonstrators by the country's previous military junta. Myanmar also buys arms from Russia, China, India, Pakistan, Israel, Poland, Ukraine and Serbia. (This odd club once included North Korea, a source to which the generals may well return in the future.)
Min Aung Hlaing's agenda in Russia no doubt includes arms procurement. Moscow is increasingly important to the isolated regime, and a number of media outlets, including this publication, have reported that Myanmar's generals gave Russia advance warning of the coup and received its moral and political support for the move.
Joining the senior general on the trip is Myanmar Navy chief Admiral Moe Aung, who will attend the International Maritime Defense Show (IMDS) to be held in St. Petersburg from June 23 to 27.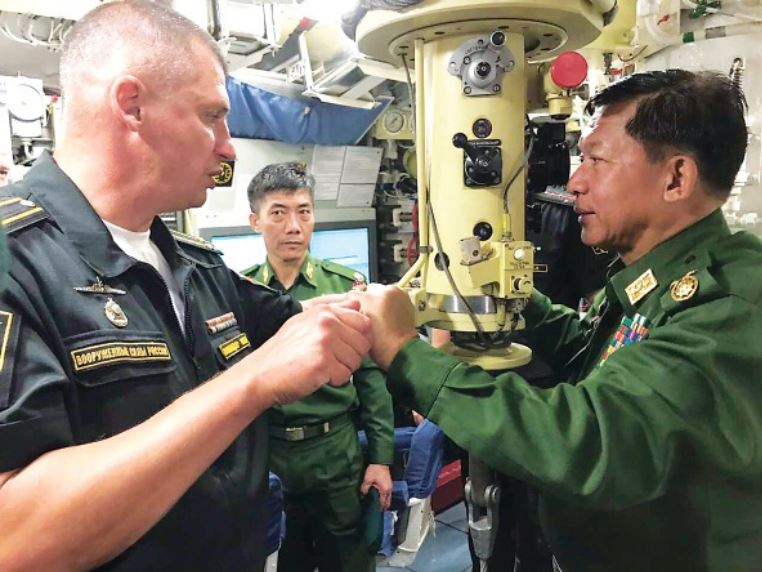 Snr-Gen Min Aung Hlaing peers through the periscope of the submarine ROSTOV-NA-DONU at the Black Sea Fleet Naval Headquarters during his visit to Russia in June 2017. (Photo: Myanmar military)
The IMDS showcases products and services including naval and commercial shipbuilding, weapons and armaments.
Russia was the first country to send a top-level delegation to Myanmar in the days after the coup.
Defying calls to isolate the junta internationally, Russian Deputy Defense Minister Alexander Fomin was in conspicuous attendance at the Myanmar military's celebration of Armed Forces Day on March 27, prompting coup maker Snr-Gen Min Aung Hlaing to express "profound gratitude" for Russia's vote of confidence.
He went on to "impart that the Russian government and responsible persons from the Russian armed forces are acknowledged and inscribed for their substantial support to the Tatmadaw [Myanmar's military] in a friendly manner, though we are far apart [geographically]."
In fact, regime officials have made several unpublicized visits to Russia since the coup. In May, the junta sent a high-ranking military delegation to Moscow. Air Force chief General Maung Maung Kyaw led the team and was accompanied by other high-ranking military officers.
Joining that trip was well-known Myanmar tycoon U Tay Za. He and the other delegation members discussed with their Russian counterparts over 20 megaprojects including procurement of arms and military hardware. U Tay Za supplies aircraft parts to the military through his company Myanmar Avia Export. The company is Myanmar's sole representative for Russia's Export Military Industrial Group, known as MAPO, and of the Russian helicopter company Rostvertol.
U Tay Za, now in his mid 50s, has seen the fortunes of his business empire ebb and wane over the last decade, but with the military back in power he is well poised to make a comeback, as the regime will need him to supply more arms in the future.
The tycoon, who was on the US sanctions list in years past but was removed from it in 2016, is not alone. There are a growing number of arms dealers in Myanmar, many of them younger than U Tay Za, well-traveled and with strong connections to companies in China, Singapore, Belarus, Russia and Serbia. They are not currently on the West's radar as sanctions targets. Their business interests include hotels, upscale restaurants, villas, ports, construction firms and mining ventures, among many others.
More importantly, this young generation of cronies has direct access to Snr-Gen Min Aung Hlaing's family, as they are known to be close to his son, U Aung Pyae Sone. He and his sister, businesswoman Daw Khin Thiri Thet Mon, are now on the US sanctions list.
In March, the U.S. Department of the Treasury's Office of Foreign Assets Control (OFAC) announced sanctions on the duo and six companies controlled by them.
Several companies involved in energy, heavy machinery, metals, timber, chemicals and construction also have strong business ties with Russia, Serbia, Ukraine and Belarus and other countries in Eastern and Central Europe.
Additionally, unconfirmed reports from Myanmar business circles indicate that a military mission to Serbia is in the pipeline in the near future. The mission will include high-ranking officials from the Defense Ministry as well as some businessmen who have established relationships in Serbia and Ukraine.
Myanmar and then-Yugoslavia established diplomatic ties in 1950, and Myanmar has maintained relations with Serbia since Yugoslavia broke up in the 1990s.
In the early 1950s, Myanmar bought arms from Belgrade. It is said that Myanmar first reached out to Belgrade through the Yugoslav Embassy in Pakistan. General Ne Win, who was then Myanmar's army chief, was impressed by the rapid, no-fuss delivery of its weapons orders—typically howitzers and other artillery pieces—from Yugoslavia. Myanmar has been a customer of Belgrade's ever since.
Aside from Russia, Snr-Gen Min Aung Hlaing has visited the country's neighbors in Eastern and Central Europe, including Serbia, looking to maintain the support of these valued suppliers of military hardware.
In January 2015, when Snr-Gen Min Aung Hlaing received Serbian Ambassador to Myanmar Miodrag Nikolin, he reminded the envoy of the long history of friendly relations between Myanmar and Serbia and expressed a desire to see ties strengthen in the future.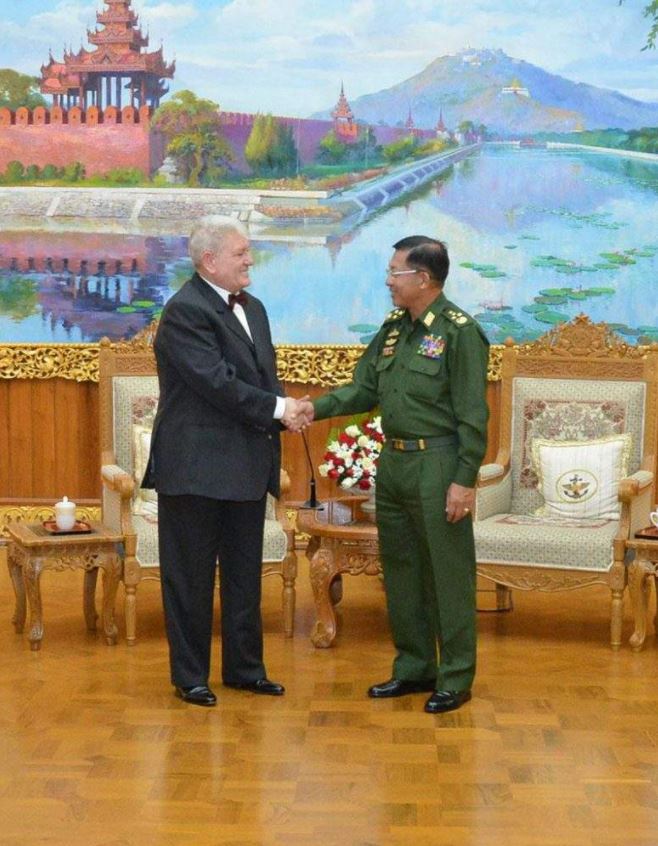 Snr-Gen Min Aung Hlaing and Serbian Ambassador Miodrag Nikolin meet in Naypyitaw in January 2015. (Photo: GNLM)
A state-run newspaper in Myanmar reported at the time, "After establishing diplomatic relations between Myanmar and Yugoslavia on 29 December 1950, the two countries have opened embassies in the capitals and cooperated in the manufacturing of locomotive engines and some weapons, shipbuilding and irrigation."
(By arrangement with 'The Irrawaddy')