Myanmar Junta Loses 1,300 Soldiers Killed Over Last Month: NUG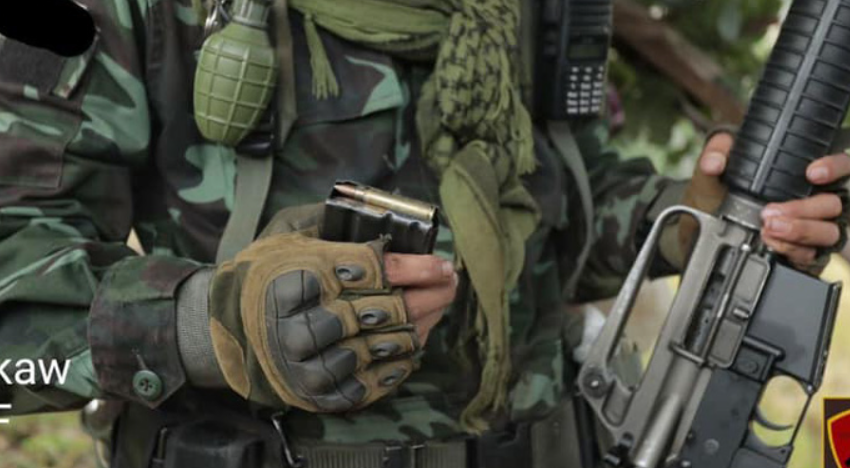 Myanmar's military has suffered its heaviest losses yet over the last month, with 1,300 soldiers killed and 463 injured in clashes with civilian resistance groups, according to the country's shadow National Unity Government's (NUG) Defense Ministry. The junta's casualties are almost double the number the regime suffered in September.
In September, a total of 768 junta troops were killed and 220 injured during 690 incidents including 132 attacks from People's Defense Forces (PDF) and 65 attacks by ethnic armed groups.
Between October 7 and November 6, Myanmar reported a total of 668 incidents targeting military regime forces and their associates. They included 83 attacks from ethnic armed groups and 207 from civilian resistance forces, said the NUG's Defense Ministry, which bases its statistics on media reports and its own sources.
At the same time, the number of civilians killed over the last month has almost doubled as well. Some 313 civilians were killed and 63 wounded in 197 acts of junta violence, compared to 164 slain and 109 injured in September in 174 incidents.
Some of those civilian casualties were members of PDFs.
Violence across the country has intensified since Vice Senior General Soe Win, the deputy coup leader, instructed commanders of regime forces to annihilate the PDFs.
In August, around 580 junta soldiers were killed and 190 wounded during 443 firefights, ambushes and assassinations launched by PDFs and ethnic armed groups, according to the NUG.
The regime has mostly not responded to the NUG's figures of Myanmar military casualties, which it issues monthly.
However, the junta did make a rare denial over the burning of Kinma Village in Pauk Township Magwe Region in mid-June, as well as over the bombardment of the Chin State town Thantlang on October 29.
But eyewitnesses and local PDFs said that both Kinma Village and Thantlang were burned down following arson attacks and artillery strikes by regime forces.
Since the NUG declared a nationwide people's defensive war against the military regime on September 7, there has been an increase in atrocities by junta forces including the arbitrary killing of civilians, using detained civilians as human shields, bombarding residential areas, and looting and burning houses, especially in Magwe and Sagaing regions and Chin, Shan and Kayah states.
Regime forces have gunned down several villagers including women and children and also killed detainees in their raids.
The number of firefights between junta troops and PDFs are reported to have almost doubled in the country's most restive areas—Magwe and Sagaing regions and Chin State—where civilian fighters mostly armed with traditional and homemade weapons are facing soldiers with heavy weapons and armored cars and the junta has deployed 3,000 reinforcements this month.
Sagaing Region reported the highest number of attacks by PDFs with 108, followed by Chin State and Magwe Region with 25 firefights each between October 7 and November 6.
In September, Sagaing reported 53 firefights and Chin and Magwe reported 17 and 11 firefights respectively.
Myanmar's military has also stepped up its use of air power in those areas, conducting air strikes against the PDFs and flying in reinforcements. As well as attacks from PDFs, regime forces are also facing opposition from ethnic armed groups including the Kachin Independence Army, Myanmar National Democratic Alliance Army and the armed wings of the Karen National Union and the Karenni National Progressive Party.
In recent days, around 100 junta troops are being killed daily, as civilian resistance groups have escalated their operations including in the country's major cities of Yangon, Mandalay and Naypyitaw.
Since late October, the junta has arrested a group of 28 people including five women and veteran student activist Ko Jimmy, accusing them of being members of PDFs operating in Yangon.
As of Wednesday, 1,252 people have been slain by regime forces and another 9,979, including elected government leaders, have been detained by the junta, according to the Assistance Association for Political Prisoners.
(By arrangement with 'The Irrawaddy')