Myanmar Junta Convoy Under Repeated Attacks In Chin State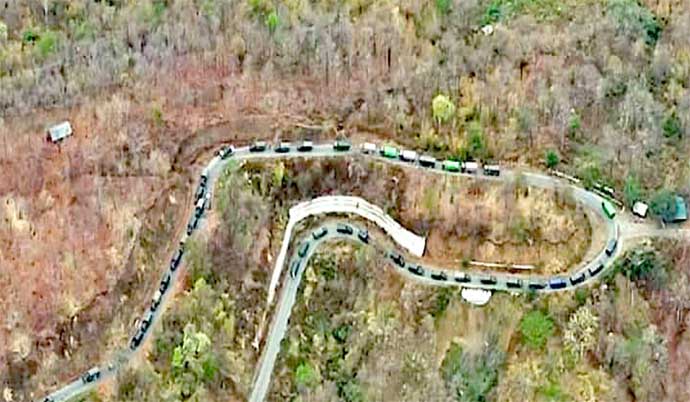 Myanmar's junta has suffered heavy casualties in Mindat Township, Chin State, since March 26, according to the Chinland Defense Force (CDF).
CDF fighters have repeatedly ambushed a junta convoy advancing to Matupi through Mindat since March 26. Around 20 junta soldiers are believed to have been killed and many more injured in ambushes, according to Salai Ha Eun Man, a CDF spokesman.
"We have been ambushing the military vehicles heading to Matupi for four days. Nearly 20 junta soldiers were killed and many others injured," he told The Irrawaddy.
Resistance fighters also killed two junta soldiers providing security in Mindat town on Tuesday, he said. "We attacked four junta soldiers in Bawa Thit ward. Two soldiers were killed," Salai Ha Eun Man added.
The junta convoy containing 80 vehicles and two armored vehicles arrived in Mindat on March 25 from Monywa in Sagaing Region and Pakokku.
The regime has cut phone and internet services in rural Mindat and villagers along the road have left their homes to avoid junta soldiers.
A Mindat resident told The Irrawaddy: "Phones work only in the towns. Villagers along the road have left their homes. We can't contact them by phone so we don't know what is happening to them. In my township, everyone is a refugee. The regime has blocked the road which brings rice from Yaw. It has been difficult for a year but things get worse every day."
Matupi is more than 160 km from Mindat, linked by a winding road. As Mindat CDF is ambushing the convoy, fighting is likely to increase along the road.
The Matupi CDF told The Irrawaddy that the junta convoy is still in Mindat and the CDF and its allies will attack when it enters Matupi Township.
The convoy reportedly contains troops from Mindat-based Light Infantry Battalion 274 and Division 11.
(By arrangement with 'The Irrawaddy')