Moscow Cautious In Its Official Embrace Of Myanmar Coup Leader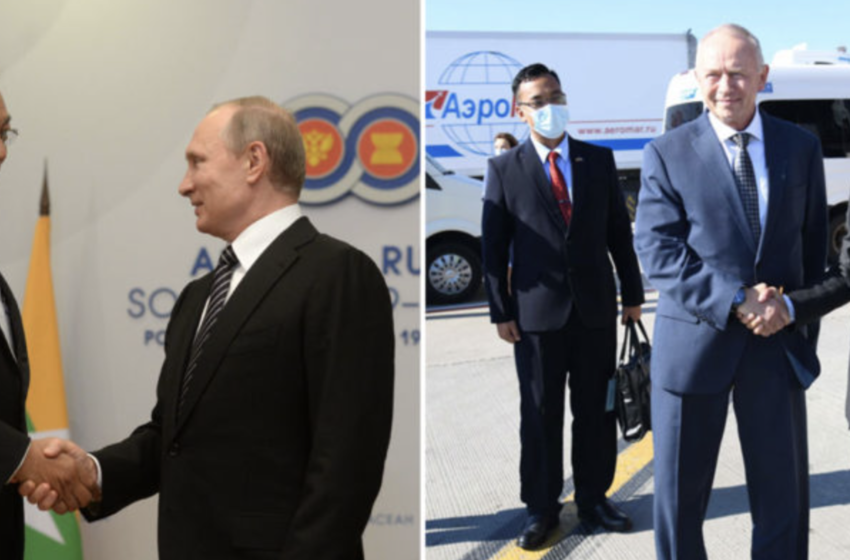 Generally speaking, if you are a state official, how you are treated by the host country during an overseas trip says a lot about who you are. The degree of fanfare with which you are met matters. Who is there to greet you on your arrival at the airport is an indication of how you are perceived. Whom you meet during your stay serves as a symbol of the importance of your trip. How the press there defines you reflects your status.
Take Myanmar coup leader Senior-General Min Aung Hlaing, who is now in Russia at the invitation of the country's defense minister to attend the Moscow Conference on International Security.

It is a reality that the senior general wields the utmost authority in Myanmar today, having grabbed power from the country's leader Daw Aung San Suu Kyi and democratically elected President U Win Myint in a military coup. So, whether or not to refer to him as a state leader may be a thorny issue for a foreign country as it raises questions of legitimacy, but he is the most powerful person in the country.
When his plane landed at Sheremetyevo International Airport in Moscow on Sunday afternoon, however, Russian Deputy Defence Minister Colonel General Alexander V. Fomin turned out to be the highest-ranking official on hand to greet Min Aung Hlaing on the tarmac. The traditional Russian bread-and-salt welcoming ceremony for honored guests was nowhere to be seen. The Myanmar delegation's convoy to the Metropol Hotel in the centre of Moscow, where the coup leader is staying, was equally unimpressive. When pictures of it went viral online, it reminded Myanmar people of delivery vans.
On Tuesday, a Kremlin spokesman told reporters there would be no meeting between Russian President Vladimir Putin and Min Aung Hlaing, adding that questions about his visit should be addressed to the Russian Defense Ministry. In reports by Russia's largest news agency Tass, Min Aung Hlaing was referred to as either "Myanmar's military chief" or "Myanmar's Commander-in-Chief" but not as the head of the state.
It would be interesting to know how the Myanmar coup leader reacted to the Kremlin's confirmation that there would be no meeting. When then Myanmar President U Htin Kyaw of the National League for Democracy government arrived in Sochi to attend the Russia-ASEAN summit in 2016, he was welcomed with a bread-and-salt ceremony at the airport. Next day, Putin said during his meeting with U Htin Kyaw that he was very glad to welcome his counterpart to Sochi.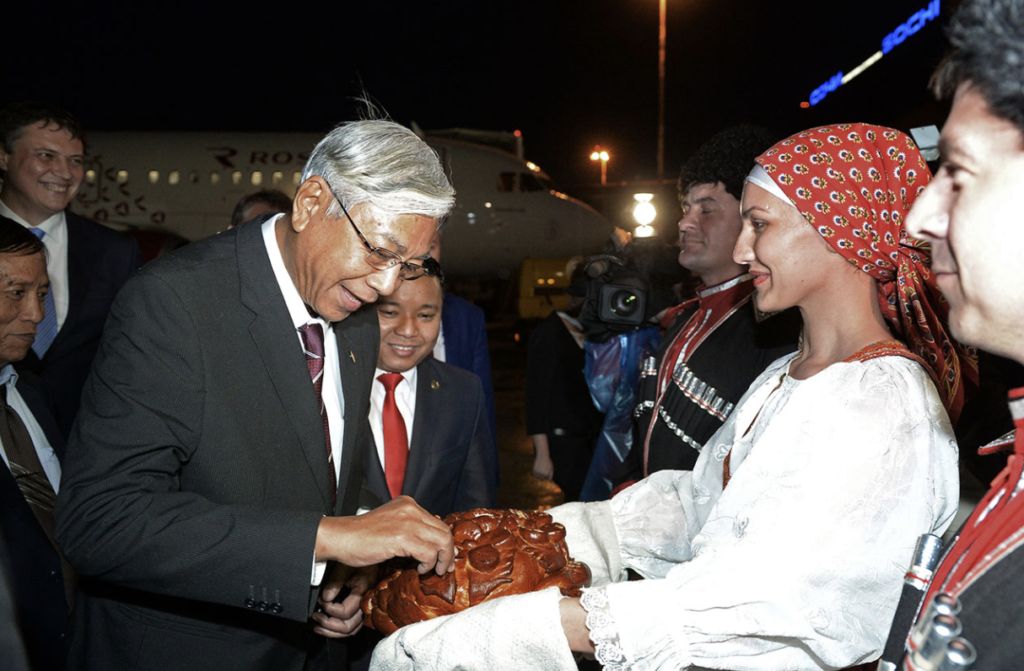 Caption: Myanmar's then-President U Htin Kyaw takes part in Russia's traditional bread-and-salt welcoming ceremony upon his arrival at Sochi International Airport in 2016. (Photo: ASEAN-RUSSIA Summit)
"I have an excellent opportunity to personally congratulate you upon [your] election," he said. "I am very glad that the Myanmarese president has paid the first visit to Russia," Putin said.
Another Myanmar leader with whom Putin personally met was Daw Aung San Suu Kyi.
During a sideline meeting at the Belt and Road Forum in Beijing in 2019, the Russian president said to her: "I am very pleased to see you," and "Myanmar is Russia's longtime and reliable partner in Southeast Asia," among others things.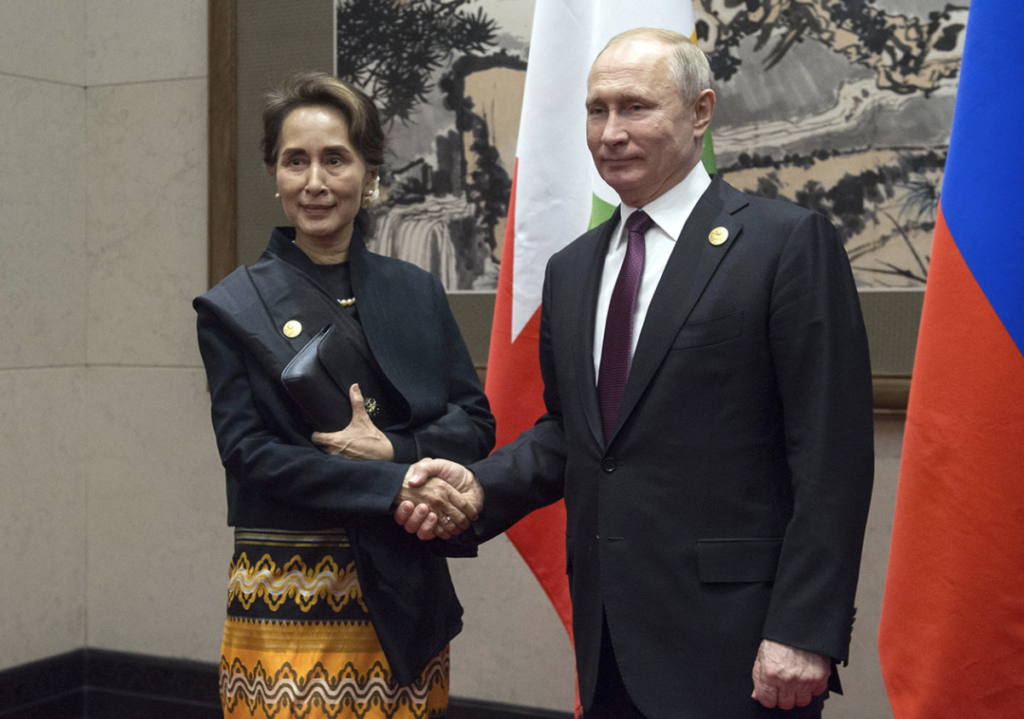 Caption: State Counselor Daw Aung San Suu Kyi and Russian President Vladimir Putin in Beijing in 2019. (Photo: President of Russia)
For Min Aung Hlaing, such official engagements are still out of the question due to the illegitimacy of his regime, which grabbed power from a democratically elected government. But this lack of recognition must be painful for him, given his continued patronage of military hardware from Russia, which is now the number two military exporter to Myanmar behind China. However, he can't afford to complain, as Russia has stood steadfastly behind his regime, along with China, at every UN meeting.
So far, the highest-ranking official the Myanmar coup leader has met in Russia is the secretary of the Security Council of the Russian Federation. Myanmar state media said they discussed the "strengthening of existing cooperation between the two countries and between the two armed forces and cooperation in multi-sectors."
The second-highest is Russian Defense Minister Sergey Shoigu, who gave Min Aung Hlaing a red-carpet welcome and told him on Tuesday that Russia "intends to exert further effort to strengthen the bilateral ties".
In turn, Tass reported that Min Aung Hlaing thanked Russia, as its aid had helped make the Myanmar military one of the strongest in the Asia-Pacific region. The two military officials then continued their negotiations behind closed doors.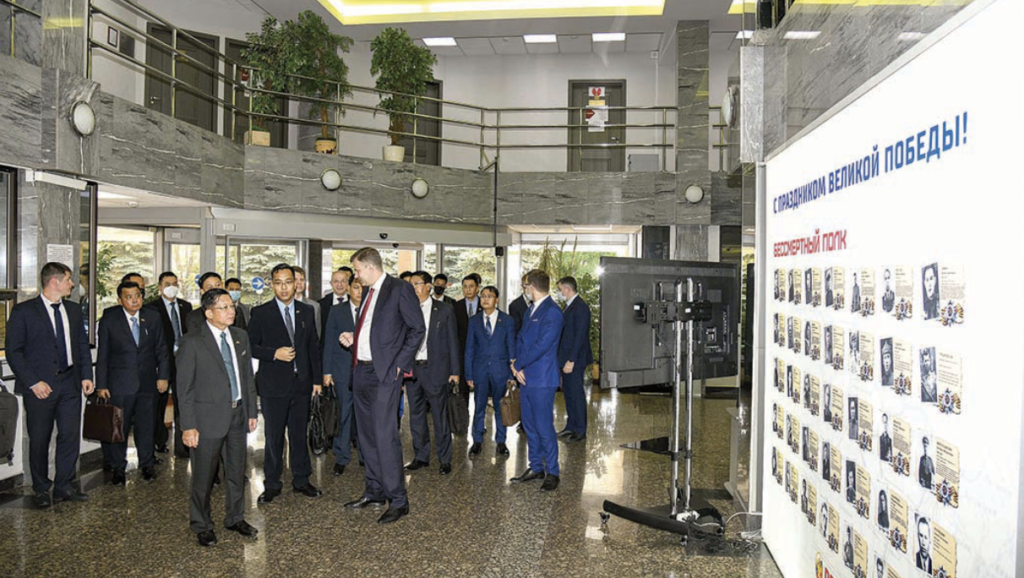 Caption: Myanmar coup leader Snr-Gen Min Aung Hlaing and his delegation visit the Rosoboronexport Company on Tuesday. (Photo: Global New Light of Myanmar)
He also met with the director general of Rosoboronexport Company, a Russian state organisation that exports military and dual-use products, services and technologies. On Tuesday, he visited the company and asked a number of questions. It can be assumed from this that weapons procurements as well as deepening military ties are in the pipeline and that they may well be the main reason for the trip, rather than attending the security meeting.
On Tuesday, Myanmar military-run Myawady TV showed footage of Min Aung Hlaing and his delegation's visit to Ostankino Tower in Moscow, the tallest freestanding structure in Europe. In the video, they look like a bunch of high school children on an excursion as the coup leader enjoys the view of Moscow from the tower's observation deck. None of the locals passing by seemed to be aware that there was a foreign dignitary present, no doubt due to the absence of the security personnel normally assigned to state visitors.
(By arrangement with 'The Irrawaddy')