Junta Watch: Pro-military Parties Line Up for Sham Election; Death Stains Dictator's Military Parade; And More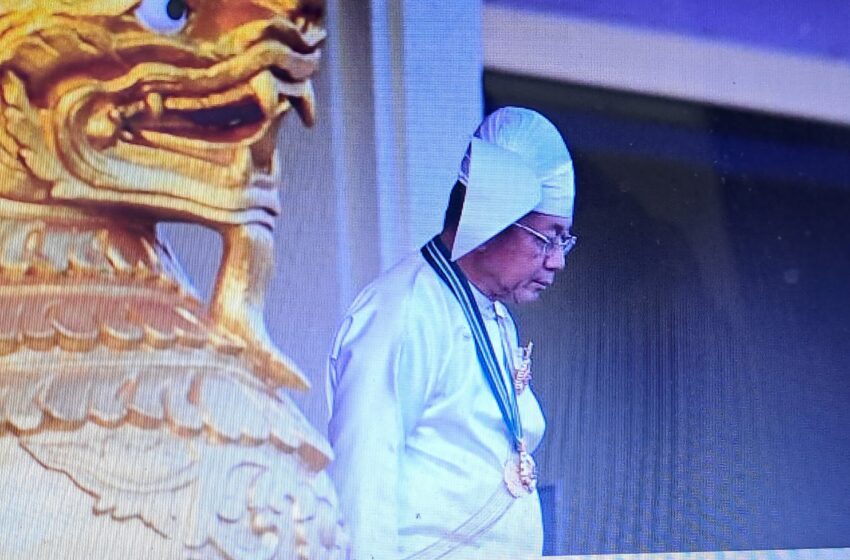 Parties meet to help Min Aung Hlaing realize presidency dream
The military's proxy Union Solidarity and Development Party (USDP) met with 37 other political parties that attended the junta-organized Independence Day parade in Naypyitaw on Wednesday. The informal meeting followed junta chief Min Aung Hlaing's announcement that his regime is determined to hold a so-called election later this year. The parallel civilian government and much of the international community have dismissed the planned poll as a sham designed to cement the military.
USDP chair Khin Yi wrote on social media that the parties at the meeting had agreed to use their collective strength to help the country.
The meeting was the first between pro-military parties since August 2020, when 34 political parties met Min Aung Hlaing under the aegis of the USDP before the election in November that year.
Back then, the parties raised concerns about November's general election and sought his assurance that they could count on his help if the voting turned unfair. They also called for then Union Election Commission chair U Hla Thein to be replaced, saying they had no trust in him as he was appointed by the National League for Democracy (NLD). Min Aung Hlaing duly staged a coup in Feb. 2021, three months after the NLD won the election by a landslide.
The same parties were among those that met Khin Yi on Wednesday as they sought help to fulfill the junta boss's dream of becoming the country's president. The election is scheduled to take place in August.
Parachutist sacrificed to junta chief's ego
Min Aung Hlaing's grand military parade to celebrate Independence Day on Wednesday culminated in an unprecedented aerial display, with dozens of soldiers parachuting into the event. However, tragedy struck when one female paratrooper was killed making the difficult jump onto Naypyitaw's concrete boulevard. Several others had been injured during rehearsals, according to government employees in the administrative capital.
Seventy-five paratroopers, both male and female, made freefall parachute jumps from an altitude of 7,500 feet, holding flags of the army, navy, and air forces, as well as states, regions, and ministries.
The risks were significant given their lack of freefall experience and the tough landing spot in the middle of a city. Unsurprisingly, some missed the target. Junta media managed to conceal the fatal accident by running video and photos of Min Aung Hlaing and his deputy Soe Win vigorously applauding the paratroopers.
Coup leader lives in fantasy of diplomatic triumph
Min Aung Hlaing used his Independence Day address on Wednesday to boast that his regime is in close communication with world powers. However, only six countries sent congratulatory messages to the regime on Wednesday, up from five last year.
Last year's Independence Day celebrations brought messages of congratulation from Cambodia, Russia, Belarus, Serbia and North Korea. This year, Cambodia, Russia, Belarus Nepal, North Korea and Saudi Arabia sent messages.
China, Thailand, and India – which the regime calls "good neighbors" – didn't bother to send congratulations either last year or this year. Their diplomats did attend Independence Day events, though.
In 2021, 20 countries spanning Asia and the West – including Thailand, China, India, Singapore and the United States – sent Independence Day congratulatory messages to the civilian National League for Democracy government, before it was deposed in a coup. In contrast, Min Aung Hlaing is on the receiving end of international condemnation rather than congratulation and should recognize his status and stop talking big.
Clashes intensify as regime declares ceasefire
Less than one week after the military regime declared a unilateral ceasefire with ethnic armed organizations (EAO) for 2023, fighting has escalated across the country.
Fierce battles have been raging this week in parts of Karen, Chin, Kachin and Shan states and the resistance strongholds of Sagaing and Magwe in central Myanmar.
Meanwhile, New Year's Day saw the Kokang-based Myanmar National Democratic Alliance Army celebrate the first anniversary of a new national brigade of fighters from various ethnic groups across Myanmar. It also handed out weapons to the second intake of recruits as they graduated from military training.
Five days later, Defence Ministry officials of the parallel National Unity Government (NUG) met with People's Defense Force (PDF) battalions in Mandalay to discuss strategy and missions in 2023.
NUG acting president Duwa Lashi La described 2023 as a critical year for the revolution against military dictatorship. With less than a week gone, fighting is already fierce in various locations across the country.