Divergences On China, Myanmar At Quad Meeting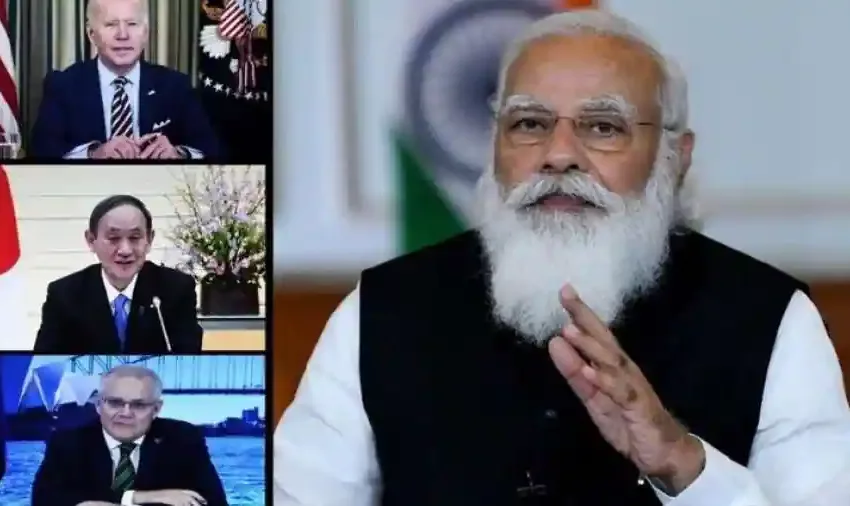 NEW DELHI: A virtual meeting of senior Quad officials discussed a laundry list of issues ranging from cooperation on the pandemic and vaccines to maritime and cyber security, counterterrorism, infra and connectivity, climate change, disaster relief and so on. It seemed to have reverted to an old practice with each participating member (Australia, India, Japan, US) giving out its own readout on what was discussed.
The US State Department, in an unmistakable reference to China, warned of the "strategic challenges confronting the region, countering disinformation, promoting democracy and human rights." It called for "supporting countries vulnerable to coercive actions in the Indo-Pacific region ….the importance of peace and security in the Taiwan Strait, the ongoing crisis in Burma."

Australia, Japan and India made no reference to China at all, reflecting divergent views. Australia because diplomatic tensions with China have hit their exports with Beijing looking elsewhere for commodities like beef. Japan is under pressure from Chinese naval militias operating off the disputed Senkaku Islands, reason why it made the ritual reference to the "free and open Indo-Pacific" while also mentioning that "officials exchanged views on regional issues such as North Korea, the East and South China Seas …"
As for India, it's been just a year since the clashes with Chinese troops in Ladakh and while the two sides have made some progress in pulling back troops from 'eyeball to eyeball' situations, the larger disengagement issue is yet to be touched. The diplomatic relationship remains largely on ice, a point reiterated by External Affairs Minister S Jaishankar, who has drawn a line in the sand, insisting that until the border dispute is resolved, relations cannot improve.
Even on Myanmar, there were divergent views. While the US made a brief reference to the crisis in what it called Burma, the Australian foreign ministry "underscored grave concern about the crisis in Myanmar" and reiterated calls for "an immediate cessation of violence and the release of all those arbitrarily detained."
The Indian statement made no reference to Myanmar at all, limiting itself to staking its faith in "ASEAN-led mechanisms in regional architecture." India's silence also extended to the planned physical summit of Quad leaders in September. The Indian statement said it was looking forward to "continuing regular consultations and the next foreign ministers meeting later this year."
India's perceived coolness flows from the sense that its position as the only Quad member having a land border with China is not appreciated. Add to that, it prefers quiet diplomacy on Myanmar given the close ties it has to the military junta. India also sees the current instability in Myanmar as helping China since it is able to work on the fears and insecurities of the generals. At all costs, India feels it cannot afford to damage its ties to the Myanmar military as that would give a free pass to China.