Amid COVID's Third Wave, Myanmar Descends Into State Failure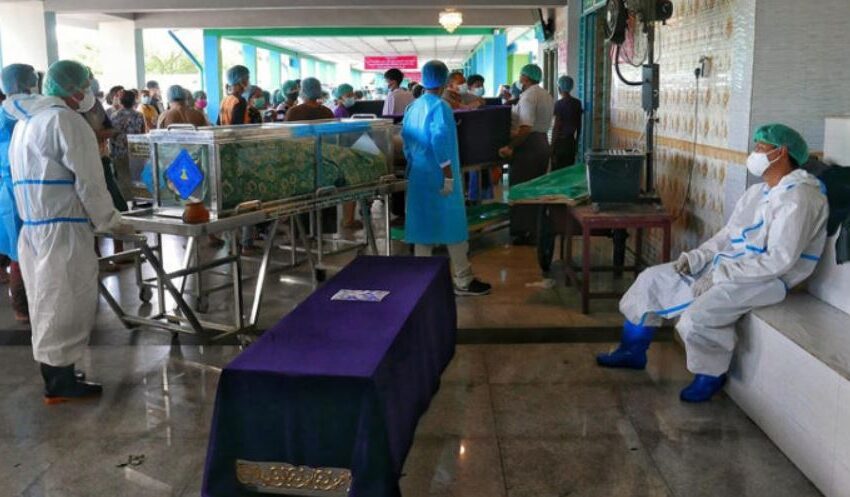 It is sad, depressing and terrifying to see Myanmar facing a third wave of COVID-19. People are dying and crematoriums are overflowing in Yangon and elsewhere. It is a double blow to people in Myanmar, as they have been extraordinarily brave in resisting the attempted coup since February.
This week, several charity groups said the huge surge in infections and a shortage of oxygen to treat patients have sent the daily death toll climbing so quickly they are struggling to keep up with funeral arrangements, and crematoriums are in nonstop operation.

Our reporters are seeing hundreds of bodies being brought every day to cemeteries in Yangon. (People are also dying in the provinces and countryside but details are sketchy and precise information unavailable. Any numbers released by the health officials are unreliable and number of deaths is much higher than we have seen in the regime's bulletins.)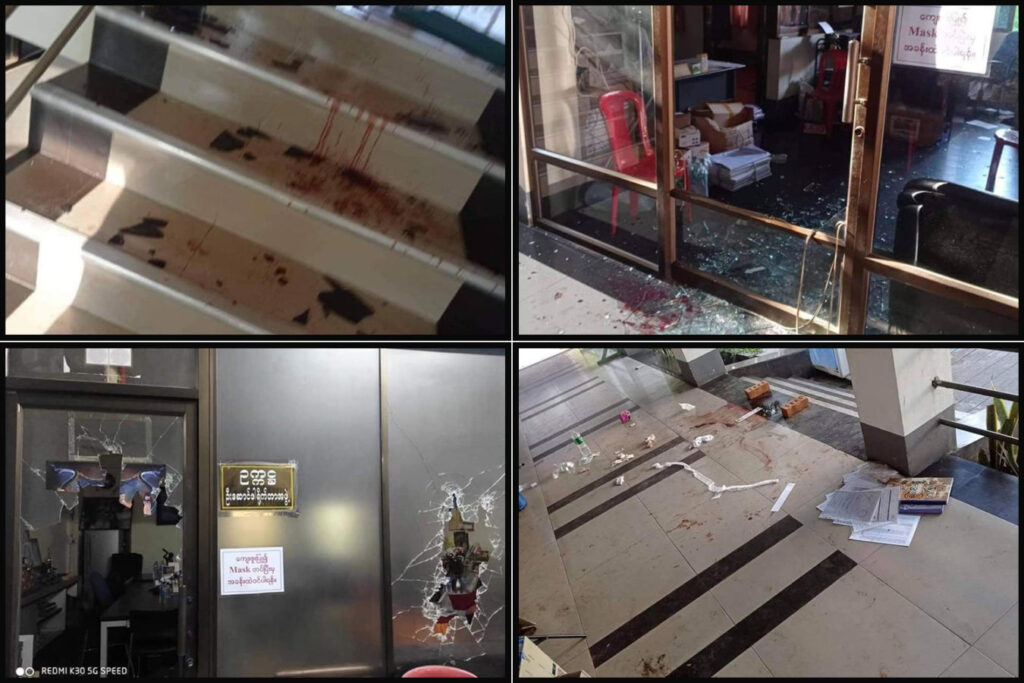 The office of the Free Funeral Service Society (FFSS) in North Dagon Township, Yangon, after it was raided at 12 a.m. on March 4, 2021. / (Photo: Ye Kyaw Thu)
Myanmar's heathcare system has collapsed and hospitals are in chaos as vaccination and testing campaigns have fallen apart. Since February, hundreds of thousands of Myanmarese have taken to the streets to protest against the coup.
Doctors, nurses, teachers, charity members and youth have also joined the anti-coup protests and the Civil Disobedience Movement (CDM).
The regime has fired physicians and nurses and detained and tortured them, as well as charity workers. Some have even been tortured to death. The regime forces have also raided charity offices and arrested volunteers who were on the frontline of fighting the pandemic under the previous government of de facto leader Daw Aung San Suu Kyi.
The regime has also evicted thousands of public-sector workers from government housing after they joined anti-coup protests or the CDM. They have been living in crowded conditions since.
Now the regime has little collaboration from the people, who feel deep mistrust and hatred toward the military. With the arrival of the Delta variant, the country's illegitimate rulers are finding the battle is hard to win.
People in Myanmar do not trust the regime's parroting and confusing statements on efforts to counter and control the pandemic. The irony, as many have said, is that the regime has huge resources to buy more weapons and bullets to kill people but has no intention of assisting patients or fighting COVID-19.
In fact, the regime leaders including Min Aung Hlaing have given orders to shoot to kill anti-coup demonstrators in recent months and weeks. So people ask why they should trust him and the regime's empty promise to fight COVID-19. They would rather stay home and die at home, the many interviews we have conducted reveal.
Over recent months, the coup maker has been busy putting down the uprising, sending elite lethal forces, helicopters and jet fighters to execute people and civilian fighters throughout Myanmar.
Recently, he was also in Russia for a week, attending an international security forum and visiting factories to purchase more military hardware. Since the coup, the regime's delegations have also made several clandestine and unpublicized trips to Russia, Serbia and Belarus for arms procurement. However, the country doesn't have enough vaccine and preparedness to combat the third wave.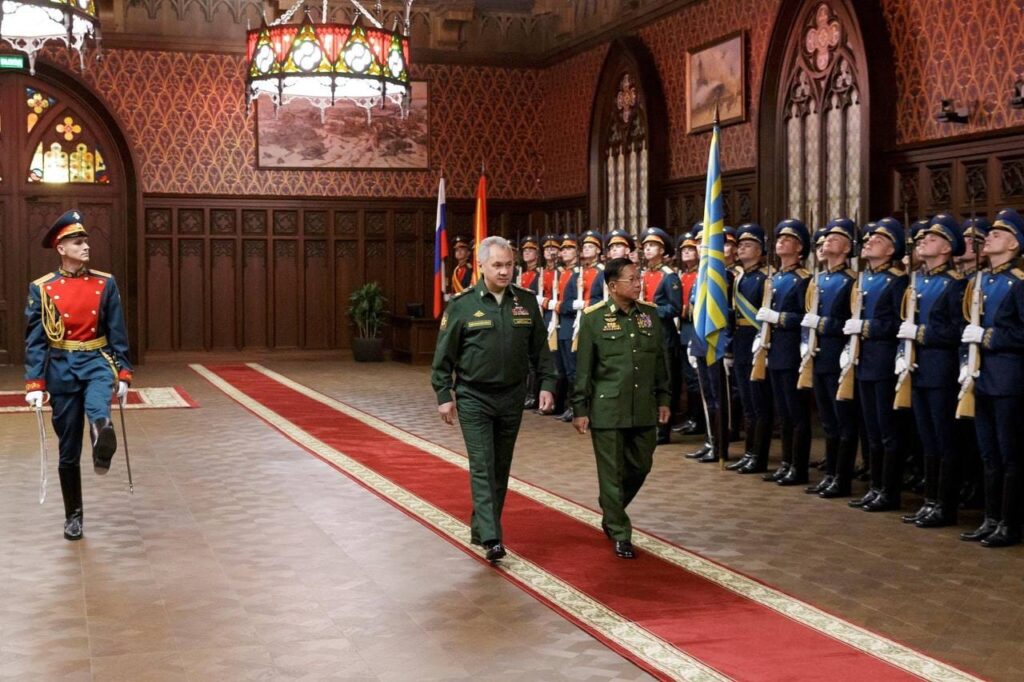 Russian Defense Minister Sergei Shoigu, left, and Myanmar junta chief Senior General Min Aung Hlaing prior to their talks in Moscow on June 22, 2021. (Photo: Senior General Min Aung Hlaing's website)
Indeed, coup maker Senior General Min Aung Hlaing announced in his five-point road map that the regime will continue COVID-19 preventive measures, including vaccination and support for businesses affected by COVID-19.
With the arrival of COVID-19 the regime has shown little preparation and coordination.
This week, the junta chief said on television: "Actually, we have enough oxygen," but then he also said it was true the country was "a little short of oxygen supplies," but blamed people for panic-buying tanks.
He accused "people with malicious intentions towards our country's politics" of spreading rumors that the military was cutting off oxygen supplies to the people.
"It is important not to seek political advantage out of this. This is a social and health issue, a matter of life and death and not political. It is important not to create trouble," said the coup leader.
Confusing enough. Military spokesperson Zaw Min Tun previously said that restrictions had been put in place for private-owned oxygen plants, to prioritize supplying hospitals over individuals.
It is true that some patients have been turned away by hospitals; many people have to rely on treatment at home, including finding their own medical oxygen. This has no doubt caused panic buying and shortages of oxygen cylinders.
On the ground, many COVID-19 patients accuse the regime of killing the people without using bullets and said, "They are doing it deliberately." Many patients and family members find home remedies and treat themselves at home, waiting to die in protest against the coup. "They are inhuman"—many people in Yangon echo this sentiment when asked about the regime's intention and its plan to combat the COVID-19 third wave.
Many volunteers who were active in the past under the previous government are staying away from the regime, not to mention the rich and middle class people who overwhelmingly donated to and supported the fight against the pandemic throughout the country last year.
In fact, soldiers and military family members are also dying from the pandemic but news of the spread of the pandemic in military quarters is banned.
Learning of the outbreak, detained leader Daw Aung San Suu Kyi has expressed her grave concern over the COVID situation.
Under her government, she put the country's Health Ministry in COVID-19 alert mode in early January 2020 and vowed that no one would be left behind; free treatment was provided to all COVID-19 patients with the help of partners.
In her weekly updates to the people, she offered soothing messages, urging people to neither panic nor downplay the virus, while warning them to strictly follow health guidelines, as public participation is the most essential factor in getting through the health crisis. Even though the disease was not brought fully under control, Myanmar seemed to be coping well. The WHO's representative in Yangon said in June 2020 that Myanmar had done extraordinarily well up to that point.
The reason for its relative success up to that point was that the country started its preparedness and surveillance, particularly at border crossing points, just one day after it was notified by the WHO and others about the appearance of unexplained pneumonia cases in Wuhan, China.
Daw Aung San Suu Kyi's demonstration of handwashing on TV was also very important in ensuring that the right set of messages reached as many people as possible. Effectively using Facebook, she invited guests including experts, health workers and representatives from different sectors to a teleconference to discuss the pandemic. It was successful.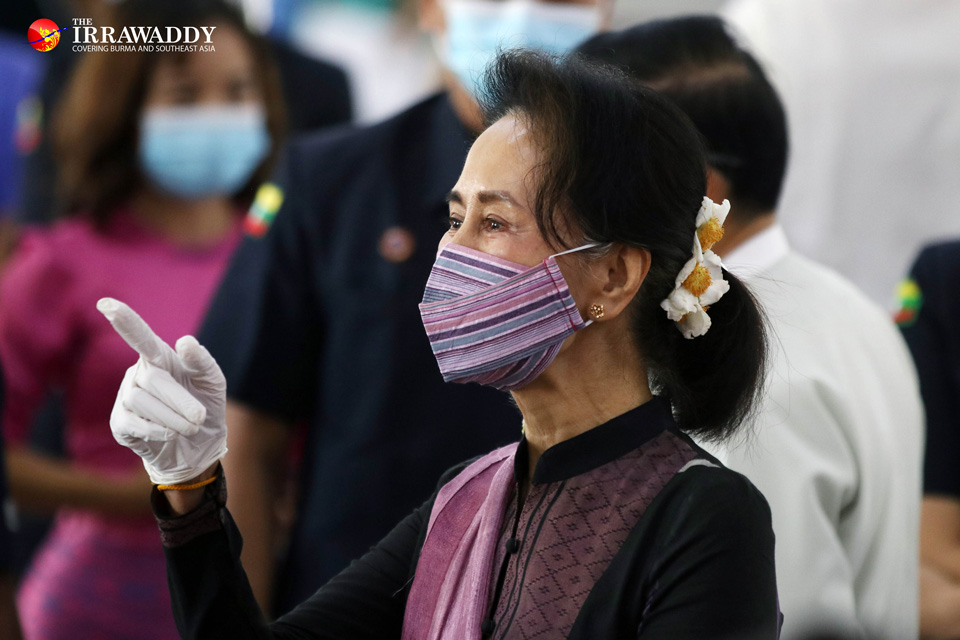 Daw Aung San Suu Kyi in Naypyitaw in January 2021. (Photo: The Irrawaddy)
A majority of Myanmar people believed she was doing precisely what a leader should do in such circumstances but her political opponents including military and proxy parties criticized Daw Aung San Suu Kyi's public health efforts as an attempt to manipulate the pandemic to win votes. Hundreds of thousands of volunteers, health workers, rich and poor and people from across the regions and states contributed to the government's efforts. But the regime since coming into power has raided several foundations' quarantine centres, confiscating facilities and equipment. Some well-known charity workers, entrepreneurs and businessmen have been investigated as to the source of donations and income.
Today, the military has crushed people's hopes for the future. Due to the state-sponsored violence and systematic suppression unleashed weeks after the coup, today Myanmar faces political upheaval, economic collapse and the pandemic.
Myanmar citizens now say that along with the coup Min Aung Hlaing brought hell to the country. Where is the way out? They imagine how Daw Aung San Suu Kyi and her government, if allowed to serve their second term, would have reacted to the pandemic and treated patients. Their efforts would surely have been far better than those of coup maker Min Aung Hlaing and his bloodstained generals.
(By arrangement with 'The Irrawaddy')