Eye On China, India Steps Up Financial Aid To Maldives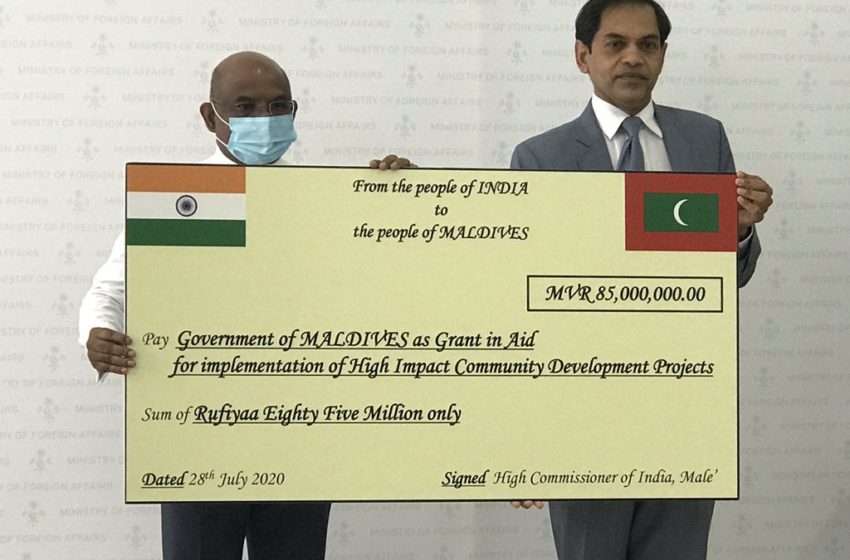 NEW DELHI: Amidst the jostling for strategic space in the Indian Ocean Region (IOR) by India and China, New Delhi has stepped up its outreach to the Maldives to help its economy recover from the devastating impact of Covid-19.
Indian high commissioner to the Maldives Sunjay Sudhir handed over a "symbolic cheque" of USD 5.6 million on Tuesday for the execution of nine projects under the High Impact Community Development Projects (HICDP) scheme in the strategically located archipelago.
India is also mulling a financial package but sources told StratNews Global that "nothing concrete has been worked out yet".
Bilateral relations have been back on an even keel ever since the India-leaning government led by President Ibu Solih of the Maldivian Democratic Party (MDP) took charge in 2018. But India is taking no chances with China assiduously making inroads into IOR countries.
Economic assistance is being given even as the Maldives stares at a looming debt repayment crisis. Nearly 45 per cent of Maldives' external borrowings are from China, largely made during the tenure of former president Abdulla Yameen Abdul Gayoom, an ardent China backer.
While Yameen is now in prison for money laundering, the country reels under Chinese loans. "Maldives is under pressure due to the huge debt repayment obligation to China," said sources.
Further, with sovereign guarantees given for private loans from China during Yameen's tenure, troubles on this front have already begun. According to reports in the Maldivian media, China's Exim Bank has asked the Maldivian government to repay the US $10 million loan that was given to member of parliament Ahmed Siyam (Sun Siyam) under a sovereign guarantee.
Failure to repay the loan would result in a sovereign default and could even devalue the Maldivian currency and impact trade.
With its economic mainstays of tourism and fisheries hit hard by the pandemic, Maldives is currently struggling to keep afloat. The size of the archipelago's economy is US $5 billion, one-sixth the size of the Indian state of Kerala.
Funding under the HICDP was announced during the March 2019 visit of then external affairs minister Sushma Swaraj to the Maldives. This money is in addition to the grant of US $7 million that was announced during Swaraj's visit.
Hinting at the opacity and corruption involving China-funded projects, High Commissioner Sudhir in his remarks during the cheque presentation made it a point to note that among the salient features of Indian projects were 'transparency, demand-driven nature and ownership'. "Tendering, price negotiations, award of tenders, monitoring and execution is all done by Maldivian ministries and agencies."
India began disbursing the US $7 million cash grant in March 2019 itself for small projects. The 18 projects include setting up of open air gyms on 61 islands, a coastal erosion project (Rasdhoo), installation of street lights (Kolhufushi), procurement of vehicles and machinery for Male' city council, upgrade of police training academy in Vaani, construction of school classrooms in Lhohi and Kinolhas, upgradation of ice plants in Maduvvari and Gaafaru, infrastructure and equipment for special education needs children, a community centre in Fokaidhoo, development of the Hulhumale Central Park and renovation of its arrival jetty.
The money will be given in tranches based on achievement of milestones with the aim being to help the economic revival of the Maldives, said sources.
Under the HICDP rubric, India is helping Maldives execute projects that have a "high-level of community impact and participation in the areas of livelihood and income generation, health, education, gender and child empowerment, sports, sustainable development, etc".
The Indian envoy underscored the fact that while the large projects including those for water and sanitation, roads and reclamation, port development, a cancer hospital, cricket stadium and airport development, will be executed under the US $800 million Line of Credit, the smaller projects are meant "to have an immediate and positive impact on the lives of the island communities".
Among the projects being undertaken through HICDP are three island fisheries plants to ensure the catch of fishermen can be processed within Maldives instead of being sent to Thailand as is the case now, five eco-tourism projects and a bottled water plant in Hoarafushi.