India Announces Covid-19 Fund, Pak Seeks to Undermine SAARC Efforts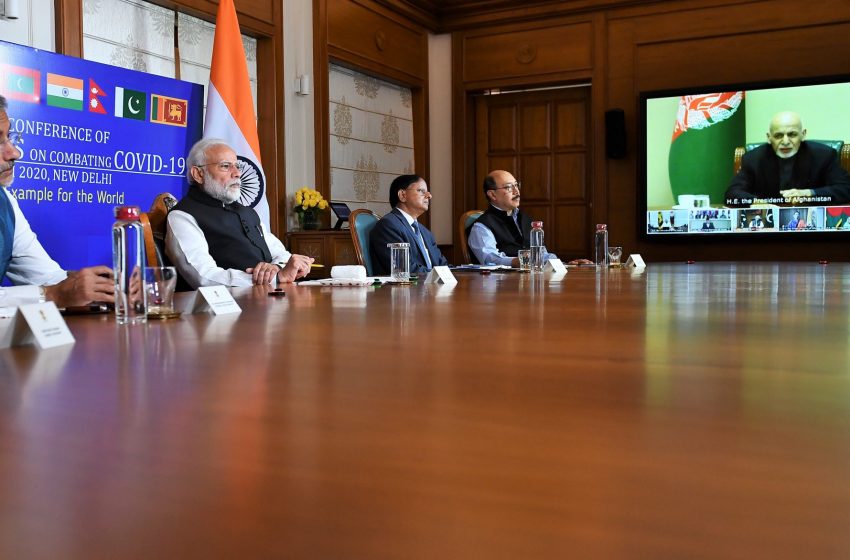 NEW DELHI: India has taken the lead in announcing a $10 million Covid-19 Emergency Fund for use by its South Asian neighbours at an unprecedented video conference with South Asian heads of state on Sunday evening. Pakistan as expected played the spoiler, sending a low-ranking minister of state for health who compounded it by linking Kashmir to the pandemic and seeking to undermine a region-wise cooperative effort to fight the Coronavirus.
Pakistan's Dr Zafar Mirza called for lifting all restrictions in Kashmir, in order he claimed, to better deal with the threat of the virus. India responded saying "It is a pity that they have to be churlish on an issue that's important to the region.. We've demonstrated that we have the will to to come together. Their (Pakistan's) remarks were unwarranted and out of context."
But the mood was otherwise positive. The Covid-19 Emergency Fund should help SAARC members, especially the smaller ones like Sri Lanka, Bhutan and Maldives to deal with the debilitating impact of the coronavirus both on people and economies. Each state can make voluntary contributions to the fund which will be coordinated by Indian foreign secretary Harsh Vardhan Shringla.
The embassies of SAARC member-nations will serve as contact points, sources said adding that "No structure has been proposed at present as the idea is to make it as effective as possible and as rapidly as possible."
Modi told SAARC leaders they could avail of India's Rapid Response Teams comprising doctors and specialists along with testing kits and other equipment, to deal with the Covid-19 scourge. "They will be on stand-by, to be placed at your disposal, if required," he said.
He also offered to share with the SAARC nations the software for a Disease Surveillance Portal that would enable better tracing of possible carriers of the coronavirus and people they may have been in contact with. Modi suggested that a common research platform be created "to coordinate research on controlling epidemic diseases within the South Asian region."
Clearly, while offering a helping hand India was also seeking to consolidate its position as the largest and most powerful nation in this grouping — one that was willing to assist its neighbours despite deficiencies and gaps in its own domestic battle to contain the spread of Covid-19. Sources admitted that, "We have some shortages within our own country. We have to first look after our own people."
But the idea was also to "reach out to our neighbours with whom we have common, porous borders, help smaller countries with fewer resources and also because we have our own leadership role in the region." As for using the SAARC platform, the sources said "Even though SAARC has been on the back-burner, it was the rational and logical platform because of the challenges we're facing."
Sri Lanka's President Gotabaya Rajapaksa suggested that SAARC countries come up with a mechanism to assist their economies. He said a SAARC ministerial group could be set up to coordinate regional efforts on Covid-19.
Bangladesh PM Sheikh Hasina said it was "important to establish an institution to fight any public health threats in the region" and expressed her country's willingness to host such an institution.
Nepal's PM KP Sharma Oli, discharged just the other day from hospital after a kidney transplant, called for a multi-agency coordination committee to counter Covid-19.  A surgeon himself, Bhutanese PM Dr Lotay Tshering said dealing with the coronavirus "is an uphill task because you don't really see your enemy". Noting that it was "important for all of us to be on the same page", he warned that, "We're concerned about the economic impact of the disease."
Maldivian President Ibu Solih said tourism in his country had been hit hard following the Covid-19 outbreak with a 14% drop in February, and over 22% in the current month. Overall, he expected tourist arrivals to drop by 35% this year since bulk of their tourists came from China and Italy.
Afghan president Ashraf Ghani while noting that India is an important member of both SAARC and SCO (Shanghai Cooperation Organisation), wondered if these two groupings could coordinate to see if the Chinese experience in tackling Covid-19 could be replicated by SAARC members.