India, B'desh Sign Water Sharing MoU And Build For The Future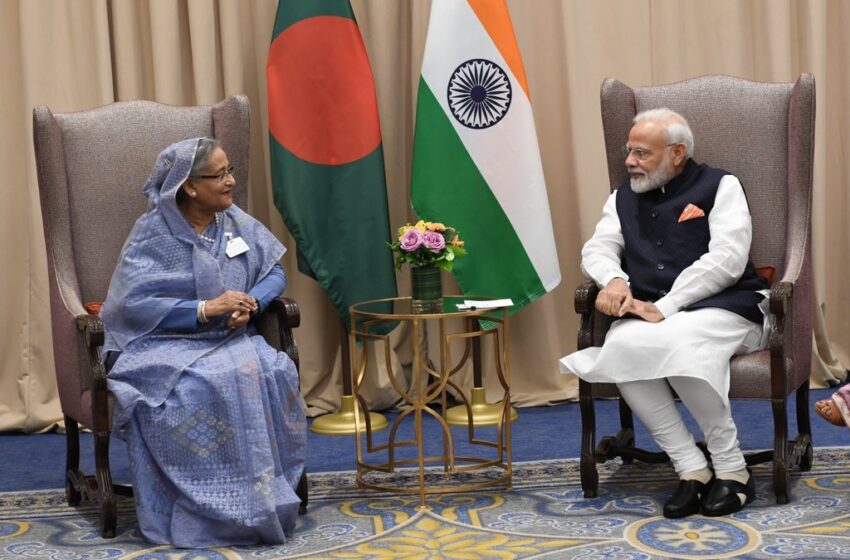 NEW DELHI: India rolled out the red carpet for Sheikh Hasina, for possibly the last time given hints that the Bangladeshi prime minister may hang up her boots after elections next year. Of course she gave no such indication, but complimented Modi for his efforts on building ties with Dhaka. She also voiced the wishes of her countrymen that "We hope all outstanding issues including Teesta water sharing treaty would be concluded at an early date. I know, as long as Prime Minister Modi is here, Bangladesh and India will resolve all its problems. The two countries have resolved many outstanding issues in the spirit of friendship and cooperation," she said adding "We thank PM Modi for resolving the issue of Kushiyara river."
Modi struck familiar notes, pointing to the extensive bilateral dialogue on security, trade and connectivity. "Today we also stressed on cooperation against terrorism and fundamentalism. To keep the spirit of 1971 alive, it is also very necessary that we face such forces together, who want to attack our mutual trust," he said.
Modi reminded Hasina that India was the largest market for Bangladesh exports and promised discussions on a bilateral Comprehensive Economic Partnership Agreement. Both sides had also decided to "increase cooperation in sectors like IT, space and nuclear energy, which are of interest to our younger generations. We will also continue to cooperate on climate change and on preserving a common heritage like the Sundarbans," he said.
He briefly touched upon the Kushiyari water sharing agreement, pointing out that it would benefit people in southern Assam and Sylhet in Bangladesh. He also indicated moves to cooperate on sharing the waters of 54 rivers "which have been linked to the livelihood of the people of the two countries for centuries."
MoUs signed covered railways, science and technology and space. An MoU between Prasar Bharati and Bangladesh Television on cooperation in the field of broadcasting was also signed.
They jointly unveiled Unit-I of the Maitree Super Thermal Power Project being built under India's concessional financing scheme that will add 1,320 MW to Bangladesh's national grid. India has extended nearly $9.5 billion to Bangladesh in preferential loans in recent years and has taken up several connectivity projects.
Foreign Secretary Vinay Kwatra indicated convergence on strategic issues (probably China), indicating that "there was a common understanding that the strategic priorities of the two nations converge. Therefore, the strategic relationships of India are naturally the interests and concerns of Bangladesh." He said India had helped Dhaka in the past with aid for the Rohingya refugees and this would continue.
Across the border, the mood was less sanguine. A business daily Banik Batra ranked India 10th in terms of FDI with investments in Bangladesh worth a modest $760 million. Exports to the US were nearly $7 billion, to India $1.28 billion. The Prothom Alo daily carried an Op-ed tellingly titled "Giving More Getting Less — let relations with India be more balanced". It quoted former Ambassador Humayun Kabir as saying that the CEPA must "uphold the interests of both sides and usher in mutual benefits. There is a general perception that we give India more and get less. If this agreement is one sided it will not be sustainable."
Neither paper made any reference to India's aid grants or soft loans in many areas including and especially infrastructure. While the critics there say the infra projects are intended to help India transit to the north eastern states, it cannot be denied that they have had spinoffs for Dhaka as well. The Bangladeshi finger pointing reflects the larger asymmetry of the two neighbours but these are realities Dhaka has navigated for years and is unlikely to change.