India, B'desh Renew Old Bonds As They Look To The Future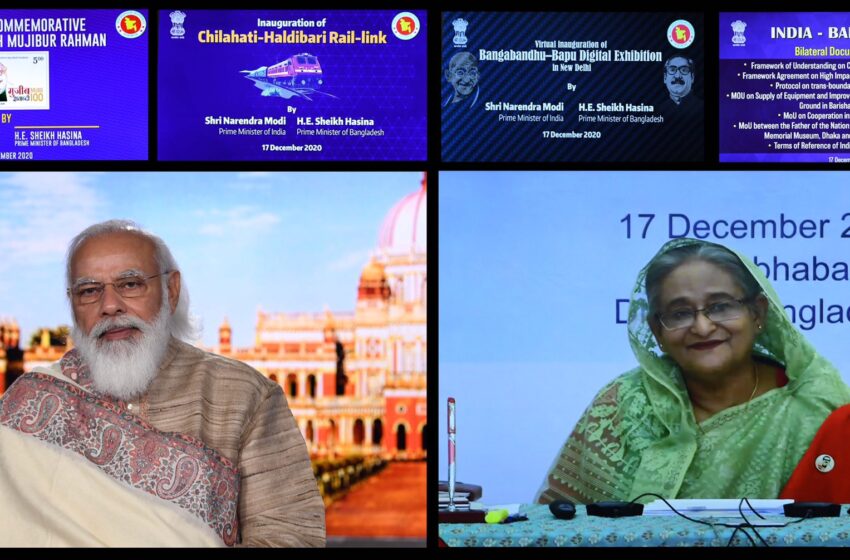 NEW DELHI: On March 26th early in the new year, Prime Minister Modi will grace celebrations in Dhaka marking 50 years since the liberation of Bangladesh from Pakistan's yoke. Ahead of those celebrations Modi and his Bangladeshi counterpart Sheikh Hasina inked seven documents during a virtual summit on Thursday.
They also jointly inaugurated the newly restored railway link between Haldibari in north Bengal and Chilahati in Bangladesh, a distance of about 13-km.  On the long pending issue of the sharing of Teesta river waters, Sheikh Hasina sought an "early interim agreement". PM Modi's reply was reflected in the joint statement which "reiterated India's  sincere commitment and continued efforts" on Teesta.
The two countries will cooperate in the hydrocarbons sector and India will provide grant assistance for "high impact" community development projects in Bangladesh. The joint statement indicated Sheikh Hasina's interest in joining the India-Myanmar-Thailand trilateral highway project. Boundary issues were also discussed with the two sides agreeing to prepare a new set of strip maps along the stretch of Icchamati, Kalindi, Raimongol and the Hariabhanga rivers.
There were references to the 1971 war when India's Joint Secretary handling Bangladesh Smita Pant said, "There is no denying that state-sponsored oppression against  Bangladesh's just war of liberation led to the death of over three million people, more than 2,00,000 women were raped & tortured. We deeply respect & understand the sentiments expressed by PM Sheikh Hasina."
Pant was referring to remarks by Sheikh Hasina earlier this month to Pakistan's high commissioner Imran Siddiqui that "The incidents of 1971 can't be forgotten. The pain will remain there forever."
India is clearly going the extra mile in wooing Dhaka. Modi joined Sheikh Hasina in releasing a commemorative stamp honouring her father Sheikh Mujibur Rahman, founder of Bangladesh. The joint statement noted, "Sheikh Hasina deeply appreciated the warm gesture of India in organising various events on the occasion of ongoing 'Mujib Borsho'."