U.S. Pushes for Sooner Release of Taliban Prisoners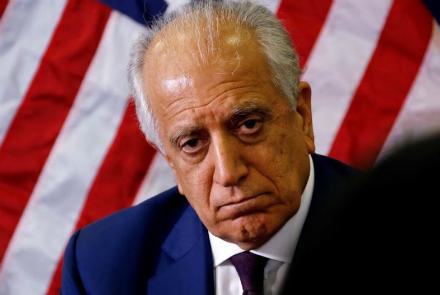 KABUL: The U.S. Special Representative for Afghanistan Reconciliation, Zalmay Khalilzad, on Wednesday said the United States would like to see prisoner releases begin as soon as possible in line with the U.S.-Taliban peace agreement.
"No prisoners have been released to date despite the commitment to do so expressed by both sides," Khalilzad added in a series of tweets on Wednesday as the Taliban are trying to press Washington to facilitate the prisoners release to happen in the near future.

"Coronavirus makes prisoner releases urgent; time is of the essence. We are committed to do our part and after consultation with all relevant sides, the United States understands," Khalilzad said. The U.S. envoy noted that technical teams from both sides can work together and focus on technical steps to begin prisoner releases as soon as possible, adding "I will participate in the initial meetings."
"While preferable to meet face-to-face, coronavirus and the resulting travel restrictions likely requires virtual engagement for now; we call on all sides to avoid provocative media statements," Khalilzad said. He added that "the Taliban commit that released prisoners will abide by the commitments made in the peace agreement and not return to the battlefield".
"A violation will undermine the peace process. The time has come to move forward on prisoner releases," Khalilzad concluded.
The U.S.-Taliban deal signed in Doha, Qatar on February 28 calls for the release of up to 5,000 Taliban prisoners to open the way for intra-Afghan negotiations. The deadline for the release was March 10. President Ghani has agreed to release 1,500 prisoners, gradually, ahead of the intra-Afghan negotiations.
The Taliban has opposed this plan by the Afghan government. This comes as Taliban spokesman Zabihullah Mujahid this week posted a video showing their fighters in military training. The group said the preparations are for removing barriers but he did not clarify further.
Analysts said preconditions by President Ashraf Ghani will push the Taliban to continue the war.
"We see that Mr. Mohammad Ashraf Ghani has set some conditions for the release of Taliban prisoners. This pushes the Taliban for war," said Faiz Mohammad Zaland, a university lecturer.
"The Afghan government has no option but to release Taliban prisoners based on the (U.S.-Taliban) deal," said Maqdam Amin, an analyst.