Taliban Shouldn't Amplify Pakistani Propaganda On Indian 'Air Support': Former Envoy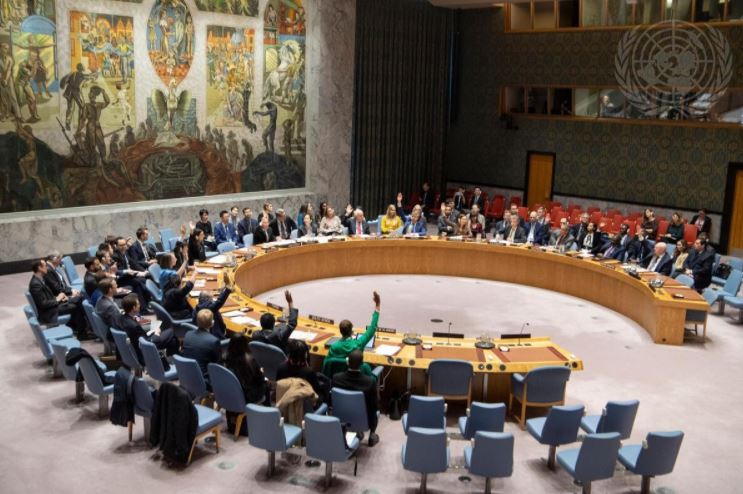 NEW DELHI: Consultations are on at the United Nations Security Council (UNSC) for an emergency session on Afghanistan. India assumed the rotational UNSC presidency for a month on August 1. On Tuesday, Afghan Foreign Minister Haneef Atmar spoke to India's External Affairs Minister S Jaishankar on the issue saying, the "UN and the international community must play a greater role to stop the unfolding tragedy due to Taliban violence and atrocities. (We) appreciate the lead role of India as current UNSC President." India is sounding out other members and assessing if there is support for a formal meeting or if there is consensus only on other forms of discussion like closed consultations. Though its unlikely that the Permanent 5 (P5) will openly block a session, their agreement is essential in the closed-door consultations. In the past, Poland as UNSC President could not convene a Pakistani move for an emergency session on Kashmir despite Chinese backing because of other P5 opposition.
While the Taliban continues its military attacks on the urban centres of Kandahar, Lashkar Gah and Herat, UNSC members are discussing the procedure required for any session, whether it should be formal, informal, private or open. India is also chair of the 1988 Taliban Sanctions Committee.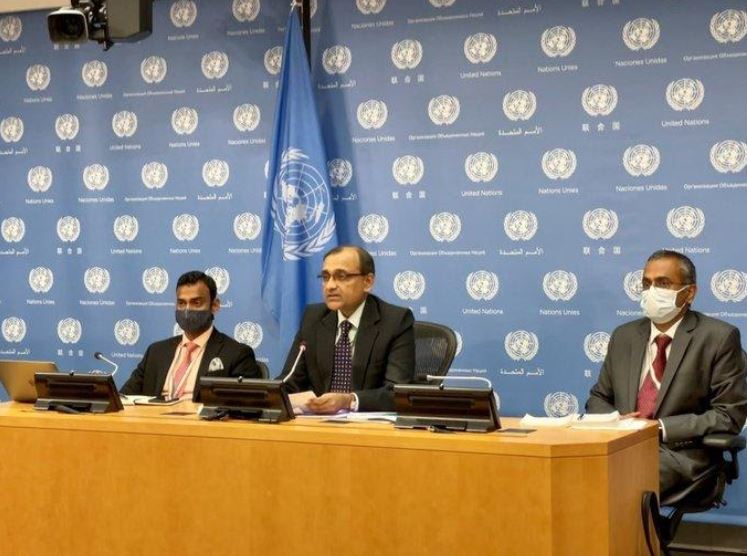 India's Ambassador to the UN TS Tirumurti (centre). (Photo: @ambtstirumurti)
In January, India's Permanent Representative Ambassador TS Tirumurti had said that the committee "has always been a high priority for India. Chairing this Committee at this juncture will help keep the focus on the presence of terrorists and their sponsors, threatening the peace process in Afghanistan." With increasing reports of Taliban violence, human rights violations, targeted killings and even potential war crimes, there are calls for UN action on Taliban leaders, who jet from one country to the other while stalling any movement in talks with the Afghan Republic team in Doha.
"India has been active in the UNSC on Afghanistan, and will support the Afghan request with a meeting of the Council already scheduled for the 6th," Ambassador Gautam Mukhopadhaya, India's former envoy to Afghanistan told StratNews Global, adding, "as President of the Council for August and Chair of the Sanctions Committee, India can help build on statements by major powers on their opposition to a military takeover and monopoly of power and mobilise the Council to convey a strong message to the Taliban and their supporters that lifting of sanctions, travel bans, de-listing, international recognition and assistance will not be possible unless the Taliban halt their military offensive, return to the negotiating table, observe ceasefire during negotiations, and agree to a fair and inclusive political agreement that accommodates both sides."
Meanwhile, Afghan news agency Pajhwok has reported a Taliban 'warning' to India. Quoting Taliban spokesperson Zabihullah Mujahid in an interview as saying, "we also want to have good relations with India as an important country in the region, but before we clear our position on India, India militarily supports our opponents, there are even reports that this country sent its pilots to support Kabul administration in launching airstrikes, this is a position against our nation and it should be changed."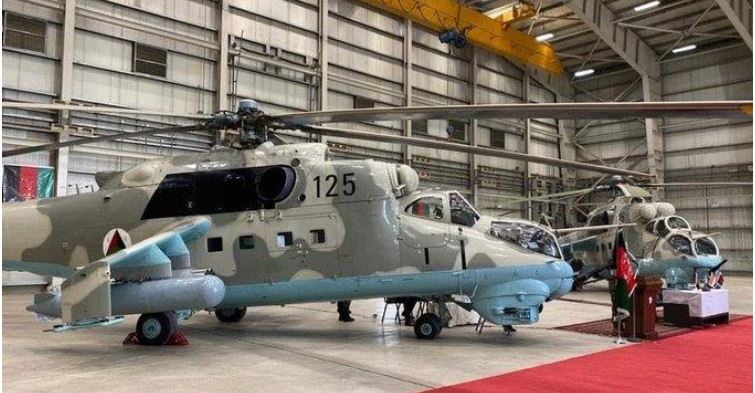 Indian Mi-24V helicopters handed over to Afghan forces in 2019. (Photo: @AfghanistanInIN)
India has provided attack helicopters and replacements to the Afghan Air Force since 2015 as well as transport vehicles and other military equipment in addition to training. Mujahid is quoted as saying: "They (India) provide military support to (the) Kabul government, provide it with warplanes and ammunition so they would kill more Afghans and continue the conflict, we call this role of India against principles and we want it to stop immediately." On July 31, an unverified account of Mujahid quoting another spokesperson Qari Yousaf Ahmadi's also tweeted: "In the continuing cycle of targeting government infrastructure, Indian supplied airplanes bombed Bost Specialist Hospital in Betun area of Helmand's capital Lashkargah. This enemy crime resulted in the hospital catching fire and large parts (being) destroyed."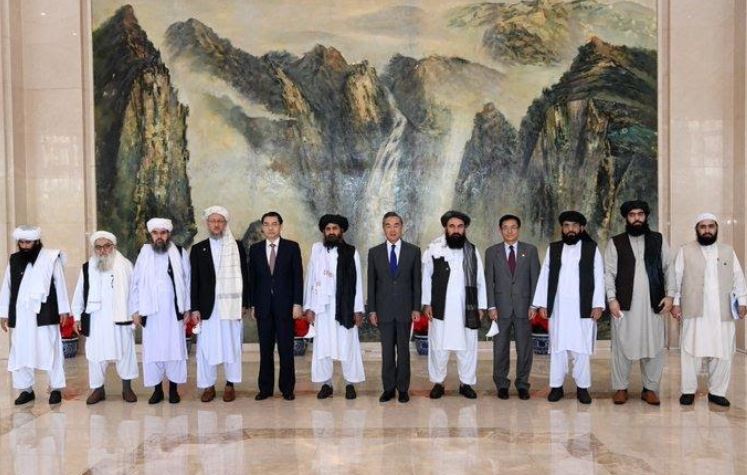 A Taliban team toured China and met senior officials last week. (Photo: @MFA_China)
In the Pajhwok interview Mujahid is quoted as saying military support to the Ghani government is the reason "Taliban relations with India are cold and India also did not try so far to change its position," but he is also quoted to have said "that we will not create problems to any embassies," adding, "we do not threaten economic projects from any country, we support other countries invest(ing) in our country. A few days ago, we had a trip to China. One of our main demand(s) from China was to cooperate with Afghanistan in commerce and investment."
On the Taliban's reported warning, Ambassador Mukhopadhaya said: "We welcome Taliban assurances about security of our Missions and projects for the benefit of the people of Afghanistan, but charges of air support are pure Pakistani propaganda aimed at driving a wedge between India and the people of Afghanistan particularly Pashtuns who have been its mainstay historically through trade, cultural exchanges etc. The Afghan state has every right to defend itself. The Taliban should not amplify Pakistani propaganda, make deals with third countries including those it calls 'occupiers', and use Pakistani territory and personnel against Afghans if they are truly nationalist. As far as India's response is concerned, India has reiterated its support for a fair and inclusive negotiated political settlement even now. "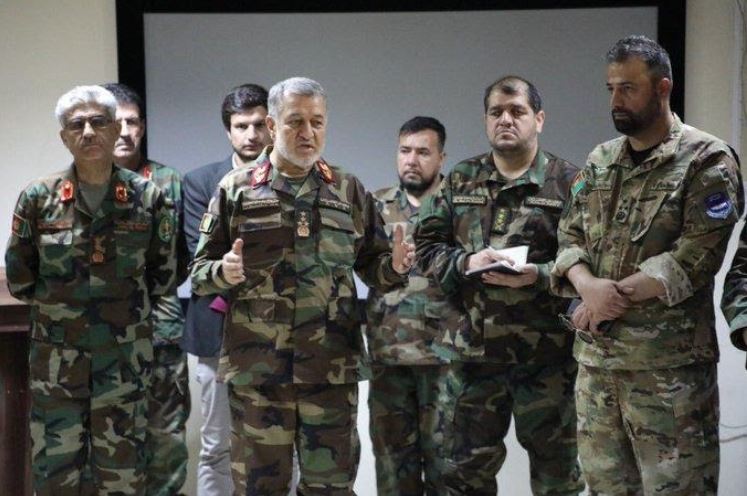 Afghan acting Defence Minister Bismillah Mohammadi. (Photo: Afghan Ministry of Defence)
In Kabul, on Tuesday, a car bomb attack took place near a guesthouse owned by acting Defence Minister General Bismillah Mohammadi, who is safe. The Interior Ministry said the attack had been successfully repelled and all the attackers had been killed by security forces. Meanwhile, in Kabul and other centres a civilian resistance protest movement against the Taliban is gathering momentum. People have been seen on the streets shouting 'Allahu Akbar' or 'God is great' in support of the security forces.