Signs Of Taliban Hand In Hashtag Blitz Calling For U.S. Troop Pullout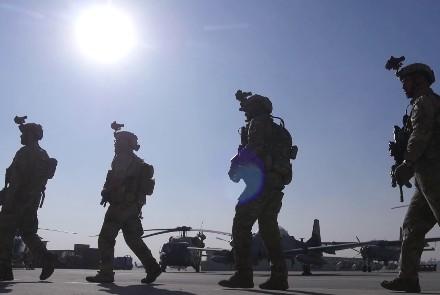 KABUL: A hashtag has emerged on social media, calling for the withdrawal of foreign forces from Afghanistan: #get_out_of_Afghanistan. There have been several thousand tweets and retweets with this hashtag over the past few days.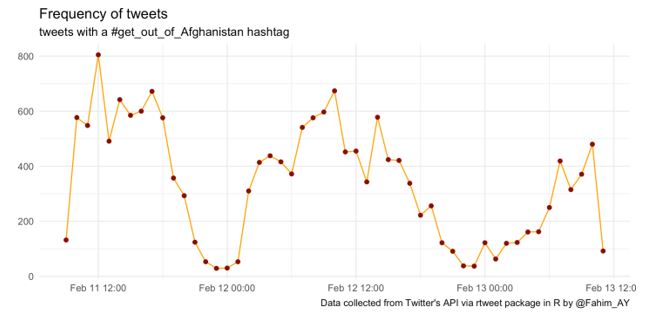 The question of who is behind this high-volume messaging campaign cannot be definitely answered but I took a closer look at the tweets to see what could be learned.
I collected over 17,000 tweets from Twitter's API with a #get_out_of_Afghanistan, #افغانستان_را_رها_نماید or #افغانستان_پریږدئ hashtag.
My starting assumption was that these tweets were not real, and that this was obviously an influence campaign and not a trending, organic expression of "the voice of Afghans".
I hypothesized that a specific cluster of Twitter users that might be bots (computer-operated accounts) or "fake users" (users with a specific agenda to spread these hashtags) were promoting this thread as part of an "information operation" in the social media space.
There are obvious indicators, such as frequent citing of the Doha agreement, suggesting that these tweets serve the agenda of the Taliban and its allies. The Taliban use social media extensively to support their activity in Afghanistan.
Below are the main takeaways suggesting that these tweets are organised and managed by a specific group:
The vast majority of these tweets are from accounts that have not mentioned their location, which could be a sign of bots or fake accounts; moreover, the majority of those that did mention their location were tweeted from outside of Afghanistan.
Only 9 out of 17,364 tweets/retweets are from verified accounts.
The group behind this seeks to deliver its message to a larger audience by mentioning top U.S. actors, ones who can directly influence the date of withdrawal of foreign forces from Afghanistan. They used the Twitter account of the president of the United States—@POTUS and @JoeBiden—the account of the US Special Representative for Afghanistan Reconciliation—@US4AfghanPeace—and the official account of the U.S. Embassy in Afghanistan—@USAmbKabul. Further, most of these tweets are in English rather than in Pashto or Persian languages.

Interestingly, the Twitter account from which this hashtag is retweeted most frequently was created less than a month ago (23-01- 2021) indicating that this account was created only for promoting such propaganda.
An analysis of the content of these tweets reveals that they centre on calling for commitment to the Doha agreement and, therefore, the withdrawal of U.S. troops from Afghanistan. Furthermore, the videos featured in the tweets show Taliban attacks on U.S. troops.
Some of the tweets are presumably intended to show to Afghan citizens and the international community that poverty will continue as long as the international community is in Afghanistan by showing pictures of people who have sold their kidneys, for example.
Additionally, these accounts are increasingly using pictures of children with flyers in their hands with a #get_out_of_Afghanistan hashtag to promote their message.
(Fahim Ahmad Yousufzai is a Kabul-based data analyst. Views expressed in this article are personal)
(By arrangement with Tolo News)