Govt Prepares For Fighting Season As Peace Talks Crawl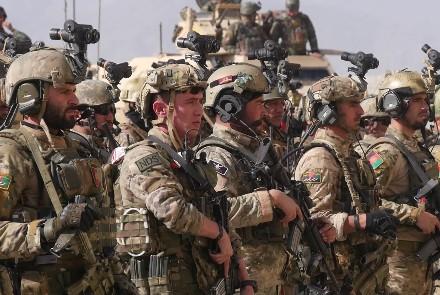 KABUL: The Afghan government is preparing for ramped-up fighting amid slow progress in the peace negotiations in Doha, with National Security Adviser Hamdullah Mohib saying the Taliban does not want peace and that based on intelligence information, the group is making itself ready for the next fighting season.
Mohib said that the Taliban is trying to take power militarily but he warned the group that he has visited all the various Afghan army corps and that all are ready for the next fighting season.

"The Taliban does not want peace. Our intelligence information from the National Directorate of Security shows that the Taliban is preparing to fight. They think that they will win militarily," Mohib said.
A new corps has been established under which all special forces from the Afghan National Army, the National Directorate of Security, the Afghan National Police and the Afghan Air Force will operate to suppress the Taliban, according to security officials.
"The obligation is on us to become fully prepared; therefore, we travel to all provinces and to all army corps to stand united and strong against them," Mohib said.
The slow progress in the negotiations between the Afghan republic and the Taliban negotiators has apparently reduced the Afghan government's trust in the peace efforts as heads of security agencies said that the Afghan forces are ready to suppress the Taliban.
"The establishment of the new corps assures our people that they (Taliban) will be defeated in the new fighting season," NDS Chief Ahmad Zia Saraj said.
"We're committed to peace but if Afghanistan's enemies and the Taliban choose war, they will have a strong response from the defence and security forces," said Interior Affairs Minister Massoud Andarabi.
The Afghan Army Chief of Staff, Yasin Zia, meanwhile said that with the release of over 5,000 Taliban prisoners by the government, the group has intensified its fighting in the south of the country. "They (the Taliban) are an intelligence project. Their deeds are serving an intelligence agenda. Their discussions are for the purpose of intelligence. And they have no shared interest for their companions, let alone the people," Zia said.