Ghani Warns Of 'Severe Consequences' Of Interim Setup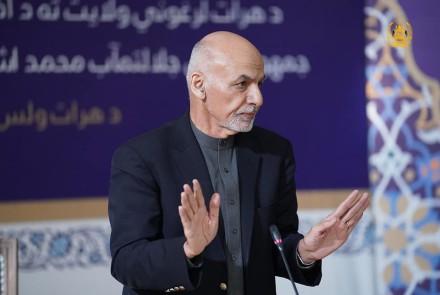 KABUL: Afghan President Ashraf Ghani has said those rallying for an interim setup have no understanding of the severe consequences it can have for the nation.
"Anyone who talks about the plan for an interim government should ask whether the commander-in-chief of Afghanistan has the trust of the country's defence and security forces. What have they thought about the future of the security and defence forces?" Ghani said. "Based on what authority are they talking about an interim government?"

President Ghani said the Taliban should sever ties with Pakistan. "If they (Taliban) claim to be Afghans and want to live in Afghanistan, they cannot have dual citizenship," Ghani said, referring to the Taliban.
The President said ongoing relations between Afghanistan and Pakistan have remained unexplained. "Today, trust remains quite weak amongst us," Ghani said, adding "respect is subjected to some sort of peril, there is no explicit definition of the interest."
Ghani said Afghanistan's Constitution is the most Islamic Constitution in the world, adding it is a people-oriented document that can address the needs of all. The Taliban have already said they do not recognize the current Constitution of Afghanistan as an Islamic document.
Referring to the Taliban's insistence for a complete change of the political system, Ghani said that the majority of Afghans have grown in the post-Taliban era and that the only thing they remember of the group is their violence in recent years.
This comes as efforts are underway in Doha to find a political settlement for the ongoing conflict in the country. But the process has been slow as peace negotiators have not held any meetings over the last 10 days.
We know that every moment of delay in peace talks causes bloodshed; therefore, we do not support delay in the talks," said Ghulam Farooq Majroh, a member of the Afghan Republic's negotiating team.
Regional Support
Saudi Arabia's Foreign Minister Faisal bin Farhan Al Saud on Friday met Afghan Foreign Minister Mohammad Haneef Atmar in Riyadh and announced his country's support for peace and development in Afghanistan, the Ministry of Foreign Affairs of Afghanistan said in a statement. The Saudi Arabian minister said "terrorism and extremism are a common threat and require joint combat," according to the statement. "They expressed their full support to the Afghan peace process," said Gran Hewad, spokesman for the Ministry of Foreign Affairs.
Meanwhile, NATO Secretary General Jens Stoltenberg in a meeting with Turkish Foreign Minister Mevlüt Çavuşoğlu in Brussels said that in the second defence ministers meeting, NATO will need to address the future of its training mission in Afghanistan. "Whatever path we choose, it is important that we do so together, in a coordinated and deliberate way", Stoltenberg said, adding that NATO supports the Afghan peace talks and, as part of this process, stands ready to further adjust its presence.