Ghani Rejects Prospect Of Interim Govt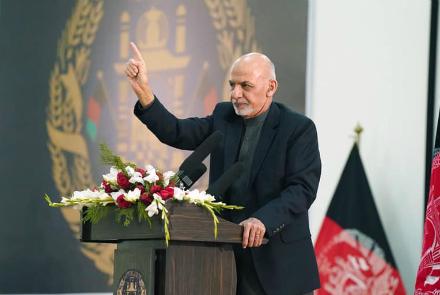 KABUL: Afghan President Ashraf Ghani, referring to the recent rumors about the establishment of an interim government as an outcome of a peace process with the Taliban, has said that the Afghan people do not support the dissolution of democracy and that his main duty as president is to peacefully transfer power to his successor according to the law.
Speaking a public gathering in Nangarhar province in eastern Afghanistan, Ghani said that the present political system needs to be protected and power must be transferred peacefully and legally.

"This seat is not mine, this seat (presidency) belongs to the nation of Afghanistan, this system has dignity, you all voted for me," said Ghani. "If someone comes and conducts a wrong thing, then it is the people who compensate and pay the price for his action—people have significant importance to us like the air and the water, but peace should be dignified peace".
"My duty is to transfer power to the successor of the government in a legal way. If this does not happen, then the people do not want termination of the power. It is not a personal matter, it is the issue of the republic system, because it is part of the joint investment of the people and the government," said Ghani.
"They (Taliban) always try to take distance from the religious issues. The Taliban are not prepared to talk on the basis of the Sharia (Islamic law), they say that we talk based on the Doha agreement (US-Taliban peace deal), this indicates that the fundamental issue for them is power, not religion," said Amrullah Saleh, the First Vice President.
This comes a day after Atta Mohammad Noor, the ex-governor of Balkh, referring to his recent dispute with President Ghani over the dismissal of the ex-minister of health, said that until yesterday (Monday) he did not think about an interim government in Afghanistan, but it is an alternative for him to think about.
"Now we need to recommend such a plan (interim government), if such a plan exists, then we should further develop it for the sake of national unity, social justice and political justice," said Atta Noor.
Previously, Abdul Hafiz Mansour, a member of the peace negotiating team representing the Islamic Republic of Afghanistan, Rahmatullah Nabil, the former head of the Afghan spy agency—the National Directorate of Security (NDS) and Sayed Eshaq Gailani, a member of the High Council of National Reconciliation (HCNR) also talked about an interim government in the country.