For Peace In Afghanistan, Need Peace Around Too: Jaishankar's Jab At Pakistan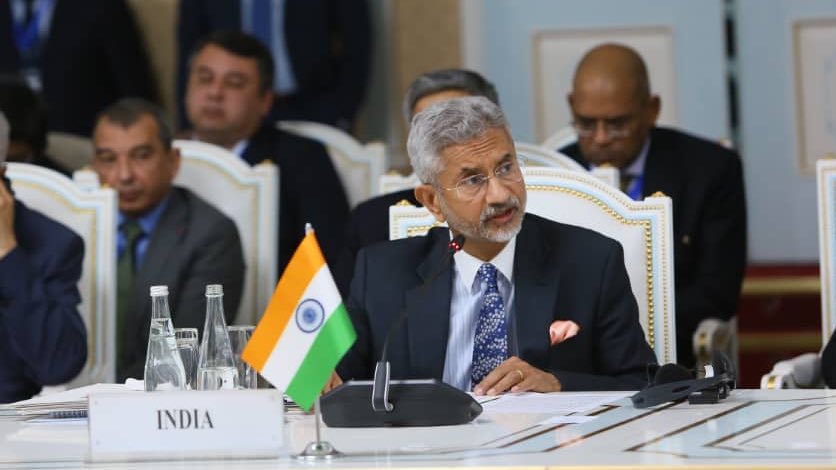 NEW DELHI: For the Indian (and possibly Pakistani) media, their presence in Dushanbe, Tajikistan was to report and record every word spoken when External Affairs Minister S Jaishankar met his Pakistani counterpart Shah Mahmood Qureshi, only to be disappointed. Jaishankar had other more pressing concerns to put forward at the 9th Heart of Asia Conference.
The minister who arrived on Monday, met with a host of senior political figures. He discussed the ongoing Afghan peace process with Afghanistan's President Ashraf Ghani, and had a quiet word with his Iranian counterpart Javad Zarif on Chahbahar port. He also met the Turkish foreign minister Mevlüt Çavuşoğlu on Monday and his counterparts from Central Asian nations among them Tajikistan and Kazakhstan.

In what some saw as a clear message to Pakistan to stop exporting terror to both India and Afghanistan, he called for a durable peace in Afghanistan. "What we need is a genuine 'double peace', that is, peace within Afghanistan and peace around Afghanistan. It requires harmonizing the interests of all, both within and around that country," he said.
He recalled India's efforts to "accelerate dialogue between the Taliban and the Afghan government", a reference to the recent call by Russia to exclude India from its "expanded troika" on Afghanistan.
Gautam Mukhopadhyaya, former ambassador to Afghanistan, stated that Moscow's exclusion of New Delhi – which the Afghan foreign minister Haneef Atmar had labelled as a mistake during his recent visit to New Delhi – suggested that Russia's interests in Afghanistan lay elsewhere and India would have to play its cards with caution.
"Russia's actions suggest that it does not think we are a major player in Afghanistan. We must be there and ensure we are part of the process. Emphasis on the positive role we have played in peacebuilding in Afghanistan is especially important if we want the world to see us as different from Pakistan which sometimes other nation states do not do."
The good news for India is that the US recently has made sure that India will be very much part of the ongoing bid to bring peace to Afghanistan. US Secretary of State Anthony Blinken recently suggested a two-track dialogue process regarding Afghanistan with one track of regional talks – facilitated by the UN – including the US, Russia, China, India, Iran and Pakistan. But the US pushing for Turkey as a mediator in the intra-Afghan dialogue would be viewed dimly in Delhi given Turkish President Recep Erdogan's anti-India statements on Jammu and Kashmir and Article 370 at the UNGA.
The big question however arises over what the US wants to do in Afghanistan. The deadline of President Joe Biden to withdraw all US troops from Afghanistan by May 1 – something which the Taliban has insisted upon – and their demand that President Ashraf Ghani step down for an interim administration to take over (this would probably include warlords affiliated to the Taliban), ensures that India may be faced with the possibility of dealing with terrorism in Afghanistan without the US and accepting a government comprising senior figures from the Taliban. Given that New Delhi has so far refused to recognise, let alone talk to the Taliban, this could prove a hurdle.
Mukhopadhyaya however doesn't see it that way. "There is more flexibility within the Biden administration then there was earlier. Under Trump there was an inflexible deadline with even the Pentagon accepting everything he said on Afghanistan. Under Biden there are strong voices from the strategic community some of whom are calling for a pushback of the deadline. The US may still withdraw but we will see more calibrated decision-making."
Coming to the Taliban he says it would not be so easy for the US to ask Ghani to step aside. "The Ghani government is the recognised government of Afghanistan by the UN. If the US tells him to step down it can be seen by the world as subverting the democratic process. This will not be something Biden would like to be seen doing."
"Even if the Taliban do come to power it's actually not too bad for us as we will finally be dealing with a unified Afghan administration. Granted, the chances of anything going forward is very low but entering into the dialogue process will be in itself an achievement. We should enter into dialogue and be prepared with alternative plans should it not work."