Efforts Underway to End Election Tensions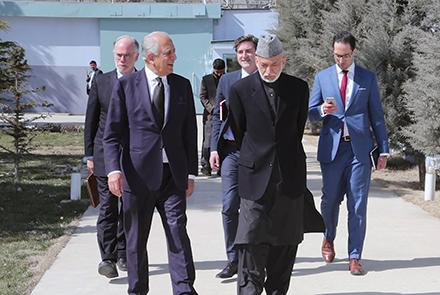 KABUL: Former President Hamid Karzai and former mujahideen leader Abdul Rab Rasoul Sayyaf met with National Unity Government leaders on Monday as tensions continue to rise between electoral campaign teams.
President Ashraf Ghani has created a special commission for the ceremony of his swearing-in and Chief Executive Abdullah Abdullah has also set up a separate commission for a separate oath ceremony to swear himself in as president.
NATO Senior Civilian Representative for Afghanistan Nicolas Kay has called upon all parties to prioritize national unity and the peace process. "Calm, dialogue and compromise by all political leaders needed. NATO senior civilian representative urges all parties to priorities the peace process and national unity. NATO does not support actions by any party that increase tensions or the risk of violence," Kay tweeted.
Meanwhile, a number of electoral campaign teams said that Zalmay Khalilzad, the U.S. special envoy for peace in Afghanistan, is also working to dispel the tensions arising from the presidential election and has met with a number of political figures.
"Mr Khalilzad's efforts are in the direction to prevent the peace process from being harmed from the ongoing political crisis," said Fazl Hadi Wazeen, Hekmatyar's running mate for first vice president.
"We use effective and practical measures that can bring the process back to normal," said Fazl Ahmad Manawi, a member of Abdullah's team.
Khalilzad has had meetings with former president Hamid Karzai, Gulbuddin Hekmatyar, Abdul Rab Rasoul Sayyaf, General Dostum and a number of other politicians over the past week and has been consulting on the outcome of the political crisis arising out of the election result.
"The internal conflicts that currently exist must be resolved," said Mamor Ahmadzai, a parliament member. "Peace is not meaningful if there is no united government," said Ghulam Ali Afghan, another parliament member.
On the other hand, Abdullah Abdullah's campaign has "appointed new governors" in the provinces along with making preparations for the parallel oath ceremony of Abdullah. "All preparations for the inauguration are under review and practical work has begun," said Fraidoon Khwazoon, a spokesman for Abdullah's campaign team.
"The election process formally ended and the Afghan people have elected Mr Ghani as their President-elect by the constitution, and are expected to hold an inauguration in the coming days and it will be attended by Afghan politicians and people," said Sediq Sediqqi, Ghani's spokesman.
It is expected that the oath ceremony for the President will be held on Thursday but Abdullah considers himself the winner of the presidential election and insists that he will establish an inclusive government.