Don't Repeat Mistakes, Says Top U.S. Negotiator As Ghani, Abdullah Sign Power-Sharing Deal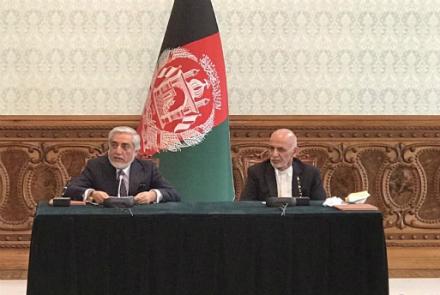 KABUL: After months of political deadlock, Afghanistan's President Ashraf Ghani and his election rival Abdullah Abdullah have signed a power-sharing deal in which Ghani retains his post and Abdullah takes a leading role in the peace process.
As per the agreement signed on Sunday, Abdullah will head the newly established High Council for Peace and National Reconciliation. He also gets 50 per cent share in Cabinet and provincial appointments and former vice president Gen. Abdul Rashid Dostum will be given marshal rank.
The deal came after months of discord and negotiations between Ghani and Abdullah's teams. The trigger was last year's disputed presidential election, the result of which was announced in February. Ghani was declared president by the Independent Election Commission. Abdullah refused to accept that and both of them held parallel inauguration ceremonies on the same day.
"The agreement signed today is not a privilege or a handout," Abdullah said, "it's rooted in the last election and every clean vote. It comes at a very difficult time when we face serious threats. It's meant to ensure a path to peace, improve governance, protect rights, and respect laws and values."
Calling it "great day in the history of Afghanistan," President Ghani congratulated Abdullah, saying Afghans believe he will perform the role in the "best spirit".
Abdullah vowed to do his best to work with all sides for the peace process but said "no individual or group can impose their will by force or against the national interest", indicating he will be no pushover.
Calling the agreement between Ghani and Abdullah "only a repetition of the past failed experiences", the Taliban said "Solution of the Afghan issue lies in implementation of the Doha Accord, with avoidance from creating (further) hurdles".
U.S. Special Representative for Afghanistan Reconciliation Zalmay Khalilzad tweeted some advice for both Ghani and Abdullah: "Both leaders should not repeat mistakes in governing that existed under NUG, as Afghans negotiated this govt."
Secretary of State Mike Pompeo spoke to Ghani and Abdullah, congratulated them on reaching an agreement but told them "he regretted the time lost during the political impasse".
India welcomed the political agreement, saying it has "consistently supported inclusive governance, national unity, strong institutions, Constitutional order, rights of all sections of society and the territorial integrity of Afghanistan".