WHO Declares Covid-19 A Pandemic, India Quarantines Itself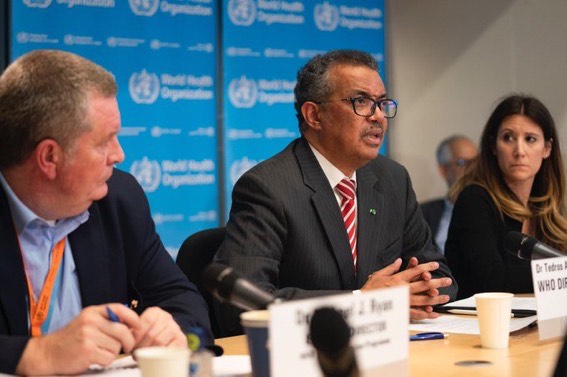 NEW DELHI: Within hours of the World Health Organisation (WHO) declaring Covid-19 a global pandemic on Wednesday, the Indian government in a bid to contain the rapidly spreading coronavirus took the unprecedented step of announcing that all visas for travel to India stand suspended until April 15.
The announcement was made both through the Twitter handles of both the Indian ministry of health and family welfare as well as Union health minister Dr Harsh Vardhan.

Dr Harsh Vardhan put out a series of tweets from his handle late Wednesday night stating that all existing visas, except diplomatic, official, UN/International Organizations, employment, project visas, stand suspended until April 15. He further said that this decision will come into effect from 1200 GMT on March 13 at the port of departure.
India has reported a total of 60 persons testing positive for Covid-19 by Wednesday even as the government here worked to contain its spread. Ever since the outbreak of Covid-19 in China in December the virus has claimed over 4,000 lives and over 1,00,00 persons have tested positive for it, globally.
Earlier in the day the WHO while explaining its decision to declare Covid-19 a pandemic had tweeted that it is "deeply concerned by the alarming levels of the #coronavirus spread, severity & inaction, & expects to see the number of cases, deaths & affected countries climb even higher. Therefore, we made the assessment that #COVID19 can be characterized as a pandemic."
"We have rung the alarm bell loud and clear," said the director-general of the WHO Tedros Adhanom Ghebreyesus on Wednesday while talking about the decision to declare Covid-19 a pandemic.
The decision to suspend all visas issued for travel to India was taken after a meeting of the group of ministers' (GoM) chaired by Dr Harsh Vardhan ain which the civil aviation minister Hardeep Singh Puri, external affairs minister S.Jaishankar, minister of state for home Nityananda Rai, minister of state for shipping Mansukh Mandaviya and minister of state for health Ashwini Choubey were present.
The government has also imposed restrictions on foreign travel by Indian citizens saying that "Indian nationals are strongly advised to avoid all non-essential travel abroad.' It warned that., "On their return, they can be subjected to quarantine for a minimum of 14 days."
The government also announced that the visa free travel facility which is extended to holders of OCI cards (Overseas Citizens of India) has also been kept in abeyance until April 15. This decision will also come into effect from 1200 GMT of March 13 said the government.
However, the government said that foreign nationals who may wish to travel to India for compelling reasons can contact the nearest Indian mission.
As India battles to prevent Covid-19 from spreading further the government said that all incoming travellers, including Indian nationals,arriving from or having visited China,Italy, Iran,Republic of Korea,France, Spain and Germany after February 15 will be quarantined for minimum 14 days.This rule too will take effect from 1200 GMT on March 13 at the port of departure, said the health ministry.
The government has also decided to put in place restrictions on international traffic through land borders saying that there will designated check posts with robust screening facilities.
The WHO DG briefed the media on Covid-19 said that it was the first pandemic caused by the coronovirus. In what seems an attempt to calm nerves even as the pandemic rages across the world Dr Ghebreyesus further said: "We cannot say this loudly enough, or clearly enough, or often enough: all countries can still change the course of this pandemic. This is the first pandemic that can be controlled.
The DG further said, "Pandemic is not a word to use lightly or carelessly. It is a word that, if misused, can cause unreasonable fear, or unjustified acceptance that the fight is over, leading to unnecessary suffering and death."
Noting that 81 countries have not reported any Covid 19 cases while cases, 57 countries have reported 10 cases or less, Dr Ghebreyesus said, "We cannot say this loudly enough, or clearly enough, or often enough: all countries can still change the course of this pandemic."
Dr Ghebreyesus also said that Civid-19 "is not just a public health crisis, it is a crisis that will touch every sector–so every sector and every individual must be involved in the fight".