'Like the Beatles, The Quad Is A Force For Good'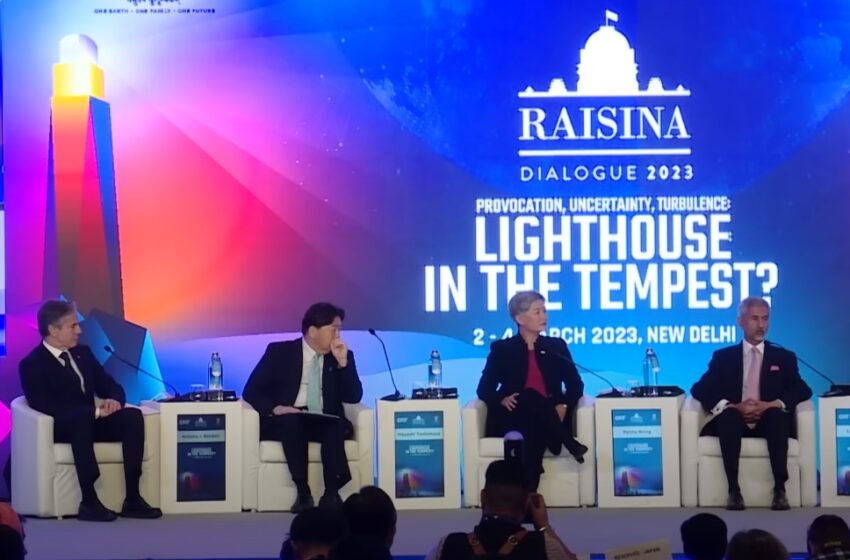 NEW DELHI: More reliable and resilient supply chains. The digital challenge: trust and transparency when it comes to technologies. Increasing connectivity. "There are three big issues that the world, and the Quad, needs to address," believes External Affairs Minister Dr S Jaishankar.
"I see these three things which in different ways, the Quad can do together, and do with other countries, and I expect that they will become a greater part of our (the Quad's) agenda," Dr Jaishankar said in his concluding remarks at a discussion March 3 at the Raisina Dialogue titled The Quad Squad: Power and Purpose of the Polygon, which had the foreign ministers of all Quad nations on the panel.

First convened by then Japanese Prime Minister Shinzo Abe in 2007, the Quadrilateral Security Dialogue, or Quad, is a strategic forum comprising India, Japan the U.S. and Australia to deepen ties between the four Indo-Pacific nations which share common strategic interests and values.
This session of the 8th Raisina Dialogue, the annual flagship event jointly organised by the Ministry of External Affairs and the Observer Research Foundation, was moderated by ORF President Samir Saran, who lived up to his reputation of asking tough, probing questions in a friendly, nonchalant manner.
Asked to explain what exactly the Quad stood for, all four foreign ministers reiterated that the idea behind it was to connect and help develop countries in the Indo-Pacific region, and that it was not a security grouping aimed at any particular country. The Quad is a force of global and regional good, they said.
Asked about Beijing's concerns that it was an anti-China grouping, Japan's foreign minister Yoshimasa said that "this is not military but just practical cooperation, It is an open dialogue." Therefore, "As long as even China abides by the laws and international norms, and also acts under the international institutions, standards and laws, then this is not a conflicting issue between China and the Quad."
According to him, "This is a band like The Beatles, where the member is fixed. And they always played together for 10 years. But this is more of a soft group, so that even within the Beatles, Paul McCartney could release an album solo." However, he said, each member remains close to the others. "We can share information, any idea…. I can open up with these three friends here. It's pretty nice to talk about all these issues because we have a trust between the four of us…the same values and the same beliefs such as democracy, freedom and everything. So without worrying about those big conditions, we can really freely talk within this group and communicate."
Close coordination between the four countries meant "we can do much better than just one plus one plus one plus one is four….the one plus one plus one plus one could be six, seven or eight by coordinating and listening."
U.S. Secretary of State Antony Blinken too noted that the Quad is not a military group, but a 'critical vehicle of engagement', that aims to bring together leading academics, intellectuals, technology and policy experts and other stakeholders from the region in order to offer positive choices, and work together in practical areas through various bilateral and multilateral frameworks. However, he said, "We are ensuring that we are fit for purpose for any challenges which are emerging or may emerge," he said.
"The great power of the Quad is you have four likeminded countries united in their basic values, united in their basic interests, bringing different strengths, not only tackling for ourselves but actually creating a global common good, particularly for other countries in the Indo-Pacific," he added.
Asked whether the events in Ukraine had diluted the U.S. focus on the Quad, Blinken was confident that "We  can run and chew gum at the same time," asserting that the U.S. is capable of handling both the war in Europe as well as in Indo-Pacific without diluting its interest in either.
'The Quad is a vital part of our vision for a free and open Indo-Pacific and today's panel demonstrates the priority we place on working with our partners and allies in the region,' he tweeted after the event.
Australian Foreign minister Penny Wong began by hailing India as a vital power in the Indo-Pacific. "India is a critical power, great power in the region that there is no reshaping of the Indo-Pacific without India. We've seen that India is a civilisational power that brings a different perspective to some of the challenges of these times," she said.
Noting that she views the Quad as a "lighthouse," she said, "It enables choices by these countries working for a region… by virtue of the practical work that we seek to do together."
"We are interested in a stable, secure and prosperous Indo-Pacific. Quad's focus and our engagement with the Pacific Island countries are aligned with Australia's interests," Wong said.
Jaishankar said that after initial hiccups, the Quad is working successfully today due to the changed world order. "We also have greater strategic clarity. We have leaders who are now less encumbered by the baggage of the past. Our origins are in common good and there is an innate virtue in Quad's existence," he said.
He also announced that at a breakfast meeting of the Quad ministers earlier in the day, it was decided to establish a Quad Working Group on Counter-Terrorism to explore cooperation not just amongst the Quad, but with other Indo-Pacific nations, to counter new and emerging forms of terrorism, radicalization and violent extremism.
 "Our meeting today reaffirms the Quad's steadfast commitment to supporting a free and open Indo-Pacific, which is inclusive and resilient," said a joint statement released after the breakfast meeting. Without naming China, it said that "We strongly support the principles of freedom, rule of law, sovereignty and territorial integrity, peaceful settlement of disputes without resorting to threat or use of force and freedom of navigation and overflight, and oppose any unilateral attempt to change the status quo, all of which are essential to the peace, stability and prosperity of the Indo-Pacific region and beyond."