India To Drive Global South Agenda, Urges 'Fundamental Reform' Of Int'l Agencies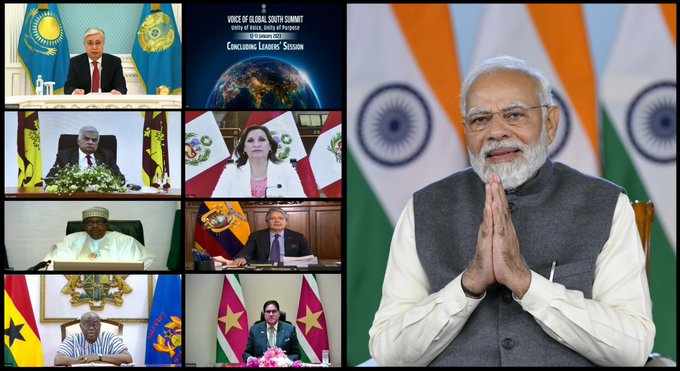 Prime Minister Modi signed off on the Voice of the Global South virtual summit on Friday, promising help to "any developing country affected by natural disasters or humanitarian crises" under the newly launched 'Aarogya Maitri' project, and proposed a novel science technology initiative for the Global South that India would drive.
"I am happy to announce that India will establish a 'Global-South Centre of Excellence'. This institution will undertake research on development solutions or best-practices of any of our countries, which can be scaled and implemented in other members of the Global South," he said.
He also took aim at the rising cost of food, fuel and fertiliser to underscore an oft repeated point: "To address this geopolitical fragmentation, we urgently need a fundamental reform of the major international organisations, including the United Nations Security Council and the Bretton Woods institutions. These reforms should focus on giving voice to the concerns of the developing world and reflect the realities of the 21st century."
External Affairs Minister S Jaishankar was more blunt in his description of international agencies like the UN. He said it was a "frozen 1945-invented mechanism, which is simply unable to articulate the wider concerns of its membership," adding that "some powers have been singularly focused on their own advantage, to the exclusion of the well-being of the international community. And the G-20, reflecting the composition of its membership, has had its own particular focus. This is what we are seeking to change."
In a late-night press briefing post the summit, foreign secretary Vinay Kwatra said that 125 countries had participated in the two-day summit and many of them had asked India to reflect their concerns in the G20 and other international institutions. Asked whether the Global South initiative would clash with other bodies such as NAM which has similar priorities, Kwatra said. "We firmly believe that this initiative would be the most appropriate forum for our objectives which is of a common platform for the developing world. The summit does not dilute in any way how India engages in other fora whether it is NAM or the G77."