India Needs Strong Maritime Security System, Says NSA Doval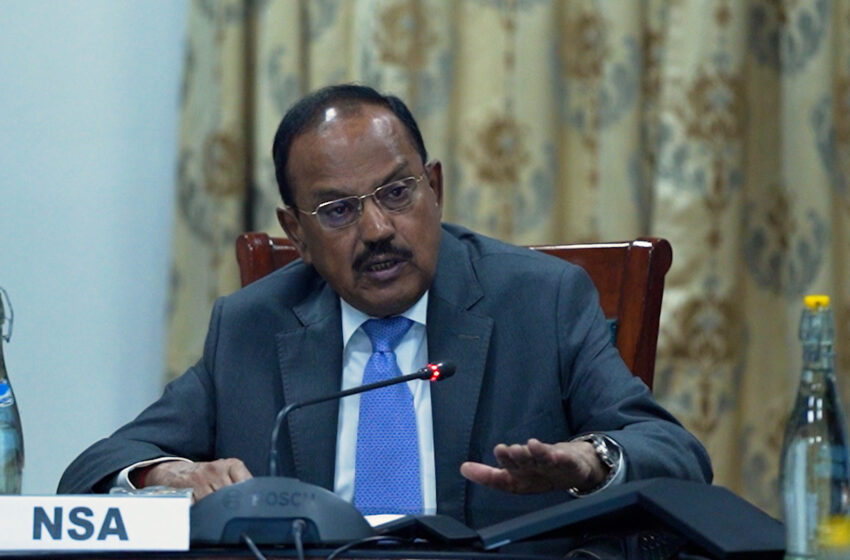 NEW DELHI: The changing geopolitical scenario in the Indian Ocean Region (IOR) has led to "international rivalries, competition and clash of interests" and it is important for India to protect its interests and be vigilant, said National Security Adviser (NSA) Ajit Doval.
He inaugurated the first meeting of the Multi-Agency Maritime Security Group (MAMSG) chaired by the newly appointed National Maritime Security Coordinator (NMSC) Vice-Admiral Ashok Kumar (Retd). The meeting brought maritime security coordinators from all 13 coastal states and union territories (UTs) together. Navy Chief Adm R Hari Kumar and Deputy NSAs from the National Security Council Secretariat (NSCS) were also present.

Commenting on the need for a strong maritime security apparatus, the NSA observed that the "trajectory of this nation is very well defined; we know where we are going, and we are going to be there; our time is going to come. When that time comes, India will not be able to become the power it deserves to be unless it has a very strong maritime security system in place along with better synergy and coordination among the stakeholders. This is perfect timing for it".
In November last year, the Cabinet had approved the creation of the post of NMSC, under the NSA, at the National Security Council Secretariat. With this, a longstanding recommendation of the 2001 Group of Ministers report got implemented. This reform is intended to ensure a seamless approach to India's maritime security cutting across geographical and functional domains. The constitution of the MAMSG is a significant step in that direction.
"The institution of National Maritime Security Coordinator is the most important focal point to which we will be able to bring about a total synergy. The National Maritime Security Coordinator is part of the larger national security apparatus where the planning, decision-making is taken at the highest political level," the NSA said.
He stressed the need to create more assets in IOR. "Indian Ocean is a great asset to us. While India being a peninsular position was a great advantage, the cardinal principle of security is that our vulnerabilities are directly proportional to our assets. The more we develop, the more assets we create, the more trade and commerce increases, greater would be the threat and vulnerability in the maritime domain and greater would be the need for security," said Doval.
Noting that India had seven important maritime neighbours, the NSA stressed that it was also important for the country to protect its interests in this arena. "We have certain responsibilities towards our maritime neighbours, such as disaster management, security assistance and other things," he added.
The MAMSG aims at ensuring coordination of all aspects of maritime security, including coastal and offshore security, and filling institutional, policy, technological and operational gaps in meeting present and future security challenges. The group will also address maritime contingencies requiring an urgent and coordinated response, according to the officials who participated in the event. The delegates said a number of crucial policy issues were taken up, including mapping of existing orders and policies to identify gaps, reviewing standard operating procedures for maritime contingencies, security of ports and coastal infrastructure, creation of a national maritime database, capacity building of coastal states and UTs, promotion of blue economy, etc. A separate session was dedicated to discussions with State Maritime Security Coordinators.
India is a nation with interests extending beyond its maritime zones. About 95 per cent of Indian trade by volume is through the maritime route via 12 major and over 200 non-major ports. Over 90 per cent of our hydrocarbon requirements are met through seaborne imports and offshore production. With over three lakh fishing vessels, the marine fisheries sector is a major contributor to the economy and livelihood of the fishing community. As India's economy grows, so will its dependence on sea-borne trade and maritime resources.