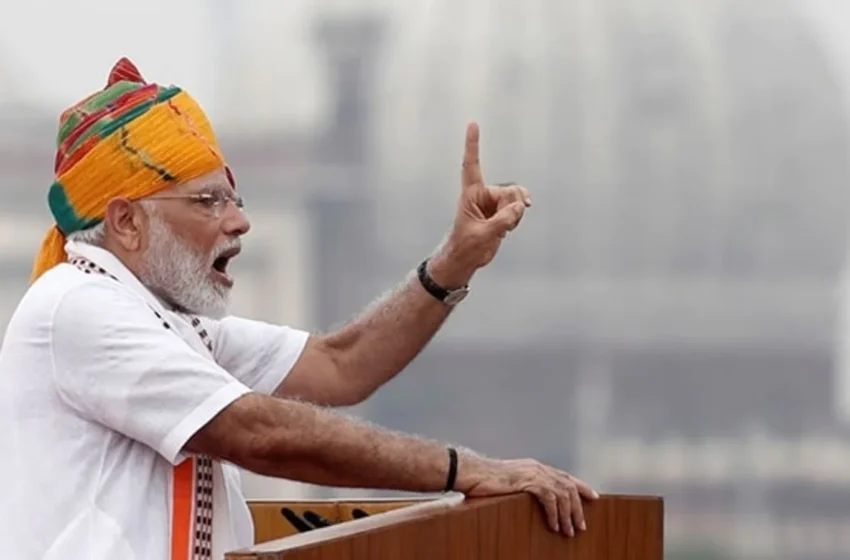 NEW DELHI: It has been over a week since India celebrated 75 years of Independence. And, most of you would have also heard and processed the lengthy speech of Prime Minister Narendra Modi last Monday.
Today I will attempt a recap and unpack the speech delivered on this historic occasion and how the PM remains invested in the belief that India's best is yet to come. Overall the effort of the PM's essay was to recall the past (how the country never gave up despite inclement odds), dwell on the present and inspire a better future.
Recalling the last 75 years, the PM argued that the "never give-up attitude" helped India tide over every daunting challenge, including the once in a century pandemic, the devastating fallout from which is yet to subside and continues to reverberate across the world.
"This journey of 75 years has been full of ups and downs.
Amidst the shadow of good and bad times our countrymen have accomplished various achievements; they have made efforts and have not given up. They didn't let the resolutions fade away.
It is true that the hundreds of years of colonial rule had inflicted deep wounds on India and the sentiments of the Indians, but the people were resilient and passionate. And that's why, Indians managed to revive the nation despite scarcity and denigration."
According to the PM, it is precisely this attitude that would inspire India to become a developed country in its 100th year of Independence. In fact the PM maintained that was the first of the five resolves India was taking on August 15.
"The first vow is for the country to move ahead with a big resolve that it would evolve into a developed nation. We should not settle for anything less."
In other words, over the next 25 years the country's per capita income will grow six fold to $12,000. This is a huge ask.
Especially for a country which is struggling to deal with inequalities of all kinds—including formally acknowledging through the world's largest food welfare programme, rolled out in the aftermath of the Covid-19 pandemic, that 800 million of its citizens are economically vulnerable.
End Of Status Quo
In other words, India has to signal a break from its inheritance of an exceptions-based regime and instead embrace one that is rules-based. This is easier said than done because those seeking status quo to prevail are a powerful and well-entrenched lobby group. Their ability to push back cannot be underestimated.
The PM believes the biggest weapon to inspire change is to weaponise the growing aspirations among the people.
"I am witnessing that India has emerged as an aspirational society. And this is the biggest asset for any nation.
We are proud that today every corner of India, every section and strata of our society is brimming with aspirations.
Every citizen of the country wants to change things, wants to see things change and is not ready to wait. He (or she) wants these changes to happen immediately. They are eager and excited to realise their dreams."
And then added:
"It may cause problems to some people. Because when there is an aspirational society, then even the governments have to walk on a razor's edge and have to change with the times.
And I believe whether it is the central government, state governments, institutions of local self-government, no matter what kind of governance system, everyone has to address this aspirational society."
The Prime Minister is right. The recent elections in Uttar Pradesh saw the ruling Bharatiya Janata Party (BJP) leverage its development work in providing basic amenities like electricity, cooking gas, drinking water, housing and roads to tilt the electoral battle to their advantage.
To be sure, no election is won or lost due to a single reason. But it is safe to say that the promise of realising one's aspirations is now part of the voter's lexicon along with traditional fault lines based on caste and religion.
The PM sought to focus on one key cohort among the new stakeholders: women.
"In every walk of life, whether it is the playground or the battlefield, the 'Nari Shakti' of India is coming forward with a new strength and a new belief.
I can see the manifold contribution of 'Nari Shakti', my mothers, sisters and daughters, in the next 25 years compared to the contribution in the last 75 years of India's journey."
Civic Responsibility
The collateral gain of this trading-up is a growth in the number of stakeholders in the economy.
PM Modi reminded this newly empowered class on 15 August that as a stakeholder they too have a role in ensuring India transforms on the desired lines.
"A few trends can be discerned from the experience of every country that has achieved something. One is disciplined life, and the other is devotion to duty. There should be success in the life of the individual, of the society, of the family, of the nation. This is the fundamental path and the fundamental vital force.
It is the job of the government to make efforts to provide 24 hours electricity but it is the duty of the citizen to save as many units as he (or she) can. It is the responsibility and efforts of the government to supply water to every field, but a voice should come from each of my fields that we will move forward by saving water by focusing on 'per drop more crop'.
It is our duty to do chemical free farming, organic farming and natural farming. Friends, whether it is police or people, ruler or administrator, no one can be untouched by this civic duty.
If everyone performs the duties of a citizen, I am sure that we can achieve the desired goals ahead of time."
Digital Democracy
The PM also dwelled on India's unique digital economy with its emphasis on public digital architecture that is inspiring public digital goods like Aadhaar, Unified Payments Interface (UPI), CoWin and so on.
"Till today we always remember our revered Lal Bahadur Shastri ji for his inspirational clarion call of Jai Jawan Jai Kisan meaning "Hail the Soldier, Hail the Farmer".
Later Atal Bihari Vajpayee ji added a new link of Jai Vigyan which meant "hail science" and we gave it utmost importance.
But in this new phase Amrit Kaal now it is imperative to add Jai Anusandhaan that is "hail innovation". Jai Jawan Jai Kisan Jai Vigyan Jai Anusandhaan."
Implicitly the PM is making a case that India will be able to ride these digital rails to leapfrog to the next stage of growth, one which will be inclusive.
"I repose my utmost faith in our youth of the nation. Witness the power of indigenous innovations.
Today we have many success stories to show to the world; UPI-BHIM, our digital payment is a compelling example. Today in the world, 40% of real time digital financial transactions are happening in my country.
India has shown innovation prowess to the world."
Fighting Graft
Not in my memory has a prime minister used the Independence Day platform so regularly to signal transformative policy decisions.
You may recall that in his very first Independence Day address in 2014, PM Modi launched the toilets for all campaign. At that time open defecation in India was estimated at a distressing 600 million. Five years later, every household has been enabled access to a toilet in their home—resulting in the building of 110 million toilets.
In 2022, PM Modi turned his attention to another vexing issue: corruption.
"In a democracy like India where people are struggling with poverty and do not have a place to live, there are people who do not have a place to keep their ill-gotten money. This is not an ideal situation.
So we have to fight against corruption with all our might.
In the last eight years, we have been successful in working for the betterment of the country by saving two lakh crore rupees which used to go into the wrong hands, using all the modern systems like direct benefit transfer (DBT), Aadhaar and mobile."
Arguing his case against corruption the prime minister sought to enlist citizens, especially the newly empowered, to join the fight.
"So, my 130 crore countrymen, please bless me and support me. Today I have come to seek your support and cooperation so that I can fight this battle. I hope the country becomes victorious in this war.
The lives of the ordinary citizens have been ruined by corruption. So, I want to make sure that the ordinary citizens are once again able to live with dignity."
In short PM Modi has outlined the opportunity cost of corruption, making a strong case by flagging the savings accruing from DBT which cut out the proverbial middleman.
Less than two years away from the next general election, the PM has thrown down the gauntlet. It will be interesting to see how this dare plays out.
But for now the big takeaway from the PM's Independence Day address is that India's best is yet to come.
(The author is a columnist and hosts a weekly show called 'Capital Calculus' on StratNews Global. Views expressed in this article are personal.)