Calling Quad Asian Nato Is A Mind Game: Jaishankar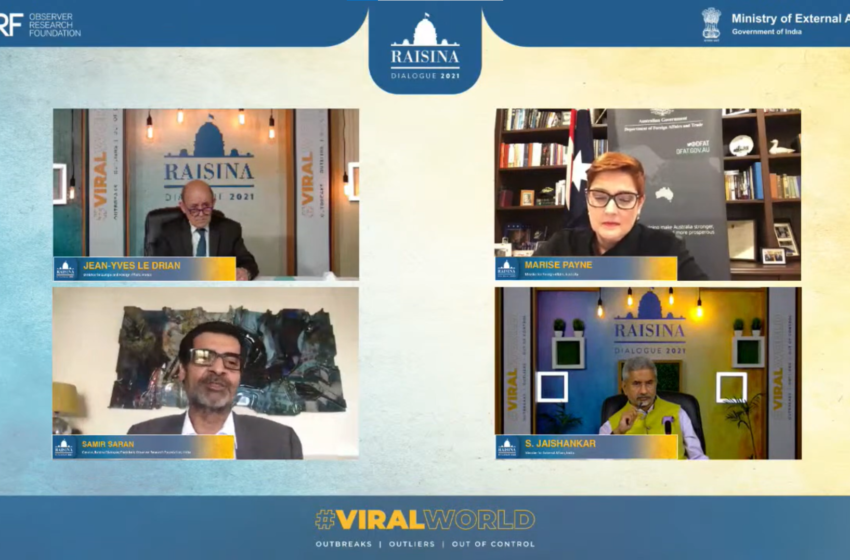 NEW DELHI: The army crackdown in Myanmar and the security of the Indo-Pacific were the overriding concerns expressed by a three-member panel on Day Two of the Raisina Dialogue in Delhi.
At the discussion titled Crimson Tide, Blue Geometries: New Partnership for the Indo-Pacific, India's External Affairs Minister S Jaishankar said: "I think all of us as democracies have a common position in many ways but India's location makes our ties with Myanmar unique. We are seized of it bilaterally, we have a common border, engage with all parties and are in regular touch with ASEAN. All of us have to find ways to come together and find a common solution."

Australian Foreign Minister Marise Payne described Myanmar as a "very challenging and tragic situation for our friends who have been working hard on a democratic transition. We are clear about working with ASEAN for solutions as ASEAN is the key to the Indo-Pacific but the increasing violence and deaths are worrying."
Australia has made some changes to its development assistance and military to military engagement. Canberra is also hoping a meeting of ASEAN leaders next week will press on Myanmar the need to end violence against civilians and a focused examination of options put forward by interlocutors.
French minister Jean Yves Le Drian said Europe was solidly against the military junta in Myanmar with all 27 EU member states adopting sanctions against the military authorities including their travel to Europe and seizure of their assets on the continent.
"We have ended all assistance to the government," Le Drian said, describing the army's actions as "a serious attack on democracy and we need to maintain international pressure."
There was unanimity on the Indo-Pacific with Jaishankar ticking off points of cooperation. India has tabled the Indo-Pacific Oceans Initiative and France has agreed to lead the maritime resource pillar while Australia will lead the maritime ecology pillar and Japan the trade and connectivity pillar.
Calling for "softer hands and greater imagination" in the conduct of future diplomacy, he said the Quad meetings have identified 10 areas to work on: These include vaccines, higher education, climate action, HADR, resilient supply chains, semi-conductors, counter terrorism and maritime security.
"That tells you what is in our minds and what we intend to do and when we do our trilateral, we will discuss ways of working for our national benefit, for our region and global benefit," he explained pointing out that "the idea that we come together for some messaging to others, people need to get over this. I see a Nato member and a treaty ally but I have a different political history and I know what I want to do. Very frankly, this kind of Asian Nato is a mind game I can't have other people have a veto over what I discuss with whom and how much."
Jean Yves Le Drian said that when the Quad is discussed, we are not talking of a military institutional format but security in the Indo-Pacific is very important for us, especially for trade movement, and so we have monitoring patrols with India."
France also has some facilities for intelligence sharing with Australia and also launched some maritime surveillance missions with Australia. Concrete cooperation, he underscored, is what will unite us on issues that matter including pollution on the high seas.